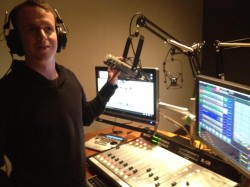 By Donovan Tildesley
PSR Contributor
Wednesday March the 9th, 2016
I need a vacation. At first I was thinking of skiing in the wilds of
Wyoming, but now am leaning toward a beach in Hawaii or a warm-weather
cruise. Of course, we're creeping up on Spring Break, which means that
many others, especially families with children, are singing the same
tune. Having spent the past few days trying to plan a trip, I haven't
dug as deep as normal in uncovering radio treasures from yesteryear.
Rather, I'll be featuring two jocks: one who loved to go on vacation
almost as much as he loved being on-air, and another who I listened to
while on vacation as a child.
Fred & Cathy on Clear FM, October 20, 2006 (3:03:08, Scoped)
I did share this last week, but never shared the link, mostly because
you would have had to sit through over 3 hours of not only F&C, but
also music and commercials. Thanks to Doc Harris, we now have a scoped
(and mostly de-noised) version of this aircheck. It's the final
incarnation of Latre Mornings, live from Fred & Cathy's Beach Grove
home. While many would disagree, I enjoyed this show more so than the
Kiss FM days. You get Fred's personality and quick wit, minus some of
the tangential aspects of the show in previous years. By now, Wayne
Cox has almost transitioned into the show's third co-host, something
which continued to evolve, especially when Wayne's home microphone was
directly fed back into the Ash Street studios, instead of him
broadcasting via a telephone line. Along with these three, you hear
the late Bruce Williams, Don Lehn, Russ Byth, and Terry Chan on one
occasion.
Geoff Poulton & Roll Call, Mountain FM Squamish, 09-23-1993
Spring Break always brought my family to Whistler for a week of
skiing. It was hear where I discovered the magic of small town radio,
on "Your Sea-to-Sky Station", Mountain FM. Operations Manager and
morning man Geoff Poulton not only brought together a great roster of
both seasoned and rooky talent, but he himself was not bad on the air!
"Roll Call" was the way he started most of his shows; a feature which
saw him open up the phone lines, to find out why exactly people were
up so early. This was not taped or scripted, this was live on the air!
And yes, there was the odd morning when no one called in, and Geoff
had to ad lib about whatever was on his mind. Looking back on it now,
the only person I'd ever heard do that type of radio prior to hearing
Geoff's show was Don Percy. Poulton was no "Master of the Morning",
but he for sure held his own and then some as a communicator. I
realize now that not everyone in the biz can pull that sort of thing
off. Geoff was also very kind to me. I became a regular caller on the
show (including this aircheck), and the following year he invited my
Dad and I down to the station, where he gifted me with a Mountain FM
limited addition ballcap, making me an Honorary Member of sea-to-Sky
Country. Oh yes, and we of course did two hours on the air that
morning! Geoff took himself off the air in 1996, and is now the
President of Vista Radio, but in my mind, he'll always be that
friendly small town morning radio guy.
TRIVIA NOTE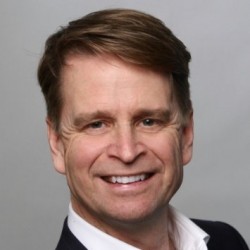 Geoff Poulton was Doc Harris' board op at Kiss FM for around six months back in 1986!
If you have any suggestions for future selections, please email me: [email protected]
This weekly feature is brought to you by Donovan and Buntain Insurance of Vancouver.
INSURANCE and Donovan Tildesley go hand in hand. Contact Donovan for all your insurance needs, be it house, property, personal possessions, Auto Insurance, Mr. Tildesley is your man.
Donovan Tildesley, BA CAIB
Give Donovan a call at 604-733-3000
or email him [email protected]
Buntain Insurance Agencies Ltd.
3707 West 10th Avenue
Vancouver BC, V6R 2G5