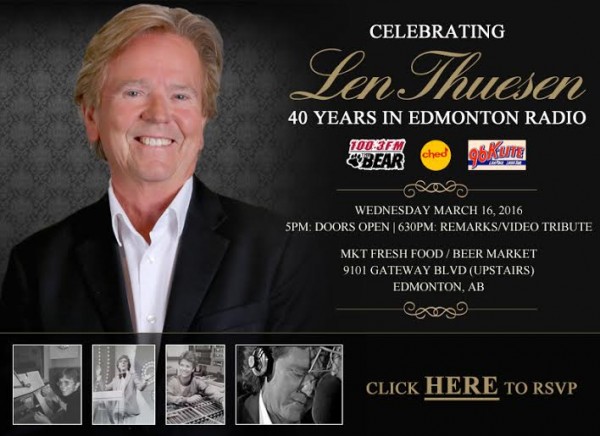 It's time to celebrate Len Thuesen and his 40+ years in Edmonton radio.
By Susan Reade
Bell Media – Edmonton
Monday February 15th, 2016
Len inspired me to get into broadcasting! As a teenager I called into his drive show on 630 CHED, he let me intro a song and then told me on the air, that I should consider a career in radio. With that one comment, he changed my life, and it has been one of the great acts of serendipity that I got to work with him these past few years. Wednesday March 16th is going to be a night of reminiscing, reconnecting and reflecting on Len's enduring career. I know I'm not the only one with great "Len stories" to share. I hope to see you there!
Please feel free to circulate this around, and RSVP through the Event Brite Link below:
http://www.eventbrite.com/e/celebrating-len-thuesen-tickets…
Susan Reade  | General Sales Manager – Bell Media Edmonton
Bell Media | t: 780-431-5362 | f: 780 489-6927 | [email protected]
18520 Stony Plain road, Suite 100, Edmonton, Alberta Canada T5S 2E2