ON THIS DAY in 1867
author Laura Ingalls Wilder was born in rural Wisconsin.  She wrote the books which were the basis for the longrunning TV series Little House on the Prairie. She died Feb 10, 1957, 3 days after her 90th birthday.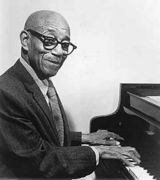 On this day in 1887, ragtime piano icon Eubie Blake was born James Hubert Blake in Baltimore.  He composed more than 1,000 songs, including Memories of You, Love Will Find a Way & I'm Just Wild About Harry.  A Broadway show about him titled Eubie opened in 1978. He died Feb 12, 1983, 5 days after his 96th birthday.
On this day in 1908, one of the busiest actors in the Golden Age of Radio Bill Johnstone was born in Brooklyn. Perhaps best remembered as the actor who succeeded Orson Welles as The Shadow (1938-43), Johnstone could also be heard as Inspector Cramer opposite Sydney Greenstreet in Nero Wolfe; Lt. Ybarra on Philip Marlowe; and in the title role on The Whistler.  From 1950 to 1953, he starred as Lt. Ben Guthrie in the CBS radio police procedural The Lineup.  He died Nov. 1 1996 at age 88.
 On this day in 1915, comic actor Eddie Bracken was born in Astoria NY.  After becoming a film star in the 40's he made frequent appearances on network radio, and had two short-lived series under his own name.  On TV he was seen in guest roles over more than 40 years, including serious drama series like Studio One & Playhouse 90.  He died after surgery Nov 14, 2002 at age 87.
On this day in 1917, English comedian Dick Emery was born in London. After playing supporting roles for TV comedy star Tony Hancock, his own BBC TV show ran for 12 years beginning in the mid 60's.  He died of a respiratory infection Jan 2 1983 at age 65.
On this day in 1919, 
 actor Jock Mahoney was born in Chicago. He starred as TV's Range Rider & Yancy Derringer in those series in the 50's, then took guest roles in episodic TV for another 35 years.  He settled in Bremerton (suburban Seattle) where he suffered a stroke & died Dec 14 1989 at age 70.
On this day in 1923, actor/producer Keefe Brasselle was born in Elyria Ohio. After bombing in The Eddie Cantor Story on the big screen, Brasselle became a host & producer at CBS TV where he was friends with president James T. Aubrey.  He hosted a variety show plus game shows Be Our Guest and Keep it In The Family, none of which succeeded.  Later Aubrey bought 3 Brasselle-produced shows for 1964, The Baileys of Balboa, The Cara Williams Show & The Reporter, all of which were duds.  Brasselle died July 7, 1981 of cirrhosis of the liver.  He was 58.

On this day in 1941, the Tommy Dorsey Orchestra and band vocalist Frank Sinatra recorded the future Top 10 hit "Everything Happens to Me" for RCA Victor in their New York City studios.
On this day in 1944, in Los Angeles Bing Crosby and the John Scott Trotter Orchestra recorded their future chart topper "Swinging on a Star" for Decca Records.  It was featured in Bing's Oscar-winning hit movie "Going My Way."

On this day in 1949, the No. 1 Billboard Pop Hit was "A Little Bird Told Me" by Evelyn Knight & the Stardusters.
On this day in 1957, country singer Jim Reeves was in Nashville to record "Four Walls," his first crossover hit to make it into the pop music Top 20.
On this day in 1959, rock 'n' roll pioneer Buddy Holly's funeral was held in Lubbock, Texas.
On this day in 1961, Jane Fonda made her television acting debut in the NBC-TV movie "A String of Beads." The lead role of Gloria Winters helped open the door for more demanding parts on the big screen.
Also in 1961, Elvis Presley's twelfth #1 single "Surrender" was released. And the doo wop group Jive Five (below) recorded their future Top 5 hit "My True Story".

On this day in 1963, the Vee-Jay label released the first Beatles single in the U.S. "Please Please Me."  Capitol records had refused to issue it because some execs figured it was an ode to oral sex.
On this day in 1964, more than 3,000 fans jammed Kennedy Airport in New York as Beatlemania invaded the U.S. The Beatles, John Lennon, Paul McCartney, George Harrison and Ringo Starr arrived for their first U.S. visit (including an appearance two days later on "The Ed Sullivan Show"). The "Fab Four" controlled the top spot on the pop music charts for the next 15 weeks and owned the top of the album charts for 10 weeks.
On this day in 1966, the album "Summer Days" by the Beach Boys was certified Gold.
On this day in 1967, a steamer carrying The Bee Gees and the entire Gibb family arrived back home in Britain after they'd spent the previous nine years in Australia.
On this day in 1968, singer Stuart Foster, who sang with Tommy Dorsey's Orch. & on TV's Galen Drake Show, died at age 49.

Also this day in 1968, actor Nick Adams overdosed on a combination of paraldehyde and promazineof which he was taking for a nervous disorder. He was only 36.  His major impact was playing Johnny Yuma in the ABC TV series The Rebel.
On this day in 1969, the variety TV show This is Tom Jones debuted on ATV in the UK.  Guests on the first show included Richard Pryor, Mary Hopkin and the Moody Blues. Over the next three years ABC would air the 65 episodes in the US.
Also this day in 1969, Jim Morrison of The Doors was busted in Los Angeles for driving while intoxicated and while his license was suspended.
On this day in 1970, one-hit-wonders Shocking Blue went to No.1 on the Billboard singles chart with 'Venus', making them the first Dutch act to top the US charts.
Also this day in 1970, the Columbia album "Hello, I'm Johnny Cash" was certified Gold.
On this day in 1971, rhythm guitarist Tom Fogerty left Creedence Clearwater Revival to spend more time with his family. CCR continued for another year and a half as a trio.

Also this day in 1971, the Ed Sullivan Show on CBS-TV featured Gladys Knight & the Pips (pictured above) singing "If I Were Your Woman" & "Bridge Over Troubled Water." Sid Caesar & Carol Channing did a scene from the play "Four on a Garden." And Robert Klein told jokes about going to the dentist.
On this day in 1974, the Barry White Top 10 single "Never Never Gonna Give You Up" was certified to be Gold.  The same day White's Love Unlimited Orchestra was awarded a Gold Record for the instrumental #1 hit "Love's Theme."
On this day in 1976, the song "50 Ways to Leave Your Lover" by Paul Simon topped the charts and stayed there for 3 weeks.
Also this day 1976, the Federal Communications Commission raided and closed down pirate radio station WCPR, operating out of Brooklyn, New York.
On this day in 1977, the 100th episode of "Barnaby Jones" aired, starring Buddy Ebsen.

On this day in 1978, the "Mork & Mindy" pilot movie aired for the first time. The series "Mork & Mindy" began airing on ABC September 14, 1978
On this day in 1979, the No. 1 Billboard Pop Hit was "Do Ya Think I'm Sexy?" by Rod Stewart. The song was an international success, reaching No. 1 in 11 countries.
Also this day in 1979, The Clash kicked off their first American tour at the Berkeley Community Theatre outside San Francisco.
Again this day in 1979, 
 Stephen Stills became the first rock performer to record on digital equipment in Los Angeles' Record Plant Studio. However, Ry Cooder gets the credit for releasing the first digitally recorded music because Stills never released his material.
On this day in 1980, Justice L. P. Pigeon retired from the Supreme Court of Canada, and TV cameras were allowed into the Court for the first time to film the proceedings.
Also this day in 1980, after four months in release, the Anne Murray album "I'll Always Love You" was certified as a Gold Record, having sold more than 500,000 LP's.
And fellow early CanCon favorite Gordon Lightfoot's album "Summertime Dream" was certified Platinum.
On this day in 1981, the TV mini-series "Elvis and Me" (based on Priscilla Presley's book) began on ABC.
Also this day in 1981, the song "Celebration" by Kool & the Gang topped the charts and stayed there for 2 weeks.

Still in 1981, the John Lennon single "Woman" was released in the U.S.
On this day in 1984, actor Brooks West, who played Richard Rhinelander the Third on TV's My Friend Irma, died of a heart ailment at age 67.
On this day in 1985, UK singer Matt Monro succumbed to liver cancer at age 54.
Also in 1985, the 100th episode of "Magnum, PI" aired on CBS-TV.
On this day in 1986, in New York City the Rolling Stones shot their live action for the "Harlem Shuffle" music video, which also featured the work of eight animators.

On this day in 1987, former CBC chairman A. Davidson Dunton died at age 74.  He was the last head of the CBC (1945-1958 ) while it had regulatory control over all Canadian broadcasting.
Also this day in 1987, a Vancouver benefit concert for Greenpeace by Crosby Stills & Nash was cancelled, after Canadian immigration officials refused entry to David Crosby because of his criminal record.
Still in 1987, Madonna's "Open Your Heart" hit #1 in the U.S. It was the third straight number-one single from her "True Blue" album.
On this day in 1988, the first episode of "America's Most Wanted" aired on FOX, hosted by John Walsh.

Also in 1988, Davy Jones of The Monkees made a guest appearance on the NBC-TV sitcom "My Two Dads."  He played an old friend of Joey's (Greg Evigan).
On this day in 1989, the No. 1 Billboard Pop Hit was "Straight Up" by Paula Abdul.
On this day in 1990, Tin Pan Alley composer Jimmy Van Heusen died at age 77. His hits with a variety of lyricists include Call Me Irresponsible, Swinging on a Star, Love & Marriage, High Hopes, Darn That Dream, All the Way, Second Time Around & Come Fly With Me, many of them Sinatra favorites.

On this day in 1994, Paul Anka was honored at the French music industry's annual awards in Paris for his song "My Way". In 1968 Anka wrote new lyrics to the melody of a French pop hit "Comme d'habitude", which means "As Usual". Anka called his version "My Way", and it became Frank Sinatra's signature song.
Also this day in 1994, actor/singer Jim Nabors (Gomer Pyle USMC) underwent liver transplant surgery.
Still in 1994, Shannon Hoon of the Blind Melons was ejected from the American Music Awards for loud and disruptive behavior. He was eventually charged with battery, assault, resisting arrest and destroying a police station phone.
On this day in 1995, Tupac Shakur was sentenced to 1 to 4 1/2 years in jail for sexual abuse.
On this day in 1999, songwriter/pianist/actor Bobby Troup died of a heart attack at age 80. He is best known as the writer of "(Get Your Kicks) On Route 66," and for playing Dr. Joe Early (pictured) on the TV series "Emergency."

On this day in 2000, Winnipeg-born magician Doug Henning died in Los Angeles after battling liver cancer. He was 52. That same day, Foghat singer"Lonesome" Dave Peverett died of pneumonia in Orlando, Florida. He was 56.
On this day in 2001, actress/singer Dale Evans, the widow & longtime radio/TV/movie partner of Roy Rogers, died of congestive heart failure at age 88.
On this day in 2006, Cream and David Bowie received the Recording Academy Lifetime Achievement Award. They were also recognized the following night at the 48th annual Grammy Awards.
On this day in 2008, in Las Vegas, Caesar's Palace announced the signing of Cher to headline some 200 shows over the next three years.

Also in 2008, Amy Winehouse was told she could not perform at this year's Grammy awards ceremony because her US visa application has been rejected by the embassy in London. The singer had been arrested for marijuana possession in Norway the previous year.
On this day in 2009, Motley Crue performed the final show at the famed Las Vegas venue, The Joint. "The Joint has played host to some of the world's greatest rock bands over the years," said Crue drummer Tommy Lee, prior to the show. "We hope to bring the house down in true Crue style."
On this day in 2010, Carrie Underwood sang the Star Spangled Banner, Queen Latifah sang "America the Beautiful," and The Who headlined the halftime show at Super Bowl XLIV in Florida.
On this day in 2012, harp player/songwriter Robert Maxwell, whose best known compositions are "Ebb Tide" and "Shangrila," died at age 90.  In 1946 Maxwell and Peggy Lee were the summer replacements for Frank Sinatra on CBS Radio.

On this day in 2013, it was announced that Warner Music was set to buy the UK record label Parlophone (formerly a part of EMI Music) from Universal Music for $765m. The Parlophone label group also included the Chrysalis and Ensign labels, but The Beatles part of Parlophone, was exempted from the sale.
On this day in 2014,  New York City's John F. Kennedy Airport commemorated the 50th anniversary of the The Beatles arrival in the U.S. with a memorial plaque.
On this day in 2015, Joe B. Mauldin, whose bass playing for Buddy Holly and the Crickets in the late 50's helped set the pulse of rock & roll, lost his battle with cancer at age 74.  Later he had become a recording engineer at Gold Star Studios, the L. A. studio that became the hit factory for Phil Spector, Brian Wilson and other major 1960s rock performers.
 Also in 2015, Bob Dylan was announced as MusiCares Person of the Year. The honor was bestowed on him by the charity arm of the National Academy of Recording Arts and Sciences (NARAS).
Today's Birthdays:
Winnipeg-born folksinger Oscar Brand  (Draw Me A Laugh, Get Up Stand Up) is 96.
Keyboard player Jimmy Greenspoon (Three Dog Night) is 68.
Actor Miguel Ferrer (Crossing Jordan, LateLine, Twin Peaks) is 61.
Actor John Posey (How to Get Away With Murder) is 60.
Saxophonist Brian Travers of UB40 is 57.
Actor James Spader (The Blacklist, Boston Legal, The Practice) is 56.
Writer/producer/actor Robert Smigel (Sat. Night Live, Conan, Lat Night w/Conan O'Brien) is 56.
Actor Graham McTavish (Outlander) is 55.
Country singer Garth Brooks is 54.
Actor/writer/comedian Eddie Izzard (The Riches) is 54.
Keyboardist David Bryan of Bon Jovi is 54.
Actor Jason Leland Adams (Dr. Quinn Medicine Woman, Vanishing Point) is 53.
Comedian/actor Chris Rock (Sat. Night Live, Everybody Hates Chris) is 51.
Actor Jason Gedrick (Desperate Housewives, Windfall, Boomtown) is 51.
Victoria-raised actor David Nykl (Arrow, Stargate: Atlantis) is 49.
Actress Essence Atkins (Half & Half, Are We There Yet?, Mr. Box Office) is 44.
Actress Robyn Lively (Savannah, George & Leo) is 44.
Actor Victor Webster (Mutant X, Continuum) is 43.
Guitarist Wes Borland of Limp Bizkit is 41.
Actor Ashton Kutcher (That 70's Show, Punk'd) is 38.
Actress Cerina Vincent (Stuck in the Middle, Power Rangers Lost Galaxy) is 37.
Actor Alexander Dreymon (The Last Kingdom) is 33.
Actress Deborah Ann Woll (True Blood) is 31.
Actress Tina Majorino (Legends, Grey's Anatomy, Veronica Mars, Big Love) is 31.
Vancouver-born actress Tegan Moss (You Me & the Kids, RedaKai, Robson Arms) is 31.
Actor Stephen Colletti (One Tree Hill) is 30.
UK actress Louisa Lytton (Eastenders) is 27.
Actor David Dorfman (Zombie Roadkill, Family Law) is 23.
Dancer/actress Xenia Goodwin (Dance Academy) is 22.
Actor Jake Goldberg (The Backyardigans) is 20.
Actor David Castro (Shadowhunters: the Mortal Instruments, Are We There Yet?) is 20.
Chart Toppers – Feb. 7
1950
Dear Hearts and Gentle People – Dinah Shore
A Dreamer's Holiday – Perry Como
The Old Master Painter – Snooky Lanson
Take Me in Your Arms and Hold Me – Eddy Arnold
1959
Smoke Gets in Your Eyes – The Platters
The All American Boy – Bill Parsons
Stagger Lee – Lloyd Price
Billy Bayou – Jim Reeves
1968
Green Tambourine – The Lemon Pipers
Spooky – Classics IV
Love is Blue – Paul Mauriat
Skip a Rope – Henson Cargill
1977
Torn Between Two Lovers – Mary MacGregor
New Kid in Town – Eagles
Blinded by the Light – Manfred Mann's Earth Band
Near You – George Jones & Tammy Wynette
1986
That's What Friends are For – Dionne & Friends
Burning Heart – Survivor
I'm Your Man – Wham!
Just in Case – The Forester Sisters
1995
Creep – TLC
Another Night – Real McCoy
Take a Bow – Madonna
Mi Vida Loca (My Crazy Life) – Pam Tillis
2004
The Way You Move – Outkast
My Immortal – Evanescence
With You – Jessica Simpson
Remember When – Alan Jackson