ON THIS DAY in 1901
actor Ben Lyon was born in Atlanta. He was a boyish charmer in silent films and B movies of the 30's, and later became a hit in vaudeville in England teaming with his wife actress Bebe Daniels.  Together they starred in the longrunning BBC Radio shows, Hi Gang, and Life with the Lyons, which also had a short lived TV run. He hosted the UK version of I've Got a Secret.  Lyon suffered a fatal heart attack on a cruise ship off Hawaii March 22 1979. He was 78.
On this day in 1911,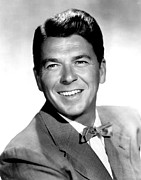 Ronald Wilson Reagan, the 40th President of the United States, was born in Tampico Illinois.  After a career in midwest radio, he became a star in B pictures in Hollywood, and was a host, star & commercial spokesman on TV on General Electric Theatre and Death Valley Days, plus many guest spots.  His acting/broadcast career was excellent training for politics, where he was tabbed "the great communicator."  Suffering from Alzheimer's he died from pneumonia June 5, 2004 at age 93.
On this day in 1924, the first worship service heard over radio was aired by the British Broadcasting Corporation in England. The service originated from St. Martin-in-the-Fields Church in London.

On this day in 1929, Rudy Vallee and his orchestra recorded "Deep Night" (Victor disc #21868 ). It says in the fine print, under the artist's name, that the tune was written by Vallee himself.
Also this day in 1929, the Victor Talking Machine Company merged with Radio Corporation of America to become RCA Victor, and the Canadian subsidiary became RCA Victor of Canada.
On this day in 1939, Elvis Presley's father, Vernon, was released from  a Mississippi prison after serving 8 months of a 3-year sentence for altering a check.  Furious over receiving only $4 for a hog he was selling, he had increased the face value of the cheque (to either $14 or $40, that's in dispute.)

On this day in 1943, Frank Sinatra made his first appearance as star of CBS radio's "Lucky Strike Hit Parade."  Frankie had left the Tommy Dorsey Band just four months prior to beginning the radio program, where he stayed for two years.
On this day in 1945, Bob Marley, singer/songwriter and guitarist was born in Jamaica. He remains the most widely known and revered performer of reggae music, as leader of The Wailers from 1964 until his death due to cancer May 11th 1981.  Feb. 6th has been a Jamaican national holiday since 1990 to commemorate his birth.
On this day in 1950, "Dangerous Assignment" starring Brian Donlevy found a weekly timeslot on NBC Radio.  The adventure show, set in many international venues, had tested well as a summer replacement six months earlier, and continued for about five years.
That same evening in 1950, also on NBC Radio, "Nightbeat" starring Frank Lovejoy as a newspaper reporter with an eye for human interest stories, began a two-and-a-half-year run.
On this day in 1951, radio commentator Paul Harvey (below) was arrested for trying to sneak into the Argonne National Laboratory in suburban Chicago, to prove that security was lax at this top secret installation.

Also in 1951, Nat 'King' Cole was in the Capitol label's LA studios to record three songs, including his future million seller "Too Young."
On this day in 1955, Elvis Presley first met his future manager Col. Tom Parker between his two shows at Ellis Auditorium in Memphis.
On this day in 1956, still three years before his first #1 country hit, George Jones joined the cast of Shreveport radio station KWKH's "Louisiana Hayride."
On this day in 1958, future Beatle George Harrison joined Liverpool group The Quarrymen where he first teamed up with John Lennon and Paul McCartney.
On this day in 1959, country singer Stonewall Jackson recorded his biggest hit, 'Waterloo,' which peaked at #4 on Billboard's Pop chart.

On this day in 1960, rhythm-and-blues singer/songwriter Jesse Belvin died in a car crash in Little Rock Arkansas.  Belvin, who began his career as half of the duo of Jesse and Marvin, was 26 years old. His "Goodnight My Love" was a top-ten R&B hit in 1956.
On this day in 1965, The Righteous Brothers started a two week run at No.1 on the Billboard singles chart with the Phil Spector produced 'You've Lost That Lovin' Feelin'.
On this day in 1966, the final episode of the talking-horse comedy "Mr. Ed" aired on CBS.
Also this day in 1966, CBS-TV's Ed Sullivan Show was headlined by The Animals performing "We Gotta Get Out of This Place" & "Inside Looking Out." Rosemary Clooney, Charles Nelson Reilly and Alan King were also on the bill.

On this day in 1970, actor Roscoe Karns, who played Captain Shafer in Jackie Cooper's TV series Hennesey, died at age 78.
Also this day in 1970, John Lennon's "Instant Karma" with Yoko Ono's "Who Has Seen the Wind?" was released in the U.K.
On this day in 1972, more than 500,000 pieces of irate mail arrived at the mail room of CBS-TV, when word leaked out that an edited-for-TV version of the X-rated movie, "The Demand," would be shown.
On this day in 1974, the 5-night-a-week "CBS Mystery Theater" premiered on the CBS Radio Network. Writers were paid a flat $350 per hour-long script, actors got the union scale of $73.92 per show.
On this day in 1976, 
 jazz pianist Vince Guaraldi , who composed & played the music for all the Charlie Brown TV specials, suffered a fatal heart attack at age 43.
Also in 1976, singer Ronnie Milsap was inducted into the Grand Ole Opry.
On this day in 1981, former Beatles, Paul McCartney, Ringo Starr and George Harrisonappeared individually in the studio to produce a musical tribute to the late John Lennon. The result of those sessions became "All Those Years Ago". The song went to #2 on the pop music charts for three weeks. It was released on Harrison's own Dark Horse label.
Also this day in 1981, orchestra leader Hugo Montenegro died in Palm Springs, California of emphysema at age 55. His arrangement of the spaghetti western theme "The Good, the Bad and the Ugly" went to #2 on the "Billboard Hot 100" June 1, 1968.

On this day in 1982, the J Geils Band started a six week run at No.1 on the Billboard singles chart with 'Centrefold', the band's only #1 in North America.
Also this day in 1982, Van Halen's remake of Roy Orbison`s "Oh, Pretty Woman" peaked at #12 , thus becoming the group's biggest hit to date.
On this day in 1984, the CBC Stereo network (CBC Two) began broadcasting 24 hours a day, while the AM network continued to sign off after the 1 a.m. news.
On this day in 1987, the No. 1 Billboard Pop Hit was "Open Your Heart" by Madonna. Songwriters Gardner Cole and Peter Rafelson originally called the song "Follow Your Heart."

On this day in 1988, the song "Could've Been" by Tiffany topped the charts and stayed there for 2 weeks.
On this day in 1990, Billy Idol broke his arm and leg when his motorcycle crashed after he allegedly ran a stop sign in Hollywood. He had been coming from the recording studio, where he was working on the album "Charmed Life."
Also in 1990, more than 200 women filed court actions against Chuck Berry over allegations he had been secretly filming them in the toilets of the restaurant he owned. The out-of-court settlement cost Berry more than $1.2 million.
On this day in 1991, actor/comedian Danny Thomas died of a heart attack at age 76.


He not only starred in his own TV vehicles (Make Room for Daddy, Make Room for Grandaddy), he also had become a major producer of hit series like The Dick Van Dyke Show, The Andy Griffith Show, The Joey Bishop Show, The Bill Dana Show, The Real McCoys, & Mod Squad.
On this day in 1992, "Late Night's 10th Anniversary Show At Radio City Music Hall" with David Letterman aired in prime time on NBC.
Also this day in 1992, actor Wayde Preston, who played Christopher Colt in two TV western series, Sugarfoot & Colt 45, died of colon cancer at age 62.
On this day in 1993, Vancouver radio personality & entertainer Barney Potts died at the age of 82.
Also this day in 1993, during a concert in Dublin, Van Morrison was joined by Bono and Bob Dylan (for a rendition of Dylan's "It's All Over Now Baby Blue"). Also appearing onstage wereElvis Costello, Steve Winwood and Chrisse Hynde.
On this day in 1994, actor Joseph Cotten died of pneumonia at age 88.  As a member of Orson Welles' Mercury Players he appeared in some top radio (& movie) productions, and was in demand on his own for almost every radio anthology drama series.   On TV he starred in On Trial (later renamed the Joseph Cotten Show) and had a recurring role in It Takes a Thief.  Cotten (below)was often regarded as the most underrated actor in Hollywood.

On this day in 1994, Nirvana embarked on their final tour of Europe.
On this day in 1995, Toronto radio station CKEY 590 signed off at 10 am after playing "Blaze of Glory" by Kenny Rogers.
Also this day in 1995, Bob Marley's backup singers, the I-Threes, reunited for a 50th birthday concert for the late reggae pioneer at the Bob Marley museum in Jamaica. Ziggy Marley and the Melody Makers also performed.
On this day in 1996, actor Guy Madison, who played Wild Bill Hickok on radio & TV throughout the 1950's, and continued to guest star on TV shows for another 3 decades, died of emphysema at age 74.
On this day in 1998, Carl Wilson, one of the founding members of the Beach Boys, died at age 51.


Wilson had been battling brain and lung cancer for nearly a year.
Also this day in 1998, singer Falco was killed in a traffic accident in the Dominican Republic. He was 40. Falco was probably best known for his song "Rock Me Amadeus."
On this day in 2001, guitarist Don Felder was fired from The Eagles. Drummer Don Henley and guitarist Glen Frey believed that Felder had written and attempted to sell the rights to a "tell-all" book.  Six years later Felder's $50 million wrongful termination lawsuit was settled out-of-court for an undisclosed amount.
On this day in 2002, Celine Dion's "A New Day Has Come" was released for radio play. It was her first new song in two years.

On this day in 2003, Simon Fraser University's CJSF-FM Burnaby began testing at 90.1 MHz, with official launch at 7 p.m. on Valentines Day.
Also in 2003, ABC aired the British documentary, "Living With Michael Jackson." Jackson's comments about allowing kids to spend the night in his bedroom prompted authorities to look into his relationships with children. Jackson was arrested the following November on child molestation charges.

Still this day in 2003, Jesse Ventura announced on "The Tonight Show With Jay Leno" that he would begin hosting a nightly program on MSNBC within a month.  While it did spend time in development, the proposed show never appeared on the schedule.
On this day in 2005, country singer/songwriter Merle Kilgore died of congestive heart failure while undergoing treatment for lung cancer at age 70.
Also this day in 2005, Paul McCartney performed at the Super Bowl halftime show in Jacksonville, Florida, and for a TV audience estimated at one billion. Paul was the first act to play that gig following Janet Jackson exposing her breast during halftime the year previous.
On this day in 2006, Buffalo's longtime classic rocker WWKB Radio 15 ended their music era with "Yesterday's Gone" by Chad & Jeremy.

On this day in 2007, singer, composer, author, actor Frankie Laine died at age 93.  His many hit songs over the years include Mule Train, Cool Water, That's My Desire, Jezebel, Cry of the Wild Goose, I Believe, Moonlight Gambler and the theme song from Clint Eastwood's early TV show Rawhide.
On this day in 2008, a Los Angeles judge issued a restraining order against Britney Spears' manager, after her mother made the request to the court.  Lynne Spears claimed Sam Lutfi, 33, had drugged the troubled pop star and interfered with her finances.
Also in 2008, Feist won the seventh annual Shortlist Music Prize.  The Canadian singer-songwriter won for her album The Reminder, which included the song 1234 used in an Apple iPod advert.
Also this day in 2009, actor Philip Carey, most memorable as tycoon Asa Buchanan in the TV daytime drama "One Life to Live," who also starred in prime time's "Philip Marlowe," "Laredo" and "The Untamed World," lost his battle with lung cancer at age 83.
On this day in 2010, British jazz saxophonist Sir John Dankworth, for 52 years the husband of singer Cleo Laine, died at the age of 82.
On this day in 2011, Thin Lizzy guitarist Gary Moore was found dead at a hotel in Estepona. The 58-year-old guitarist was in Spain on vacation.
Also this day in 2011, Christina Aguilera sang the Star Spangled Banner, and the Black Eyed Peas, Slash and Usher entertained at halftime of Superbowl XLV at Cowboy Stadium in Texas.Ozzy Osbourne and teen heart throb Justin Bieber appeared in a Best Buy TV ad in which Ozzy asked, "What's a Bieber?"

On this day in 2012, actor Peter Breck, who played the son of Barbara Stanwyck on the 1960s ABC-TV western "The Big Valley," and had a key supporting role on the James Garner series "Maverick," died in Vancouver after a long illness. He was 82.
On this day in 2014, baseball Hall of Famer and a NY Met broadcaster for over half-a-century, Ralph Kiner died of natural causes at age 91.
Also in 2014, Sean Lennon and The Flaming Lips performed The Beatles, "Lucy In The Sky With Diamonds," as part of The Late Show With David Letterman's Beatles Week, commemorating the 50th anniversary of the group's arrival in the U.S.
On this day in 2015, Joe B. Mauldin, whose bass playing for Buddy Holly and the Crickets in the late 50's helped set the pulse of rock & roll, lost his battle with cancer at age 74.  Later he had become a recording engineer at Gold Star Studios, the L. A. studio that became the hit factory for Phil Spector, Brian Wilson and other major 1960s rock performers.
 Also in 2015, Bob Dylan was announced as MusiCares Person of the Year. The honor was bestowed on him by the charity arm of the National Academy of Recording Arts and Sciences (NARAS).
Today's Birthdays:
Actress Zsa Zsa Gabor (Laugh-In, Tonight Show, As the World Turns) is 99.
Actor Rip Torn (30 Rock, Larry Sanders Show) is 85.
Actress Mamie Van Doren (Bob Cummings Show, Alcoa Theatre) is 85.
Actor Mike Farrell (MASH, Superman, Providence) is 77.
NBC newsman/retired anchor Tom Brokaw is 76.
Actress Gigi Perreau (Betty Hutton Show, Follow the Sun) is 75.
Singer Fabian (Forte) is 73.
Actress Gayle Hunnicutt (Dallas, Martian Chronicles) is 73.
Actor Michael Tucker (LA Law) is 72.
Actor Jon Walmsley (The Waltons) is 60.
Actor-director Robert Townsend (Carol Burnett Show, Motown Live, Bliss) is 59.
Actress Kathy Najimy (Veronica's Closet, King of the Hill) is 59.
Drummer Simon Phillips of Toto is 59.
Actor Barry Miller (Equal Justice, The Practice) is 58.
Actress Megan Gallagher (Larry Sanders Show, Millennium, China Beach) is 56.
Country singer Richie McDonald of Lonestar is 54.
Vocalist Axl Rose of Guns N' Roses is 54.
Actress Simone Lahbib (Wire in the Blood, Monarch of the Glen) is 51.
Singer Rick Astley is 50.
Bassist Tim Brown of the Boo Radleys is 47.
Actor Brian Stepanek (Nicky Ricky Dicky & Dawn, The Suite Life of Zach & Cody) is 45.
Television Drita D'Avanzo (Mob Wives) is 40.
Actor Josh Stewart (Criminal Minds, No Ordinary Family, Dirt, Third Watch) is 39. 
Quebec-born singer/actress/TV host Kim Poirier (Paradise Falls, HypaSpace) is 36.
TV personality/actress Alison Haislip (The Morning After, Battleground) is 35.
Actress Alice Eve (Entourage) is 34.
Actor Brandon Hammond (Dr. Quinn Medicine Woman, Gregory Hines Show) is 32.
Actress Crystal Reed (Teen Wolf) is 31.
Actress Alice Greczyn (The Lying Game, Lincoln Falls) is 30.
Actor Dane DeHaan (In Treatment) is 29.
Dancer/actress Allison Holker (Hit the Floor, Dancing With the Stars, High School Musical) is 28.
Actress Mackenzie Brooke Smith (Terminator: the Sarah Connor Chronicles) is 15.
Chart Toppers .. Feb. 6
1949
A Little Bird Told Me – Evelyn Knight
Far Away Places – Margaret Whiting
Powder Your Face with Sunshine – Evelyn Knight
I Love You So Much It Hurts – Jimmy Wakely
1958
Don't/I Beg of You – Elvis Presley
Get a Job – The Silhouettes
Sail Along Silvery Moon – Billy Vaughn
Ballad of a Teenage Queen – Johnny Cash
1967
I'm a Believer – The Monkees
Georgy Girl – The Seekers
Kind of a Drag – The Buckinghams
There Goes My Everything – Jack Greene
1976
50 Ways to Leave Your Lover – Paul Simon
Love to Love You Baby – Donna Summer
You Sexy Thing – Hot Chocolate
Sometimes – Bill Anderson & Mary Lou Turner
1985
I Want to Know What Love Is – Foreigner
Easy Lover – Philip Bailey with Phil Collins
Careless Whisper – Wham! featuring George Michael
A Place to Fall Apart – Merle Haggard (with Janie Frickie)
1994
All for Love – Bryan Adams/Rod Stewart/Sting
The Power of Love – Celine Dion
The Sign – Ace Of Base
I Swear – John Michael Montgomery
2003
I'm With You – Avril Lavigne
Beautiful – Christina Aguilera
Cry Me a River – Justin Timberlake
19 Somethin' – Mark Wills
2012
Set Fire to the Rain – Adele
We Found Love – Rihanna featuring Calvin Harris
Good Feeling – Flo Rida
I Don't Want This Night To End – Luke Bryan