By PETER KEEPNEWS and RICHARD SEVERO , New York Times       FEB. 3, 2016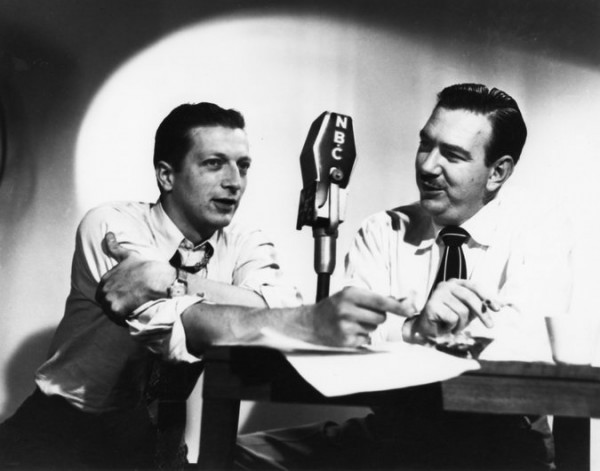 Bob Elliott, left, and Ray Goulding took turns being the straight man.
Dave Letterman interviews Bob and Ray
Bob Elliott, who as half of the comedy team Bob and Ray purveyed a distinctively low-key brand of humor on radio and television for more than 40 years, died on Tuesday at his home in Cundy's Harbor, Me. He was 92.
His death was confirmed by his son Chris, the actor and comedian, who said he had throat cancer.
Mr. Elliott and his partner, Ray Goulding — Bob was the more soft-spoken one, Ray the one with the deep voice and the blustery attitude — were unusual among two-person comedy teams in that rather than one of them always playing it straight and the other one handling the jokes, they took turns being the straight man. As Mr. Elliott told Mike Sacks, the author of "Poking a Dead Frog: Conversations With Today's Top Comedy Writers" (2014), "We were both sort of straight men reacting against the other."
Together they specialized in debunking gasbags, political airheads, no-talent entrepreneurs and Madison Avenue hypemasters. Their weapon was not caustic satire but wry understatement; as the cultural historian Gerald Nachman wrote, they "never felt a need to destroy their targets, preferring to tickle them to death with a well-aimed feather."
Typical of their approach was a bit called "The Bob and Ray Overstocked Warehouse," in which Mr. Elliott announced, deadpan: "We have 124 full cases of canned corned beef, which are clearly stamped 'San Juan Hill, 1898.' If you do not find this corned beef all you had hoped it would be, just leave word with the executor of your estate to return the remaining unopened cans to us."
After Mr. Goulding died in 1990, many feared they would never see or hear Mr. Elliott again, so inseparable was he from his partner. But he continued to work.
He became a cast member of Garrison Keillor's "American Radio Company of the Air," which briefly replaced "A Prairie Home Companion" on public radio.
READ THE REST OF THIS STORY  HERE  AT THE NEW YORK TIMES WEBSITE