January 14th, 2016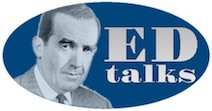 The Radio Television Digital News Association(RTDNA) is launching of a new series of best practices videos for newsrooms called 'Ed Talks.' Named forEdward R. Murrow and presented by Murrow Awardwinners and other expert contributors, the videos will provide practical tips that electronic journalists can put into practice every day.
"When RTDNA recently surveyed journalists to find out about their needs and interests, one of the most common concerns that surfaced was training," said project leader and RTDNA Region 4 Director Scott Libin. "Journalists want more of it, but they can't always travel to get it, and they need it in practical forms that are easy to fit into their busy schedules."
Later this year, Ed Talks will become an exclusive benefit of stations' RTDNA membership, but for now, the videos will be available to view by all news broadcasters.
Learn more HERE.