By Gabriel Spitzer for Pacific Lutheran University      Dec. 17 2015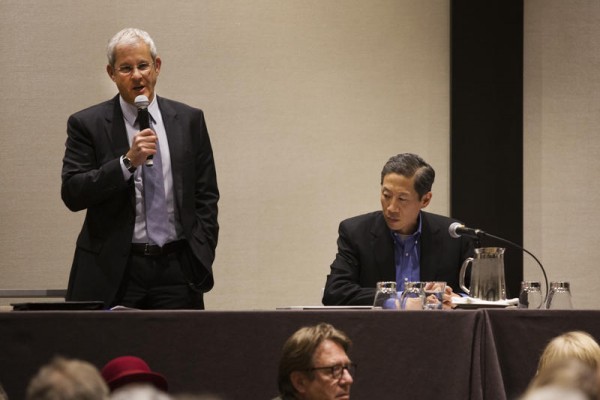 Editor's note: KPLU has hired an independent editor to oversee coverage of this story.
___
Pacific Lutheran University and the University of Washington say they will open the door for an outside group to bid on KPLU. PLU holds the radio station's license, and had signed a letter of intent to sell it to UW.
The original deal would turn KPLU into an all-music station with new call letters, operated by the UW-licensed KUOW. But now the parties say they're negotiating an addendum to that agreement.
It would allow a community-based group to submit its own competing bid. If that happens, Associate Vice President Norm Arkans says UW would "stand down."
"We've heard from the community that they were not given an opportunity to try to step forward and purchase the station for a community-based group. And so now what we want to do is try to give them the opportunity to do that," Arkans said in an interview.
PLU Vice President of Marketing and Communications Donna Gibbs first disclosed that the parties were negotiating the change. She says those talks are ongoing.
Arkans says the UW plans to proceed with its purchase of the station, which must be approved by the Federal Communications Commission. Community members would then have about six months to come up with a bid while the regulatory process plays out. If they fail to make an offer during that time, the original deal would proceed.
KPLU's Community Advisory Council has advocated just such a community-licensed model.
Speaking before the university publicly announced its plans to allow alternative bids, Council Chair Stephen Tan said he was disappointed the council wasn't given the opportunity to make a counter-offer.
"We would have made a proposal to PLU to please give us the chance to choose a different alternative, or allow them to choose a different alternative — one that wouldn't result in this consolidation," he said.
In an earlier letter addressed to PLU President Tom Krise and the Board of Regents, Tan denounced the sale and urged the university to "preserve the station's status as an independent public radio affiliate."
Tan says he later learned that many of the regents never received the letter, but PLU's Gibbs said in a statement that all members of the board have now had access to it.
http://www.kplu.org/post/plu-and-uw-say-theyll-consider-outside-bid-kplu