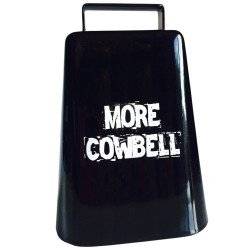 December 14th, 2015
While it seems rather quaint by today's industry standards, there was a time in its history when WBAP/Dallas shared the AM 820 and AM 570 frequencies with what was then WFAA radio. Whenever WBAP would switch from one frequency to the other, the station would ring its official 'cowbell' — a familiar sound heard across Texas cattle country that remained part of the station's audio signature until 1993.
The story behind the WBAP cowbell dates back even further than that —  to the 1920s, when the station rang it each morning at sign-on. The late J.E. Bridges (who was an engineer for the station from 1927-1929 and again from 1933-1962) was the man who rang that cowbell as part of his job. Bridges eventually gave the bell to his children before he passed away many years ago.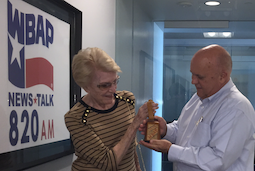 Recently his daughter, Ella Bridges, decided the cowbell belonged "back home," so she brought it to the WBAP studios where Operations and Program Manager Tyler Cox welcomed its return.
Read the full story behind the iconic WBAP cowbell HERE.