November 30, 2015
Cumulus Media/San Francisco has promoted veteran Bay Area News/Talk/Sports radio professional Lee Hammer to Operations Manager for News/Talkers KGO and KSFO. Along with his new responsibilities, Hammer will also continue to serve as Operations Manager/Program Director for sister Sports/Talkers KNBR (where he's been PD for the past 10 years) and KTCT (where he's been PD for 18 years).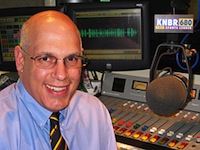 Hammer has been serving as Interim Operations Manager and Program Director for both KGO and KSFO since earlier this year. Hammer started his broadcast career at KXRX/San Joseas a News Editor and Talk Show Producer, before moving to crosstown all-newser KCBS, where he spent 16 years as a News Producer before joining KNBR and KTCT in 1998.
"Lee has been instrumental in leading KGO and KSFO over the past year while continuing to deliver record breaking ratings for KNBR," said Justin Wittmayer, VP/Market Manager for Cumulus' San Francisco cluster. "We are confident that, with his considerable expertise within the Talk format, he will take our News/Talk stations to new heights."
Email your congrats to Lee on his latest move up the company ladder HERE.