Posted Nov 29, 2015 2:12 pm PST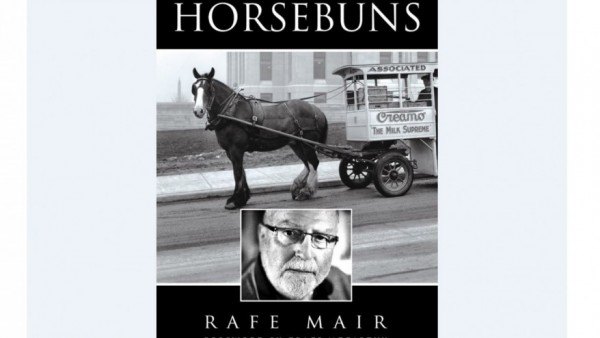 Rafe Mair looks back to his childhood in Vancouver
LIONS BAY (NEWS 1130) – Lawyer, politician, broadcaster, and these days published author; it seems Rafe Mair has done it all.
Lions Bay's most prominent political commentator is back with "I Remember Horsebuns," his 12th and latest book. "It's about Vancouver in the `30s, `40s, and `50s, basically when I grew up."
The last time we spoke, Mair was promoting "Radio Daze," a book that detailed his 25 years as an open line talk show host.
This time out, he's looking back to his childhood in Vancouver and how the city and its natural surroundings would come to shape his views.
"This is where I grew up. This is where my roots are. Look out at Howe Sound there. That's what I love and that's what I'm part of," he says. "I've fished all over this province. I feel it in my bones. When I've been away and come back, I can actually smell the sea where nobody else can. I mean, it's just in me."
Mair made a point of using only his memories as the source material for the book. "One thing I didn't do was to spend a lot of time on the Internet researching. I wanted to give a history of how I saw Vancouver as a little kid, then a teenager, and then a little later on as a [university] student."
So what are horsebuns anyway?
"If you come from the Prairies, you'd call them street apples," he chuckles. The title recalls a time in Vancouver's history when the horse and buggy were still fixtures on local streets. "In those days, people didn't care very much. They didn't make any fuss. You could imagine what would happen now if a horse went down your street and left horsebuns!"
"Actually, they were very useful because it was wartime and we used to pick them up as kids and take them to our mothers so they could put them on the Victory Garden. That's where it came from!"
However, the book isn't all sunny anecdotes about old Vancouver.
Mair remembers a persistent racism that would rear its ugly head from time to time. "My father and his two sisters, mother and father… came to Vancouver from New Zealand in 1914, the same year the Komagata Maru came," he explains.
"The people on the Komagata Maru were sent back to India under horrific conditions. What's the difference? Well, the difference is colour, that's what it is, and you can't tell me anything [different]."
That would come to shape his views long after, including his take on the Syrian refugees. "Everybody who has come to this country has been a refugee at one time or another or there's economic or political or both and everybody's turned out pretty well," he says.
Mair turns 84 on December 31st, and even if his health doesn't always allow him to be as mobile as he'd like, he finds writing keeps his mind sharp,
"It's like a kid with toy soldiers. I just love every minute of it." he says with a smile. "I've never thought of myself as a writer, but then when I look back over the past 30 years or so, I've probably made most of living writing if you include the editorials that I did. I love it."
He also maintains a daily commentary at The Common Sense Canadian website.
Mair figures has at least two more books him, one of him he calls a "Tuesdays with Morrie" type affair.
"I'm writing a series of letters to one of my granddaughters who's at university, at the University of Victoria. We get along like a house on fire," he says. "So I'm just trying this technique. I've never tried it before and it may fail before I really get going on it but so far, so good."
"I Remember Horsebuns" is published by Promontory Press.
READ MORE  HERE  AT THE NEWS 1130 WEBSITE