ON THIS DAY in 1846,
the Toronto, Hamilton, Niagara, & St. Catharines Telegraph Company was founded.  It was the first telegraph company in Canada.

On this day in 1891, radio actor Parker Fennelly was born in Maine.  He was a longtime member of Allen's Alley on the Fred Allen Show, portraying Titus Moody with a strong "Down East" accent. He had roles in numerous live early TV shows including Lux Video Theatre, Philco Television Playhouse and Studio One.  He died at age 96 on Jan. 22, 1988.
On this day in 1903, a favorite comedian of early TV, Curly Howard was born in Brooklyn.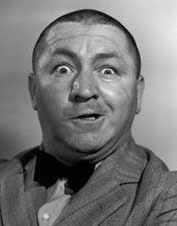 He was one of The Three Stooges, whose slapstick comedies occupied a lot of black & white airtime in TV's earliest days.  He died Jan 18 1952 at age 48, after suffering a dibilitating second stroke two years earlier.
On this day in 1915,
actor Harry Hickox


was born in Big Springs Tx.  He had supporting roles in two TV sitcoms of the 60's, No Time for Sergeants and Please Don't Eat the Daisies, then did guest parts for another decade.  He died June 3 1994 at age 78.
On this day in 1917, 
 actress Joan Fontaine was born in Japan.  After a successful big-screen career she took running roles in the TV series Ryan's Hope and Crossings, plus scores of TV guest spots over a span of 38 years.  She died in her sleep Dec. 15 2013, at age 96.
On this day in 1925, singer/songwriter/lyricist Dory Previn (pictured below) was born in Rahway New Jsersey.  With her first husband Andre Previn she wrote such hits as Come Saturday Morning & It's Impossible, as well as the scores for a number of movies. She died Feb. 14 2012 at age 86.

On this day in 1939, the first televised pro football game was telecast from Ebbets Field in Brooklyn, New York. NBC's flagship, W2XBS, carried the action. Brooklyn beat Philadelphia, 23-14. NBC later changed those experimental call letters to WRCA, and even later, to WNBC.
On thuis day in 1940, Vancouver's CBR radio opened its first  LPRT (Low-Powered Relay Transmitter) in Revelstoke on 840 KHz with a power of just 20 watts. By 25 years later there were more than 70 LPRT's on AM throughout B.C., all with a power of 40 watts.
On this day in 1944, radio was reporting that the World War 2 Allies had the Axis on the run. On the Italian front, Canadian Private Ernest Alva 'Smokey' Smith of the Seaforth Highlanders showed conspicuous heroism, holding the Savio River crossing against German counter-attacks and destroying at least two enemy tanks.  The New Westminster native was awarded the prestigious Victoria Cross.
On this day in 1945, popular longtime Vancouver deejay Fred Latremouille was born in Nanaimo.  From 1962 to 2oo7 he was a witty, intelligent program host at a number of Lower Mainland radio outlets, for a large chunk of that time as the first voice listeners heard at the start of a weekday.   He also was a much-in-demand personality on CBC and other local TV outlets.  He succumbed to liver ailments at his Arizona retirement home March 5 2015 at age 69.

On this day in 1948, the No. 1 Billboard Pop Hit was "Twelfth Street Rag" by the Pee Wee HuntOrchestra.
On this day in 1957, Portland had a visit from Alan Freed's "The Biggest Show Of Stars For 1957." The stage of the Paramount Theater saw performances by 'Chuck Berry, Fats Domino, Buddy Holly and the Crickets, the Everly Brothers, Buddy Knox, Clyde McPhatter, Paul Anka, Frankie Lymon, LaVern Baker, the Drifters, Eddie Cochran, and several others.
On this day in 1958, the No. 1 Billboard Pop Hit was "It's All In The Game" by Tommy Edwards. The lyrics were written by Carl Sigman to a 1912 melody by Charles Gates Dawes, who later served as vice president of the U.S.(1925-29).
On this day in 1961, in the midst of a growing "twist" craze, Chubby Checker was on CBS-TV's Ed Sullivan Show, performing his original hit from the previous year, "The Twist," along with his followup "Let's Twist Again."


The resulting attention helped boost "The Twist" back to #1 by early 1962, marking the only time the same recording has hit the top spot on Billboard's singles chart in two different years.
On this day in 1962, the world seemed precipitously close to nuclear war, as President Kennedy took to the airwaves to tell us Soviet missile bases had been discovered in Cuba.
On this day in 1964, The Who, then known as the High Numbers, auditioned for EMI Records, who turned them down.
On this day in 1965, The Kingston Trio played themselves on the NBC-TV WWII drama series, "Convoy." They sang two songs, "Hard Travelin'" and "Blowin' In The Wind."
Also in 1965, Ernest Tubb was elected to the Country Music Hall of Fame.

On this day in 1966, the Supremes rocketed to the top of the pop-album charts with 'Supremes A-Go-Go', knocking The Beatles 'Revolver' from No. 1.  Diana, Florence and Mary were the first all-female group to sit atop Billboard's LP chart.
Also this day in 1966, the Beach Boys released the single "Good Vibrations."  At that time, it was the most expensive single ever recorded, costing 40-thousand dollars to make. "Good Vibrations" was the only Beach Boys' single to sell a million copies in North America.
On this day in 1967, UK singer Lulu appeared on CBS-TV's Ed Sullivan Show singing her biggest hit "To Sir with Love." Also guesting were Eddie Fisher, the McGuire Sisters, and comic Norm Crosby.

On this day in 1969, singer/songwriter Tommy Edwards (It's All In The Game .. see 1958 above) died of a brain aneurysm at age 47.
Also in 1969, Paul McCartney was forced to appear in public to deny rumours of his death.
Still this day in 1969, the second Led Zeppelin album was released. It reached #1 two months later.
On this day in 1971, folk singer Joan Baez received a gold record for her hit, The Night They Drove Old Dixie Down. It turned out to be her biggest hit, peaking at #3 on the charts.
On this day in 1974, Fidel Castro gave his first in-depth TV interview since 1968. Dan Rather interviewed him on CBS.
On this day in 1976, 
 the English rock group the Who wrapped up their tour with a concert in Toronto's Maple Leaf Gardens.  It would prove to be the last show Keith Moon (third from the left) would play in North America.  He died less than two years later.
On this day in 1977, Foreigner's self-titled debut release peaked at #4 on the Billboard album chart. Sales eventually topped four million copies.
On this day in 1978,
 comedienne & novelty singer Dorothy Shay, the "Park Avenue Hillbilly", suffered a fatal heart attack at age 57. She co-starred with Spike Jones in network radio, was a guest of Jack Benny & Red Skelton on TV, and played the recurring role of Thelma, owner of the "Dew Drop Inn," on CBS-TV's "The Waltons" until her death.
Also this day in 1978, Earth, Wind & Fire opened a 75-date sold-out U.S. tour in Louisville, Ky. The show came complete with visual effects designed by magician Doug Henning.
Still this day in 1978, Laugh-in's "sock-it-to-me" gal Judy Carne was arrested at London's Gatwick Airport for drug possession.
On this day in 1984, actor Napoleon Whiting, who played Silas on the TV series Big Valley), died at age 75.
On this day in 1985, the No. 1 Billboard Pop Hit was "Saving All My Love for You" 
 by Whitney Houston. The song was originally recorded by Marilyn McCoo and Billy Davis Jr.
On this day in 1986, Toronto-born actor Ivor Francis died at 68 from the effects of multiple strokes.  In 22 years of supporting roles on US TV, he had running roles in just two series, Bright Promise and Dusty's Trail.
Also this day in 1986, a traffic reporter for New York's WNBC-AM Jane Dornnacker was killed in a helicopter crash during a live report.


Listeners heard her terrified voice screaming "Hit the water, hit the water" as the helicopter from which she and pilot Bill Pate were reporting, fell from the sky and crashed into the Hudson River. Dornacker had been a member of 'The Tubes' and 'Leila And The Snakes.'
On this day in 1988, Phil Collins' remake of the Mindbenders "Groovy Kind of Love" was the number one U.S. single. It was parked at the peak of the pops for two weeks.
Also this day in 1988, Elton John sold out New York's Madison Square Garden for a record 26th time.
On this day in 1989,
radio announcer & actor Roland Winters


suffered a stroke and died at age 84.  He began in radio and then spent 30 years of mostly guest spots on TV.  He had running roles in three early series: Mama, Meet Millie, & Door with No Name.
On this day in 1990, Pearl Jam played their first ever concert when they appeared at the Off Ramp Cafe in the Eastlake area of Seattle, under the name "Mookie Blaylock." They were the opening act for Alice In Chains.
On this day in 1991, the 100th episode of the sitcom "Full House" aired on ABC.
On this day in 1992, actor Cleavon Little, who hit the bigtime on the big screen in Blazing Saddles,


succumbed to colon cancer at age 53.  On TV Cleavon had running parts in the series Baghdad Cafe, True Colors, Temperatures Rising, and Another World.
Also this day in 1992, the legendary Cincinnati, Brooklyn & Yankee baseball announcer Red Barber (below), died at age 84.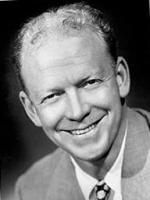 On this day in 1993, former Mousketeer Annette Funicello got a great 51st birthday present with the official unveiling of her star on the Hollywood Walk of Fame.
On this day in 1994, pop drummer/singer/producer Jimmy Miller (Motorhead), died of liver failure at age 52.  Miller produced hundreds of albums from the 1960's to the '90s, including some of the Rolling Stones' biggest successes — "Beggar's Banquet," "Sticky Fingers," "Exile on Main Street," "Let It Bleed" and "Goat's Head Soup."
On this day in 1995, character actress Mary Wickes (pictured below) died of acute renal failure at age 85.  She began doing movie work in the 30's, and ended doing voices for TV cartoons in the 90's. Amongst much guest work she had running roles on TV's Father Dowling Mysteries, The Waltons, Dennis the Menace, the Peter Lind Hayes Show, & Life With Louie.

On this day in 1997, Harry Goodman, brother of bandleader Benny Goodman, for whom he was a sideman, died at the home of his daughter-in-law in Gstaad, Switzerland, of complications from a stroke. He was 91.
On this day in 1998, Bob Dylan played a "homecoming" show in Duluth, Minnesota, the nearest he'd appeared to his neighboring hometown of Hibbing in almost 30 years.
On this day in 1999, the famous Motown act the Temptations earned their first official RIAA-certified platinum award for their 56th album "Phoenix Rising."

On this day in 2000, R.E.M. graced its Athens, Ga., hometown with the band's first concert appearance there in eight years. The three-song performance, held on the steps of the Athens Clarke County Courthouse, came as part of Land Aid, a local festival that strives to improve the economic environment of Athens and its surrounding area.
On this day in 2004, a wrenching videotaped statement was broadcast from kidnapped aid worker Margaret Hassan.  She begged Britain to help save her by withdrawing its troops from Iraq, saying these "might be my last hours." (Hassan was apparently killed by her captors.)
Also in 2004, bass singer Bill Reed, original member of the Toronto-based singing group The Diamonds (The Stroll, Little Darlin') died at age 68.
On this day in 2005, Waterloo by Abba was voted the best song in the history of the Eurovision Song Contest. Viewers in 31 countries across Europe voted during a special show in Copenhagen to celebrate the annual event's 50th birthday.

On this day in 2006, Melfort Sask.-born actor Arthur Hill, who starred in the 1970's ABC series Owen Marshall: Counselor at Law, and guested on episodic TV over a span 45 years, died at age 84, after a long battle with Alzheimer's Disease.
Also this day in 2006, John Mellencamp played "Our Country" prior to game two of the World Series in Detroit. The song, from Mellencamp's "Freedom's Road" CD, was also featured in ads for Chevrolet's Silverado pickup truck.
On this day 2007, Marie Osmond fainted live on TV after her dance performance on ABC's "Dancing With The Stars."

On this day in 2008, "Rock N Roll Train," the first single from the AC/DC album "Black Ice," was heard in an episode of CBS-TV's Criminal Minds.
On this day in 2009, comedian/TV host/gameshow panellist Soupy Sales succumbed to cancer at age 83.  In the 1980's he was the midday deejay at New York's WNBC-AM between Don Imus and Howard Stern.
Also in 2009, songwriter/producer Luther Dixon, who gave us The Shirelles and hit songs Soldier Boy, Baby It's You, Mama Said, 16 Candles and Why Baby Why, died in Jacksonville Florida at age 78.
On this day in 2010, Toronto-based Rush was listed #1 on Billboard's "Hot Tours" chart, based on ticket sales from the band's North American "Time Machine Tour." Over three months (August – October) the band sold more than 270,000 tickets, with a gross of $18,989,834.

On this day in 2011, former CBS News correspondent Robert Pierpoint, for 23 years the network's White House correspondent where he covered 6 presidents, died of complications from hip surgery at age 86.
On this day in 2012, a week-long celebration of Chuck Berry began at the Rock and Roll Hall of Fame in Cleveland. It was part of the Hall's American Music Masters series.
Today's Birthdays:
Ray Stern (Howard's mother) is 88.
Actor Christopher Lloyd (Stacked, Deadly Games, Taxi) is 77.
UK actor Sir Derek Jacobi (Last Tango in Halifax) is 77.
Actor Tony Roberts (Lucie Arnaz Show, Four Seasons, Edge of Night) is 76.
French actress Catherine Deneuve (Chanel #5 spksprsn) is 72.
Rock musician Leslie West (Mountain) is 70.
Singer Eddie Brigati (Rascals member) is 70.
Retired CHEK Victoria newsman Bruce Kirkpatrick is ??
Actor Jeff Goldblum (Law & Order:CI, Will & Grace, Futurequest) is 63.
Actor Luis Guzman (Oz) is 58.
Writer/producer/director Marc Lawrence (Family Ties) is 56.
Writer/director/actor Todd Graff (The Electric Company) is 56.
Rock musician Cris Kirkwood is 55.
Actor Robert Torti (Young & the Restless, The Drew Carey Show, Days of Our Lives) is 54.
Actor Bob Odenkirk (Breaking Bad, Better Call Saul, Mr. Show, Larry Sanders Show) is 53.
Christian singer TobyMac (dc Talk) is 51.
Singer-songwriter John Wesley Harding is 50.
Actress Valeria Golino (In Treatment) is 49.
Comedian Carlos Mencia is 48.
Country singer/songwriter Shelby Lynne is 47.
Reggae rapper Shaggy is 47.
Vancouver's Rock 101 Breakfast Co-Host Kim Seale is 46.
Rapper Tracey Lee is 45.
Actress Saffron Burrows (Agents of S.H.I.EL.D., Law & Order:CI, Boston Legal) is 37.
Actor Jesse Tyler Ferguson (Modern Family) is 40.
Actress Zuzanna Szadkowski (Gossip Girl, The Knick) is 37.
Reality TV personality Katrina Campins (The Apprentice) is 36.
Actor Michael Fishman (Roseanne) is 34.
Former teenaged homegrown talk show host Michael Essany is 33.
Rock musician Zac Hanson (Hanson) is 30.
Actor Kyle Gallner (Veronica Mars) is 29.
Actress Sharon Rooney (Sherlock) is 27.
Actor Jonathan Lipnicki (Dawson's Creek, Jeff Foxworthy Show) is 25.
Actress Sofia Vassilieva (Medium) is 23.
Chart Toppers – Oct. 22
1950
Goodnight Irene – The Weavers
All My Love – Patti Page
Harbor Lights – The Sammy Kaye Orchestra (vocal: Tony Alamo)
I'm Moving On – Hank Snow
1959
Mack the Knife – Bobby Darin
Mr. Blue – The Fleetwoods
Teen Beat – Sandy Nelson
Country Girl – Faron Young
1968
Hey Jude – The Beatles
Fire – The Crazy World of Arthur Brown
Little Green Apples – O.C. Smith
Then You Can Tell Me Goodbye – Eddy Arnold
1977
You Light Up My Life – Debby Boone
Noboby Does It Better – Carly Simon
That's Rock 'N' Roll – Shaun Cassidy
Heaven's Just a Sin Away – The Kendalls
1986
When I Think of You – Janet Jackson
Typical Male – Tina Turner
True Colors – Cyndi Lauper
Just Another Love – Tanya Tucker
1995
Fantasy – Mariah Carey
Gangsta's Paradise – Coolio featuring L.V.
Runaway – Janet Jackson
She's Every Woman – Garth Brooks
2004
My Happy Ending – Avril Lavigne
Goodies – Ciara featuring Petey Pablo
She Will Be Loved – Maroon 5
Suds in the Bucket  – Sara Evans