ON THIS DAY
in 1907, cowboy actor & singer Gene Autry


was born in Tioga Texas.  As well as producing scores of movie oaters & several hit records, he had his own long-running programs on network radio & later TV, owned his own baseball team (California Angels) & Golden West Broadcasting (radio & TV stations.)  Autry is the only person to have 5 Hollywood Walk of Fame stars [film, radio, TV, stage, records]; he died Oct 2, 1998 at age 91.
On this day in 1920, "Radios for 10 bucks!" was what
Joseph Horne Company's


department store in Pittsburgh, PA was advertising in The Pittsburgh Sun.  One could get a ready-made radio in a box with headphones and tuning knob. This way, one could do away with the Quaker Oats round box and the cat's whisker wire, which was a pain in the butt to tune.
On this day in 1926, the National Broadcasting Company was incorporated by parent company RCA.  The network started programming Nov. 15 with 24 stations.
On this day in 1930, 
 "This is Lowell Thomas" was heard for the first time as a young newscaster made his debut on CBS Radio. He replaced Floyd Gibbons on the nightly, 15-minute newscast. Thomas, who started as a reporter for the New York Daily News (at age 19), was heard nightly on the radio for the next 46 years!.
Also this day in 1930, Bing Crosby,


America's premier crooner for decades, married his first wife, actress & singer Dixie Lee.
On this day in 1936, radio was first used for a US presidential campaign.
On this day in 1939, actor Larry Linville


was born in Ojai Calif.  He is best remembered for his role as the feckless Major Frank Burns on CBS-TV's MASH.  He died Apr 10, 2000 at age 59 following a cancer operation.
On this day in 1940, the radio quiz show "Double or Nothing" was first heard on the Mutual Broadcasting System, with John Reed King as host. Each time contestants answered questions correctly, their winnings would double — from $20 to $40 to the big payoff of $80. Best remembered MC Walter O'Keefe took over the show when it moved to CBS in 1947.  He & it continued until 1952.
On this day in 1942, actress/singer Madeline Kahn was born in Boston.  Best remembered for her supporting roles in Mel Brooks movies, she also was a hilarious & memorable guest on talk shows hosted by Merv Griffin, Dick Cavett & Johnny Carson.  She won a Broadway Tony for The Sisters Rosensweig [1993].  Madeline succumbed to ovarian cancer Dec 3, 1999 at age 57.
On this day in 1945, country singer Jimmy Wakely performed for the first time at the Grand Ole Opry.
On this day in 1946, The Adventures of Sam Spade,
 starring Howard Duff, debuted on CBS radio and became a big hit in the Sunday night schedule. (It had aired in the summer of 1946 on ABC on Friday nights, and would move to NBC in 1949.)
And now a word from our sponsor: "Use Wildroot Cream Oil, Charlie … it keeps your hair in trim…"
Also in 1946, the OTR comedy favorite The Phil Harris-Alice Faye Show began its wonderful 8-year run on NBC radio Sundays as 'The Fitch Bandwagon," sponsored by Fitch Shampoo.
On this day in 1947, jazz great
Dizzy Gillespie


presented his first Carnegie Hall concert in New York, adding a sophisticated jazz touch to the famous concert emporium. His trademark: Two cheeks pushed out until it looked like his face would explode.
On this day in 1951, the University of California defeated the University of Pennsylvania 35-0 at Franklin Field in Philadelphia. It was the first network football game to be televised in color — on CBS.
On this day in 1953,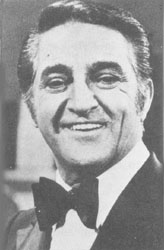 comedian Danny Thomas, who many now remember as Marlo's dad and Phil Donahue's father-in-law, debuted in the family comedy Make Room for Daddy on ABC-TV. Danny had negotiated a deal that would allow him to retain an ownership interest in his programs, an arrangement so successful that it allowed him to give something back to the world, in the form of his philanthropic efforts to build St. Jude Children's Hospital in Memphis. "All I prayed for was a break," he once told an interviewer, "and I said I would do anything, anything, to pay back the prayer if it could be answered. All I needed was a sign of what to do and I would do it."  And so it was.
Also this day in 1953, the
"Buick-Berle Show"


starring the one & only "Uncle Miltie" debuted on NBC-TV. Berle had already been a Tuesday night headliner for five years, under the sponsorship of Texaco.
On this day in 1955, the radio adventure series about the North-West Mounted Police during the 1890's Gold Rush,  "Sergeant Preston of the Yukon" made its TV debut on CBS.  The essential co-star of the show, both radio and TV, was Preston's "wonder dog King."
Also in 1955, Billboard magazine called Little Richard's debut hit, Tutti Frutti, "a cleverly styled novelty with nonsense words and rapid fire delivery."

On this day in 1956, The Gale Storm Show debuted on CBS-TV, and ran for 143 episodes.  Ms. Storm had already enjoyed considerable radio & TV success in "My Little Margie" (126 TV episodes.)
On this day in 1958, the prestigious anthology drama "Studio One," produced by Canadian Fletcher Markle, concluded its 10-year run on CBS-TV.   The 60-minute program had begun on radio in 1947.
Still this day in 1958, "Summertime Blues" by Eddie Cochran peaked on the pop charts at #8.
On this day in 1959,  "The Many Loves Of Dobie Gillis" 
 starring Dwayne Hickman debuted on CBS-TV, while "Philip Marlowe, Private Eye" made its first appearance on ABC-TV.
Also in 1959, the first UK rock and roll artist with a hit in the US was singer Cliff Richard, as his "Living Doll" debuted on Billboard's Hot 100.
On this day in 1960, "My Three Sons"


was welcomed into U.S. homes for the first time on ABC-TV. Fred MacMurray, a popular movie actor, had a difficult time making the adjustment to the small screen, with its much faster and tighter filming schedules.  But adjust he did, and My Three Sons endured so well that CBS bought the successful hit for somewhere between seven and ten million dollars in 1965.  It ran for an amazing 380 episodes over 12 seasons, then was rerun for years in syndication.
On this day in 1962, two pop instrumentals peaked on the charts, "Alley Cat" by Bent Fabric & His Piano at #7, and "Green Onions" by Booker T & MG's at #3.
On this day in 1963, the Rolling Stones began their first tour in England, opening for Little Richard, Bo Diddley & the Everly Bros. The Stones would end up becoming the most successful touring act of all time.
Also this day in 1963, two notable programs made their debut on CBS-TV, "The Judy Garland Show,"  and "My Favorite Martian," starring Ray Walston.
On this day in 1967, the future #2 pop single "I Heard it Through the Grapevine" by Gladys Knight & the Pips was released.
On this day in 1969, 
  "Love American Style,"made its first appearance on ABC-TV.
Also in 1969, "Put a Little Love in Your Heart" by Jackie DeShannon was certified as a Gold Record.
On this day in 1970, character actor Edward Everett Horton died at age 84 due to cancer.  He had an active 50 year career from the silent era of movies to running roles in TV's F Troop and Dennis the Menace series, as well as narrating The Bullwinkle Show.  He'd also hosted NBC Radio's Kraft Music Hall in the mid 1940's.
On this day in 1973, Grand Funk Railroad went to No.1 on the US singles chart with 'We're An American Band', their first of two US chart toppers.
On this day in 1975, Calgary's CBR-FM signed on at 102.1 MHz.

Also in 1975, singer Jackie Wilson collapsed while performing "Lonely Teardrops" at the Latin Casino in Cherry Hill, New Jersey. The 41-year-old had suffered a heart attack that led to brain damage that left him in a coma from which he never recovered. He died in January 1984 after spending the rest of his life in hospitals.
On this day in 1976, an intoxicated Jerry Lee Lewis, celebrating his 41st birthday, accidentally shot his bass player, Norman "Butch" Owens, while firing at a soda bottle with a .357 Magnum. Lewis was charged with shooting a firearm within city limits.

Also in 1976, the sitcom "Alice" began a 9-year run on CBS-TV.
On this day in 1977, the most-watched prize fight in history was staged, as Muhammad Ali beat Ernie Shavers (in a decision) to claim the heavyweight championship boxing crown. The bout was officiated by the first woman official of a heavyweight title boxing match. Ali "floated like a butterfly … stung like a bee" before an estimated 70 million viewers –on NBC-TV.
On this day in 1984, the song "Let's Go Crazy" by Prince & the Revolution topped the charts, which gave him the rare achievement of a No. 1 single, No. 1 album, and No. 1 film, simultaneously.  Previously that feat had only been accomplished by the Beatles.
On this day in 1985, three TV firsts of note, as "Alfred Hitchcock Presents" returned to NBC-TV, along with the premiere of "Amazing Stories," by Steven Spielberg, while"MacGyver," starring Richard Dean Anderson, was seen for the first time on ABC-TV.
On this day in 1986, 
 the Southern Belle TV comedy"Designing Women," aired for the first time on CBS.
On this day in 1987, "Didn't We Almost Have It All," by Whitney Houston hit #1.
Also in 1987, the nighttime relationship drama "thirtysomething,"


made its debut on ABC-TV.
On this day in 1989, while travelling on his motorbike from Los Angeles, Bruce Springsteencalled in at Matt's Saloon in Prescott, Arizona and jammed with the house band for an hour. He overheard a barmaid talking about her problems paying off her medical bills. A week later "the Boss" sent her a check for $100,000.
Also in 1989, one of talk TV's favorite guests, Zsa Zsa Gabor was convicted of slapping a police officer during a stop in Beverly Hills. Her sentence was 3 days in jail.
On this day in 1990, the sons of Rick Nelson Gunnar and Matthew were atop the Billboard Hot 100 with "Love & Affection." They thus became the third generation of the family to do so. Grandfather Ozzie Nelson led his orchestra to the top of the 1932 charts with "And Then Some," while daddy Rick topped all others in 1958 with "Poor Little Fool" and again in 1961 with "Travelin' Man."

On this day in 1993, the sitcom "Grace Under Fire," starring Brett Butler was seen for the first time on ABC-TV.
Also in 1993, top honours at the 27th Country Music Assn Awards went to Vince Gill.
On this day in 1994, The Pointer Sisters singing group was honoured with their own star on the Hollywood Walk of Fame.
On this day in 1996, Alanis Morissette concluded her first U.S. tour in Houston, Texas.
On this day in 1998, the TV series "Felicity," starring Keri Russell, was seen for the first time on the WB Network.
Also in 1998, the Frank Sinatra estate launched a suit against Ross clothing stores of California for selling an unauthorized collection of the legend's songs called The Sinatra Collection.
On this day in 2001, Martina McBride and the Doobie Brothers headlined Farm Aid 2001: A Concert for America at the Verizon Wireless Music Centre in Noblesville, Indiana. OrganizersWillie Nelson, John Mellencamp, Neil Young and Dave Matthews also performed.

On this day in 2002, a pilot episode of "American Chopper" focussing on customized motorcycles, aired on the Discovery Channel.  A second pilot was aired four months later.
Also in 2002, American Idol winner Kelly Clarkson started a two-week run at No.1 on the US singles chart with 'A Moment Like This.'
On this day in 2004, a British tabloid reported that Michael Jackson had a secret fourth child who was now 19. The story claimed that Norwegian Omar Bhatti was born after a one night stand and had stayed with Jackson at his Neverland home in California.

Also in 2004, "American Idiot" became Green Day's first album to top the U.S. chart. It was the group's fifth studio LP and their first release in four years.
Still in 2004, country music's Randy Travis was on hand to help unveil his new star on the Hollywood Walk of Fame.
On this day in 2006, PBS' Great Performances honoured Jerry Lee Lewis. The New York taping featured Rolling Stones guitarist Ronnie Wood and the Eagles' Don Henley.
On this day in 2007, Bono appeared with former US President Bill Clinton for Giving — Live at the Apollo, a roundtable discussion and concert promoting youth activism at New York's Apollo Theater. The program was streamed live at Think.MTV.com and later telecast on MTV.
On this day in 2008, "Gotta Be Somebody," the lead single from Nickelback's recorded in Vancouver sixth studio album, "Dark Horse," was available for free downloads for 24 hours.

On this day in 2010, Hollywood legend Tony Curtis, who starred in the series Vega$ (1978), McCoy (1975), The Persuaders (1971) and 15 TV movies during & after a healthy big screen career, suffered cardiac arrest & died at age 85.
Also in 2010, according to a poll by the UK's PRS for Music, R.E.M.'s "Everybody Hurts" was the #1 song that makes men cry. Other Top 10 weepers include #2 "Tears In Heaven" (Eric Clapton), #4 "Nothing Compares 2 U" (Sinead O'Connor), #5 "With Or Without You" (U2), #6 "The Drugs Don't Work" (The Verve), #7 "Candle In The Wind" (Elton John) and #8 "Streets Of Philadelphia" (Bruce Springsteen).
On this day in 2011, former singer/record label executive Sylvia Robinson, who as part of the duo Mickey & Sylvia scored the 1956 R&B chart topper "Love is Strange," died of congestive heart failure at age 75.

On this day in 2012, KZOK Seattle radio personality Donny Bonaduce received a painful bite on the cheek from a female fan who had asked for a kiss.  It happened at a Tacoma casino where Bonaduce was to emcee a concert.  The onetime star of TV's Partridge Family was treated with antibiotics and did not press charges.
Also in 2012, Neil Young, The Black Keys and the Foo Fighters headlined the Global Festival in New York's Central Park, a benefit held to reduce world poverty.
On this day in 2013, KISS bassist Gene Simmons performed the U.S. national anthem at the NFL International Series game between the Pittsburgh Steelers and the Minnesota Vikings at a sold-out Wembley Stadium in London. The Vikings held off the Steelers in a thriller 34-27.
Today's Birthdays:
Musician/singer Jerry Lee Lewis is 80.
Actor Ian McShane (Ray Donovan, Deadwood, Kings) is 73.
Jazz musician Jean-Luc Ponty is 73.
Television-film composer Mike Post is 71.
Actress Patricia Hodge (Rumpole of the Bailey) is 69.
TV personality Bryant Gumbel (HBO's Real Sports, Today Show, The Early Show) is 67.
Guitarist Mike Pinera of Iron Butterfly is 67.
Singer-guitarist Mark Farner of Grand Funk Railroad is 67.
Country singer Alvin Crow is 65.
Actor Drake Hogestyn (Days of our Lives) is 62.
Actress Cindy Morgan (Falcon Crest, Bring 'Em Back Alive) is 61.
PBS newswoman Gwen Ifill (PBS News Hour, Washington Week in Review) is 60.
Child actor Ken Weatherwax (Pugsley on TV's Addams Family) is 60.
Singer Suzzy Roche (The Roches) is 59.
Comedian Andrew "Dice" Clay is 58.
Actress Karen Young (The Sopranos) is 57.
Rock singer John Payne (Asia) is 57.
Actor Roger Bart (Desperate Housewives) is 53.
Singer-musician Les Claypool is 52.
Actress Jill Whelan (Divorce Court, Love Boat) is 49.
Bassist Brad Smith of Blind Melon is 47.
Rhythm-and-blues singer Devante Swing (Jodeci) is 46.
Playboy Playmate/actress Erika Eleniak (Baywatch, Brooklyn South) is 46.
Toronto-born comedian/producer Russell Peters (Russell Peters TV Movies) is 45.
Actress Natasha Gregson Wagner (The 4400, Pasadena) is 45.
Country singer Brad Cotter (Nashville Star) is 45.
Vancouver-born actress Rachel Cronin (Ed) is 44.
Actor Mackenzie Crook (Almost Human, Game of Thrones) is 44.
Country musician Danick Dupelle (Emerson Drive) is 42.
Actor Alexis Cruz (Touched by an Angel, Shark) is 41.
News anchor/weathercaster Marysol Castro (CBS-TV's The Early Show) is 39.
Actor Zachary Levi (Chuck, Less Than Perfect) Zachary is 36.
Actress Zibby Allen (A.N.T. Farm, Grey's Anatomy) is 35.
Singer/songwriter Dallas Green is 35.
Actress Shay Astar (3rd Rock from the Sun, The Good Life) is 34.
Country singer Katie McNeill (3 of Hearts) is 33.
Actress/TV personality Lo Bosworth (The Hills) is 28. 
Guitarist Josh Farro of Paramore is 28.
Actor Doug Brochu (Sonny With a Chance, So Random!) is 25.
Chart Toppers – Sept. 29
1945
If I Loved You – Perry Como
On the Atchison, Topeka and the Santa Fe – Johnny Mercer
Till the End of Time – Perry Como
You Two Timed Me One Time Too Often – Tex Ritter
1954
Sh-Boom – The Crew Cuts
Hey There – Rosemary Clooney
Shake, Rattle and Roll – Bill Haley & His Comets
I Don't Hurt Anymore – Hank Snow
1963
Blue Velvet – Bobby Vinton
Sally, Go 'Round the Roses – The Jaynetts
Be My Baby – The Ronettes
Abilene – George Hamilton IV
1972
Baby Don't Get Hooked on Me – Mac Davis
Saturday in the Park – Chicago
Back Stabbers – O'Jays
I Can't Stop Loving You – Conway Twitty
1981
Endless Love – Diana Ross & Lionel Richie
Queen of Hearts – Juice Newton
Stop Draggin' My Heart Around – Stevie Nicks with Tom Petty & The Heartbreakers
Tight Fittin' Jeans – Conway Twitty
1990
(Can't Live Without Your) Love and Affection – Nelson
Close to You – Maxi Priest
Praying for Time – George Michael
Jukebox in My Mind – Alabama
1999
Bailamos – Enrique Iglesias
Unpretty – TLC
She's All I Ever Had – Ricky Martin
Something Like That – Tim McGraw
2008
Disturbia  – Rihanna
Closer  – Ne-Yo
Forever – Chris Brown
Waitin' on a Woman – Brad Paisley