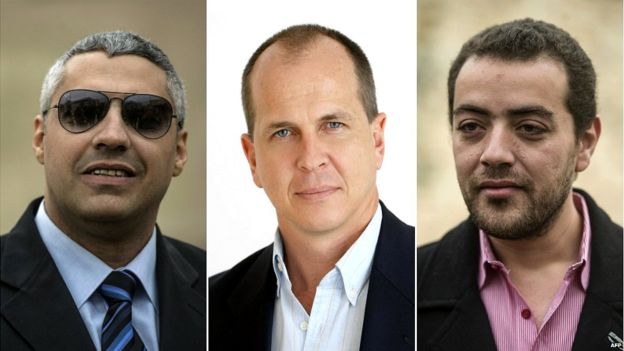 By Harvey Oberfeld
August 30th, 2015
Three Al Jazeera journalists have been sentenced to three years in prison after being found GUILTY by an Egyptian court of failing to register as journalists as required under Egyptian law, importing equipment without security officials' approval,   broadcasting "false news" and using a hotel as a broadcast point without permission.
The free world's journalists, human rights activists and  politicians are quite right in protesting the CRIMINAL convictions of Egyptian Baher Mohamed, Australian Peter Greste and Canadian Mohammed Fahmy.
BUT don't tell me the three are totally "innocent".
Unlike almost all of those who have posed for pictures, issued press releases and organized campaigns on behalf of the three, I actually have WATCHED … or perhaps I should say monitored … Al Jazeera for a few years.
And there is NO DOUBT in my mind that Al Jazeera WAS and IS a mouthpiece for the Muslim Brotherhood and was HIGHLY biased in supporting and even promoting its pro-Islamic agenda, downplaying its anti-democratic laws and the almost dictatorial imposition of autocratic rule by Muslim Brotherhood leader Mohamed Morsi.
That has always been my subjective opinion … arrived at by WATCHING their "news" … and I have written about this a year ago: HERE
Al Jazeera operates out of and has very close financial/political ties with the government Qatar, an Arab dictatorship that has politically and financially supported not only the Muslim Brotherhood's activities and agenda but also that of the UN-designated terrorist organization Hamas as well: they are NO innocents … and certainly NO great example of democracy for Egypt or any country to follow.
And the three convicted "journalists" were active members and participants in and promoters of Al Jazeera's and Qatar's agenda.
We should not forget that.
Canadian Fahmy  (who also held Egyptian citizenship) was Cairo Bureau Chief for Al Jazeera.  It is IMPOSSIBLE for me to believe … as a manager ….  he was not complicit and supportive and a promoter of what I clearly felt was and still is Al Jazeera's biased reporting and agenda.
But is that criminal?  NO!   A lousy journalist or news manager perhaps … but that is not a criminal offence.
After all, the world today unfortunately features many other examples of what I would classify as biased "advocacy" disguised as news: Fox News,  CNN, MSNBC, BBC World  and CBC The National are a few I  have watched … and do not regard as fair and impartial.
I would condemn those who work for them as second-rate journalists or worse, procurers and distributors of biased propaganda  … and I would not want them to teach journalism to anyone  who really aspires to be a fair and impartial reporter of facts.
Criminals?   NO!    But NOT innocents, either!
In fact, Al Jazeera's own Richard Gizbert (also a Canadian)  summed it up best in a recent promo for his own  program The Listening Post:
"Without a messenger, there is no story. "
I would add: and no propaganda passed off as news either.