ON THIS DAY in 1906,
The Victor Talking Machine Company of Camden, New Jersey started manufacturing the first Victrola record player with the amplifying horn tucked inside a large cabinet sitting on the floor. The hand-cranked unit sold for $200, which was big bucks back then.

In 1917, singer/guitarist John Lee Hooker was born in rural Mississippi.  He was said to embody his own unique genre of the blues, often incorporating the boogie-woogie piano style and a driving rhythm into his masterful and idiosyncratic blues guitar and singing.  His best known songs are Boom Boom and Boogie Chillen'.  He died June 21, 2001 at age 83.
In 1932, the British Broadcasting Corporation (BBC) began its first experimental TV broadcasting from London.
In 1938, Count Basie and his Orchestra recorded the classic swing tune, "Jumpin' at the Woodside", for Decca Records.
In 1945, Frank Sinatra recorded 'Nancy (With the Laughing Face)' which the songwriters had performed at little Nancy Sinatra's 5th birthday party.  The sentimental ballad would peak at #10 on the Billboard pop singles chart.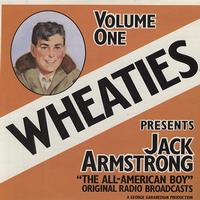 In 1947, after 14 years as a quarter-hour daily serial for kids, "Jack Armstrong, the All-American Boy", was heard for the first time as a 30-minute three-times-a-week feature on ABC radio.
Also in 1947, Nat "King" Cole, with a Capitol Records studio orchestra led by Frank DeVol, recorded one of the major hits of the year "Nature Boy."
Exactly one year later, in 1948, Nat "King" Cole and his trio were back in the studio to record their future #1 single, "(I Love You) For Sentimental Reasons."

In 1952, at 2:30 p.m., Toronto's CBLT-TV Channel 9 did its first test broadcast, covering the opening of the 73rd Canadian National Exhibition in Toronto. Official sign-on was Monday, September 8th, just two days after CBFT-TV Montreal's official signon, making CBFT Canada's first television station.
In 1956, the Five Satins made their debut on the R&B charts with "In the Still of the Night."
In 1957, Joe, Vic, Ed & Gene, The Ames Brothers were in New York to  record their future Top 20 single, "Melodie D'Amour (Melody Of Love)" for RCA Victor.
In 1960, "It's Now or Never" by Elvis Presley was #1 for a second week.
In 1962, the Beatles were captured on film for the first time, by Granada TV, at Liverpool's Cavern Club.   The performance was not aired until Oct. 17th, the Fab Four's first time on TV.
In 1964, on the opening night of the P.N.E., the Beatles played in Vancouver at Empire Stadium in front of 20,621 screaming fans.


The concert lasted 27 minutes and 14 seconds, the lads performed eleven songs, and collected their fee: $48,000.  The next night, the 'WunderKind' played on another outdoor stage in Los Angeles.
Also on this day in 1964, Vancouver radio station CKLG dropped it's Middle-Of-The-Road programming and switched to a Top 40 format in direct competition with C-FUN.
CKLG's DJ's were known as The Top Cats; they included Roy Hennessy, Russ Simpson, Dave Palmer, Paul Arthur, Ken Chang and Frank Callaghan.
Still in 1964, Liberty Records reported that the album "The Chipmunks Sing the Beatles" was selling at a rate of 25,000 copies a day.
In 1965, The Beatles performed two shows at Memorial Coliseum in Portland. Mike Love and Carl Wilson of the Beach Boys stopped by between shows to meet the group.

In 1966, The Beatles' "Revolver" album was certified Gold.
In 1967, the Jimi Hendrix Experience appeared on BBC TV's Simon Dee show.
In 1968, having come home from vacation to find her husband in bed with Yoko Ono, Cynthia Lennon filed for divorce from husband Beatle John Lennon, one day short of their sixth anniversary.  John and Yoko Ono would marry March 20th, 1969.
Also in 1968, Ringo Starr quit the Beatles during the White Album sessions when the constant bickering and tension became too much for him. The news of Ringo's departure was kept secret, and he rejoined the sessions September 3.

In 1969, Elvis Presley made his first concert appearance in eight years, at the International Hotel in Las Vegas.
Also in 1969, The Beatles got together at John Lennon's home in England for their final-ever photo session.
In 1970, the multi-talented English musician Elton John signed with Uni Records, a division of MCA.
Also in 1970, Creedence Clearwater Revival started a nine-week run at No.1 on the US album chart with 'Cosmo's Factory'.
Still in 1970, B.J. Thomas was on top of the Easy Listening chart with "I Just Can't Help Believing".

In 1977, actor Sebastian Cabot died aged just 59, following a stroke suffered at his suburban Victoria BC home.  He will be forever remembered as the butler Mr. French on the 1960's sitcom Family Affair starring Brian Keith.
In 1978, Sex Pistol Sid Vicious made his last live stage appearance when he appeared with Rat Scabies Glen Matlock and Nancy Spungen at London's Electric Ballroom. In the audience: Elvis Costello, Blondie, Joan Jett , The Slits and Captain Sensible.
In 1979, Led Zeppelin released 'In Through the Out Door', their last album of original material. 'Fool in the Rain' was released as a single in the US.
In 1981, "Endless Love", the duet by Diana Ross & Lionel Richie, was #1 on the R&B chart.
In 1983, Kenny Rogers & Dolly Parton released the single "Islands in the Stream".

In 1985, Rick Nelson and Fats Domino began filming the PBS special "Rockin' with Rick and Fats," Nelson's last television appearance before his untimely death in a plane crash 4 months later.
In 1986, the Musicfest rock extravaganza opened at a park in Montreal's North End. When it closed 11 days later, only 160,000 people had attended, a far cry from the 270,00 thousand needed to meet the more than 2 million dollar break-even mark.  Tickets were selling for as little as 8 dollars, but bad weather, temperamental artists and some acts ill-suited to Quebec combined to produce a financial disaster.
In 1987, Madonna went to No.1 on the Billboard singles chart with 'Who's That Girl', her sixth US No.1.
Also in 1987, Roy Clark joined the Grand Ole Opry.
In 1988, NBC-TV debuted "Later", the very late-night interview show hosted by Bob Costas. His first guest for the half-hour was Linda Ellerbee.
Also in 1988, PBS aired a TV documentary entitled "Aretha Franklin: Queen Of Soul."

In 1990, orchestra leader David Rose died aged 80. He had the 1962 US No.1 single 'The Stripper'. He led the band on NBC radio's Red Skelton Show, and wrote music for the TV series Little House on the Prairie and Bonanza.
In 1991, actress Colleen Dewhurst who starred in early TV's Playhouse 90 & other live anthologies, and later portrayed Murphy Brown's mother, succumbed to cervical cancer at age 67.
In 1997, country singer Mark Wills of Marietta, Ga., (below) performed his hit single Jacob's Ladder" for his Grand Ole Opry debut. The singer had new soles and heels put on his boots for the big night.

In 2000, CJLY-FM was licensed as a community station in Nelson BC. It was on the air before year's end at 93.5 MHz with 70 watts.
In 2003, Kjell Henning Bjoernestad, a Norwegian Elvis Presley impersonator, set a world record by singing the rock 'n' roll legend's hits non-stop for over 26 hours. The previous record was set by British Elvis fan Gary Jay who sang for 25 hours 33 minutes and 30 seconds.
In 2004, Al Dvorin, the announcer (and talent agent) who coined the phrase "Elvis has left the building" while working Presley's 1970s concerts, died at age 81, in a car crash en route home from an Elvis convention in California.
In 2005, 50 Cent was suing a US car dealer for allegedly using his name in an ad without permission.  The rapper was seeking more than $1 million from Gary Barbera Enterprises for a Dodge Magnum ad with the line "Just Like 50 Says" alongside a photo of him.

In 2008, singer Ralph Young, half of the hit 60's & 70's singing duo Sandler & Young, died at age 90.  He & partner Tony Sandler were frequent TV guests with Ed Sullivan, Merv Griffin & Johnny Carson.
Also in 2008, Lynyrd Skynyrd and Kid Rock performed together on ABC's Good Morning America.
In 2009, Sugarland went to No.1 on the Billboard pop album chart with 'Live on the Inside', the country music duo's first No.1.
Also in 2009, soul singer Johnny Carter, who was a member of doo-wop groups The Dells and The Flamingos, died at age 75. Carter, who was famed for his falsetto vocals, was one of the few artists to be inducted into the Rock and Roll Hall of Fame with two acts.
In 2011, lyricist Jerry Leiber, whose 60-year partnership with Mike Stoller produced "Stand By Me," "Hound Dog," "Jailhouse Rock," "Young Blood," "On Broadway,"  "Yakety-Yak" and countless other rock 'n' roll classics, died of cardiopulmonary failure at age 78.

Also in 2011, r & b singer/songwriter Nickolas Ashford, one half of the Motown team Ashford and Simpson – who penned the classics "Ain't No Mountain High Enough," "I'm Every Woman" and "Ain't Nothing Like The Real Thing" – died of throat cancer at a New York City hospital at age 69.
In 2012, Billboard reported that Linkin Park's debut album, "Hybrid Theory," released in late 2000, had sold over 10 million copies in North America, enough to earn the group a diamond certification.
In 2013,
 veteran Kelowna radio reporter Kim Calloway, who 10 days earlier had announced his retirement after a long and illustrious career in Kelowna and before that in Vancouver, lost his battle with liver and lung cancer at age 69.
In 2014, retired Milwaukee sportscaster Ted Moore, the radio voice of the Green Bay Packers during their glory years of the 1960s, who spent 48 years pursuing his career in broadcasting, suffered heart failure and died at age 87.
Today's birthdays:
UK actress Honor Blackman (The Avengers) is 90.
Retired broadcast newsman Morton Dean is 80.
TV football analyst/former NFL punter Paul Maguire is 77.
Actress Valerie Harper (Mary Tyler Moore, Rhoda, Valerie) is 76.
CBS correspondent Steve Kroft (60 Minutes) is 70.
Producer/screenwriter David Chase (The Rockford Files, The Sopranos, I'll Fly Away) is 70.
Singer Ron Dante of The Archies, Cuff Links is 70.
Actress Cindy Williams (Laverne and Shirley) is 68.
Guitarist David Marks (The Beach Boys) is 67.
Country singer Holly Dunn is 58.
Actor Colm Feore (Revolution, The Borgias, 24) is 57.
Guitarist Vernon Reid (Living Colour) is 57.
Country singer Ricky Lynn Gregg is 56.
Country singer Collin Raye is 55.
Actress Regina Taylor (The Unit, Education of Max Bickford, Dig,  I'll Fly Away) is 55.
Singer Roland Orzabal of Tears for Fears is 54.
Drummer Debbi Peterson of The Bangles is 54.
Guitarist Gary Lee Conner of Screaming Trees is 53.
Singer Tori Amos is 52.
Country singer Mila Mason is 52.
R & B keyboardist James DeBarge of DeBarge is 52.
Actor Courtney Gains (Texas Rising, The Guardian) is 50.
Actress Brooke Dillman (Kickin' It, Blue Collar TV) is 49.
Rapper GZA/The Genius (Wu-Tang Clan) is 49.
Actor Adewale Akinnuoye-Agbaje (Lost, Oz) is 48.
Actor Ty Burrell (Modern Family, Back to You, Out of Practice) is 48.
TV chef/hostess Giada De Laurentiis ('Today' Show, Food Network) is 45.
Actor Richard Armitage (MI-5) is 44.
Actor Rick Yune (Marco Polo) is 44.
Guitarist Paul Doucette of Matchbox Twenty is 43.
Rapper Beenie Man is 42.
Singer Howie Dorough of the Backstreet Boys is 42.
Comedienne/actress Kristen Wiig (Saturday Night Live, Spoils of Babylon) is 42.
Actress Jenna Leigh Green (Sabrina the Teenage Witch) is 41.
Actress Melinda Page Hamilton (Devious Maids) is 41.
Rock musician Bo Koster is 41.
Actor Rodrigo Santoro (Lost) is 40.
Bassist Dean Back of Theory Of A Deadman is 40.
UK actor/comedian/CBS late night TV host James Corden (The Late, Late Show) is 37.
Guitarist Jeff Stinco of Simple Plan is 37.
Montreal-born actress Jennifer Finnigan (Tyrant, Crossing Jordan, Close to Home, The Bold & the Beautiful) is 36.
Actor Brandon Adams (Moesha, A Different World) is 36.
Seattle-born Aya Sumika (Numb3rs) is 35.
Actress Laura Breckenridge (Related) IS 32.
Toronto-born actor Dakota Goyo (Solving Charlie, Ultra) is 16.
Chart Toppers – Aug. 22
1949
Some Enchanted Evening – Perry Como
Room Full of Roses – The Sammy Kaye Orchestra (vocal: Don Cornell)
You're Breaking My Heart – Vic Damone
I'm Throwing Rice (At the Girl I Love) – Eddy Arnold
1957
Love Letters in the Sand – Pat Boone
Tammy – Debbie Reynolds
Whispering Bells – The Dell-Vikings
(Let Me Be Your) Teddy Bear – Elvis Presley
1965
I Got You Babe – Sonny & Cher
Save Your Heart for Me – Gary Lewis & The Playboys
Help! – The Beatles
Yes, Mr. Peters – Roy Drusky & Priscilla Mitchell
1973
Touch Me in the Morning – Diana Ross
Live and Let Die – Wings
Brother Louie – Stories
Louisiana Woman, Mississippi Man – Conway Twitty & Loretta Lynn
1981
Endless Love – Diana Ross & Lionel Richie
Theme from "Greatest American Hero" (Believe It or Not) – Joey Scarbury
Slow Hand – Pointer Sisters
I Don't Need You – Kenny Rogers
1989
Right Here Waiting – Richard Marx
On Our Own – Bobby Brown
Cold Hearted – Paula Abdul
Sunday in the South – Shenandoah
1997
I'll Be Missing You – Puff Daddy & Faith Evans
Mo Money Mo Problems – The Notorious B.I.G. featuring Puff Daddy & Mase
2 Become 1 – Spice Girls
Come Cryin' to Me – Lonestar
2006
Buttons – Pussycat Dolls
I Write Sins Not Tragedies – Panic! At The Disco
Promiscuous – Nelly Furtado featuring Timbaland
If You're Going Through Hell (Before the Devil Even Knows) – Rodney Atkins