August 12, 2015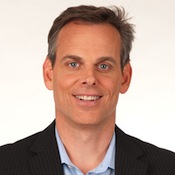 It's official! Colin Cowherd, who recently ended a 10-year run at ESPN, will join FOX Sports and Premiere Networks in September as a television, radio and digital personality.
Beginning September 8th, Cowherd will host The Herd which will air simultaneously on FOX Sports 1 and the Premiere Networks-distributed FOX Sports Radio, weekdays from noon-3pm (ET).
"Colin is one of the most powerful and talented personalities in sports media today," said Julie Talbott, President, Premiere Networks. "His addition to Premiere's lineup demonstrates our continued commitment to reaching diverse audiences with the best talent the industry has to offer." Cowherd's new daily radio show will air in the same time slot on FSR as The Rich Eisen Show, which is produced by DirecTV.
A spokesperson for Premiere confirmed that both shows will air simultaneously via FOX Sports Radio adding, "Now stations will have two great programs to choose from."
It's not the first time the network has offered multiple shows in the same hours in order to to offer affiliates flexibility and a wider menu of choices. FOX Sports Radio is produced and distributed under a long-term agreement between FOX Sports and Premiere Networks, a subsidiary of iHeartMedia.