HAPPY BIRTHDAY TO THE USA!
               
ON THIS DAY in 1898
actor Johnny Lee was born in Missouri.
 He played shady lawyer Algonguin J. Calhoun on the Amos 'n' Andy radio & TV series.   He suffered a fatal heart attack Dec. 12 1965 at age 67.
In 1900, Louis "Satchmo" Armstrong was born in New Orleans. He was a charismatic, innovative performer whose musical skills and bright personality transformed jazz from a rough regional dance music into a popular art form. One of the most famous jazz musicians of the 20th century, he first achieved fame as a trumpeter, but later became best known as a vocalist and one of the most influential jazz singers.  He died after a heart attack July 6th 1971, two days after his 71st birthday.

In 1911, musician/A&R man/record producer/choral conductor William Mitchell 'Mitch' Millerwas born in Rochester NY.  Miller was one of the most influential figures in American popular music (non rock, that is) during the 1950s and early 1960s, both as the head of Artists and Repertoire at Columbia Records and as a best-selling recording artist with an NBC television series, Sing Along with Mitch. He died July 31 2010, four weeks after his 99th birthday.
In 1912, A. Davidson Dunton was born in Montreal.  At the ripe old age of 33 (in 1945) the then-newspaperman would become the first full-time Chairman of the CBC's Board of Governors, private broadcasting's regulatory body until 1958 when the independent Board of Broadcast Governors (BBG) was created.  He oversaw the CBC's entry into television, and was a strong advocate for a national broadcasting system.  Dunton became President of Carleton University, and passed away on February 7, 1987 at the age of 74.
In 1913, radio & TV hostess Virginia Graham was born in Chicago.


In the 1940's she wrote scripts for such radio soap operas as Stella Dallas, Our Gal Sunday, and Backstage Wife. She hosted her first radio talk show in 1951. She succeeded Margaret Truman in 1956 as co-host of the NBC radio show Weekday, teamed with Mike Wallace. She was hostess of TV talk shows from the 50's to the 70's that are considered forerunners to today's daytime TV. She was best known for the nationally syndicated 'Girl Talk' on ABC from 1963-1969, 'The Virginia Graham Show' from 1970-1972, and guesting on other talk shows, including a dozen appearances on 'The Tonight Show.'  She died following a heart attack Dec 22, 1998 at age 85.
In 1916, the woman tried for treason after WW II as notorious broadcaster Tokyo Rose, Iva Toguri D'Aquino was born in Los Angeles.  She was one of at least a dozen women who did Japanese propaganda broadcasts from Radio Tokyo.   The post-war trial convicted her on just one innoquous charge not involving treason, while she claimed to have subtly subverted the Japanese war effort, and was eventually pardoned by President Ford.  She died Sept. 26 2006 at age 90.
In 1918, twin sisters who would grow up to be competing advice columnists and radio broadcasters, Ann Landers and Pauline Phillips AKA Abigail Van Buren (Dear Abby) were born in Sioux City Iowa.  Landers died June 22, 2002 at age 84; Abby, who suffers from Alzheimers, is 94 today.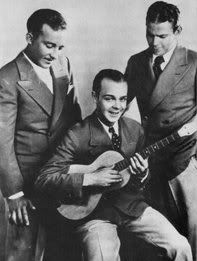 In 1943, the Rhythm Boys, Bing Crosby, Al Rinker and Harry Barris, were reunited for the first time since the 1930s on Paul Whiteman Presents on NBC radio.
In 1948, the radio panel show Life Begins at 80 debuted on Mutual.  Jack Barry hosted the program patterned in reverse on his successful Juvenile Jury.
Also in 1948, the third episode of CBS-TV's Sunday night talent showcase 'Toast of the Town" hosted by Ed Sullivan, starred baseball icon Joe DiMaggio and dancer Bill Bojangles Robinson.
In 1951, actor/producer Jack Webb did a summer switch — from his Dragnet role of Sgt. Joe Friday to that of Pete Kelly. Pete Kelly's Blues, a crime drama, was the summer replacement on NBC radio for Halls of Ivy (with Ronald Colman and Benita Hume). Webb also played Pete Kelly in the 1955 movie of the same name; then produced and directed a 1959 TV series, also titled Pete Kelly's Blues, starring William Reynolds as Pete.

In 1953, "I'm Walking Behind You" by Eddie Fisher topped the charts and stayed there for 7 weeks.
In 1958, Buffalo radio station WKBW changed its format to "Top 40" and became one of the top exponents of the genre.
Also in 1958, Buddy Holly began a 10-day tour, playing three shows at the Buck Lake Ranch, Angola, Indiana. Frankie Avalon was also on the bill.
In 1959, four undergrads from the University of Washington the Brothers Four were in New York recording their second single and the future #2 pop hit, 'Greenfields.'

In 1960, American Bandstand featured one-hit-wonders Jimmy Charles & the Revelettesperforming their Top 5 hit 'A Million to One."  And Buddy Knox lip-synched "Long Lonely Nights"
In 1963, actor Grant Richards, who was a regular on radio's Gangbusters, and guested repeatedly on TV's Untouchables, Perry Mason, M Squad, Bonanza, The Rifleman & Love of Life, died in a car accident at age 48.
Also in 1963, Joey Dee & the Starliters were on American Bandstand, performing 'Dance, Dance, Dance.'

In 1964, "I Get Around" by the Beach Boys topped the charts and stayed there for 2 weeks.
Also in 1964, the Rolling Stones' "Tell Me" was released.
In 1966, The Beatles played two shows at a Manila football stadium in the Philippines, before more than 80,000 fans. But they failed to appear at a palace reception hosted by President Marcos' family, and the next day, as The Beatles made their way to the airport they were greeted by mobs angered by what they perceived as a deliberate snub.
Also in 1966, the Lovin' Spoonful's "Summer In The City" was released.

In 1967, Tom Jones appeared on the debut telecast of the CBS "Spotlight" summer variety series, singing "That Old Black Magic," "Sixteen Tons," & "Buddy, Can You Spare a Dime?"
In 1969, Janis Joplin, Led Zeppelin, Johnny Winter, Delaney and Bonnie, Creedence Clearwater Revival, Canned Heat, Joe Cocker, Blood Sweat & Tears, Chuck Berry, Chicago and Paul Butterfield all appeared at the two-day Atlanta Pop Festival in Georgia.
Also in 1969, The Doors played before an all-girl audience at the Willingdon Youth Detention Centre in suburban Vancouver.
Still in 1969, "Give Peace a Chance" by the Plastic Ono Band was released in the UK. The single featuring the composer John Lennon, was issued in North America three days later.

In 1970, L.A. deejay Casey Kasem launched the longrunning 'American Top 40' as a weekly four hour syndicated radio feature.  The first #1 song was "Mama Told Me Not to Come" by Three Dog Night.
Also in 1970, the three-day Atlanta International Pop Festival opened at Middle Georgia Raceway before a crowd estimated at 350,000 to 500,000 people. On the bill were the Allman Brothers Band, B.B. King, Procol Harum, Poco, Grand Funk Railroad, Captain Beefheart, Ravi Shankar, Johnny Winter and John Sebastian. Their performance resulted in Grand Funk getting a Capitol Records contract.

In 1972, Willie Nelson inaugurated his annual "Fourth of July Picnic" at Dripping Springs, Texas.
Also in 1972, WCBS-FM, New York, changed its format to "Oldies".
In 1974, the "Tony Orlando and Dawn" TV show debuted as a summer replacement for Sonny & Cher.  It became popular enough to win its own spot in the CBS-TV fall schedule.
Also in 1974, Steely Dan performed a concert in Santa Monica, California. They did not tour again for 18 years.
In 1976, Elton John and Kiki Dee's "Don't Go Breaking My Heart" was released.
In 1977, Nigel Harrison replaced Gary Valentine as bassist of Blondie.
In 1980, the Beach Boys gave a free outdoor performance before a Washington DC crowd estimated at 500,000.

In 1982, in Hawaii, shock rocker Ozzy Osbourne married his manager, Sharon Arden.  Who'd have believed they'd still be together 33 years later?
Also in 1982, Diana Ross began her first solo world tour at Giant Stadium in New Jersey's Meadowlands.
In 1983, Wayne Newton was the substitute headliner at the White House Fourth of July party after Interior Secretary James Watt deemed the Beach Boys 'unsuitable" for the occasion.
In 1985, a crowd, estimated at one million, gathered in Philadelphia to celebrate the 209th anniversary of America's independence. The Beach Boys were joined by Mr. T. on drums to really add some fireworks to the festivities. The Oak Ridge Boys, Joan Jett and Jimmy Page joined in the celebration (but wouldn't let Mr. T. play …)

Also in 1985, Bryan Adams had a North American #1 hit with 'Heaven'.
In 1986, Farm Aid II was held at a racetrack in Manor, Texas, featuring Alabama, Judy Collins, the Beach Boys, Rita Coolidge, Emmylou Harris, Nicolette Larson, Waylon Jennings, Steve Earle and Stevie Ray Vaughan. Organizers Willie Nelson, John Mellencamp and Neil Young hold the annual events to benefit family farmers across the U.S.
In 1987, the crowd left early at a Moscow rock concert featuring US artists. The performers on the bill included James Taylor, Bonnie Raitt, Carlos Santana and the Doobie Brothers. About 25,000 attended the free show.
In 1989, actor & voice artist Vic Perrin died at age 73.


He was a key member of radio's Hollywood stock company in the 1940's and 50's, on programs such as Dragnet, Gunsmoke, Escape, Fort Laramie and One Man`s Family, and played the famed animal trainer on The Clyde Beatty Show.  He was a much-in-demand TV voice actor on shows like Jonny Quest, The Outer Limits, The Incredible Hulk, Fantastic Four, Scooby Doo and Star Trek.
In 1990, Paul Stanley of KISS was injured in a New Jersey car crash that left him with neck and back problems.
Also in 1990, the rap group 2 Live Crew released the single "Banned in the U.S.A." with the blessing of "Born in the U.S.A." creator Bruce Springsteen. The song, which racked up 2 million advance orders, was in part a response to anti-obscenity groups that had targeted the rappers.
In 1992, rocker John Phillips, leader of the Mamas and Papas, underwent a liver transplant operation at the LA Medical Cemter.
Also in 1992, "Baby Got Back" by Sir Mix-A-Lot topped the charts and stayed there for 5 weeks.

In 1995, actress Eva Gabor, who became a household name in the TV sitcom Green Acres, died of complications from food poisoning & pneumonia at age 74.
Also in 1995, at Lollapalooza in George, Wash., Courtney Love belted Bikini Kill singer Kathleen Hanna. Charged with assault, Love received a suspended one-year sentence and was required to take courses in anger management.
Still in 1995, the Ramones released "Adios Amigos." It was speculated to be the band's last album ever.
In 1997, CBS newsman/anchor Charles Kuralt (below), host of CBS Sunday Morning & spearhead of "On The Road" human interest news from small town America, died of complications from lupus at age 62.

In 1999, Sir Elton John, 52, collapsed. Tests showed he had an irregular heartbeat. John soon had a pacemaker fitted at a London hospital.
In 2001, Madonna played the first of six sold out nights at Earls Court Exhibition Centre in London as part of her Drowned World Tour.
In 2002, in London, singer Tony Bennett was forced to curtail a concert at Royal Albert Hall when a fire broke out.
Also in 2002, George Michael took part in a live phone interview on CNN, defending his new single 'Shoot The Dog'. Americans were upset by the controversial video, which had President Bush in bed with Tony Blair.
Still in 2002, "A Little Less Conversation" by Elvis Presley, remixed by Junkie XL, hit number one on the singles chart, 25 years after Presley's death.

In 2003, singer Barry White died in Los Angeles after battling kidney problems and a stroke. He was just 58. White's rich bass voice stirred romance in the hearts of a generation of fans.
Also in 2003, radio & TV veteran Tyler McVey died of leukemia at age 81.  By 1940 he was a regular in radio's Hollywood stock company, playing regular roles in Glamour Manor, One Man's Family, The Hermit's Cave and Wild Bill Hickok, and announcing on the syndicated Smiths of Hollywood.  He was a regular on TV's Men Into Space and You Are There, with numerous guest roles on Bat Masterson, Death Valley Days, The Wild, Wild West, The F.B.I., Bonanza, Ironside, Ellery Queen, Eight Is Enough and Highway to Heaven, to mention just a few.
Still in 2003, financial expert and radio personality, Larry Burkett, died at age 64. He was best known for his show "Money Matters", which aired on 1,000 radio stations.

In 2005, football coach/broadcaster Hank Stram, who was color man to Jack Buck's play-by-play on CBS Radio's Monday Night Football from 1978 to '95, died of complications from diabetes at age 82.
In 2006, Aerosmith's Joe Perry (guitar) and Steven Tyler (vocals) performed "I Don't Want To Miss a Thing," "Dream On" and "Walk This Way" during the Boston Pops' nationally televised concert in front of an estimated audience of half a million.
In 2007, the last surviving original member of The Drifters, Bill Pinkney passed away at age 81.
In 2009, guitarist Drake Levin, a former member of Paul Revere and The Raiders, succumbed to cancer at age 62 at his home in San Francisco.
Also in 2009, a former manager of the Rolling Stones and The Beatles, Allen B. Klein died of Alzheimer's disease at age 77.

Still in 2009, Jonas Brothers went to No.1 on the Billboard album chart with 'Lines, Vines and Trying Times', the group's fourth album.
In 2012, Linkin Park's "Living Things" debuted as #1 on the Billboard Top 200 album chart, becoming the fourth consecutive Linkin Park album to debut at #1.
In 2013, Cheap Trick filed a $1 million lawsuit against the Ottawa Bluesfest over a stage collapsing during their performance at the 2011 festival.
In 2014, 
 Led Zeppelin guitarist Jimmy Page and Black Sabbath were honored at the 02 Silver Clef Awards in London. Page received an award for his outstanding contribution to U.K. music. Sabbath earned the AEG Live Ambassadors Of Rock Award.
Today's Birthdays:
Actress Eva Marie Saint (Moonlighting, A Year in the Life, How the West Was Won) is 91.
Actress Gina Lollobrigida (Falcon Crest) is 88.
Playwright Neil Simon (The Odd Couple, Your Show of Shows) is 88.
Singer Bill Withers is 77.
TV talk show host Geraldo Rivera is 72.
Actor Ed O'Ross (Six Feet Under, Men in Black: the series) is 69.
Percussionist Ralph Johnson of Earth, Wind and Fire is 64.
Rock musician Domingo Ortiz (Widespread Panic) is 63.
Singer John Waite is 60.
Guitarist Kirk Pengilly of INXS is 57.
Country musician (steel guitarist) Teddy Carr is 55.
Rock D.J. Zonka (Big Audio Dynamite) is 53.
Bassist Matt Malley of Counting Crows is 52.
Singer Michael Sweet of Stryper is 52.
Actress Cathryn de Prume (Down the Shore) is 51.
Actor/writer Tracy Letts (Homeland) is 50.
Actress Marnie McPhail (JoJo's Circus, Braceface, The Associates) is 49.
Actress Ronni Ancona (Last Tango in Halifax) is 47.
Actress Jenica Bergere (Girls Behaving Badly, Drew Carey Show) is 41.
Actor Stephen Rannazzisi (The League, Daddy Knows Best, Big Day) is 37.
Actress Becki Newton (Love Bites, Ugly Betty, Guiding Light) is 37.
Actress Andrea Gabriel (Lost, Lost: Reckoning, Lost: Revelation) is 37.
Singer Stephen "Ste" McNally (BBMak) is 37.
Actor Max Elliott Slade (Parenthood 1990) is 35.
TV personality/producer Carrie Keagan (Up Close with Carrie Keagan) is 35.
Reality TV star Mike "The Situation" Sorrentino ("Jersey Shore") is 33.
Penthouse Pet-2002/actress Hannah Harper (Co-ed Confidential) is 33.
Actor Brent Bailey (Emma Approved) is 32.
Singer Melanie Fiona is 32.
Actress Nicole Travolta (Cowgirl Up) is 26.
Chart Toppers: July 4
1948
You Can't Be True, Dear – The Ken Griffin Orchestra (vocal: Jerry Wayne)
Nature Boy – Nat King Cole
Woody Woodpecker Song – The Kay Kyser Orchestra (vocal: Gloria Wood & The Campus Kids)
Bouquet of Roses – Eddy Arnold
1957
Teddy Bear – Elvis Presley
Love Letters in the Sand – Pat Boone
Over the Mountain; Across the Sea – Johnnie & Joe
Four Walls – Jim Reeves
1966
Strangers in the Night – Frank Sinatra
Red Rubber Ball – The Cyrkle
You Don't Have to Say You Love Me – Dusty Springfield
Think of Me – Buck Owens
1975
Love Will Keep Us Together – The Captain & Tennille
When Will I Be Loved – Linda Ronstadt
Wildfire – Michael Murphey
Tryin' to Beat the Morning Home – T.G. Sheppard
1984
The Reflex – Duran Duran
Dancing in the Dark – Bruce Springsteen
When Doves Cry – Prince
I Can Tell by the Way You Dance (You're Gonna Love Me Tonight) – Vern Gosdin
1993
That's the Way Love Goes – Janet Jackson
Weak – SWV (Sisters With Voices)
Whoomp! (There It Is) – Tag Team
That Summer – Garth Brooks
2002
A Thousand Miles – Vanessa Carlton
Without Me – Eminem
Hot In Herre – Nelly
Living and Living Well – George Strait
2011
Rolling in the Deep – Adele
Give Me Everything (Tonight) – Pitbull featuring Ne-Yo, AfroJack & Nayer
Party Rock Anthem – LMFAO featuring Lauren Bennett & GoonRock
Honey Bee – Blake Shelton