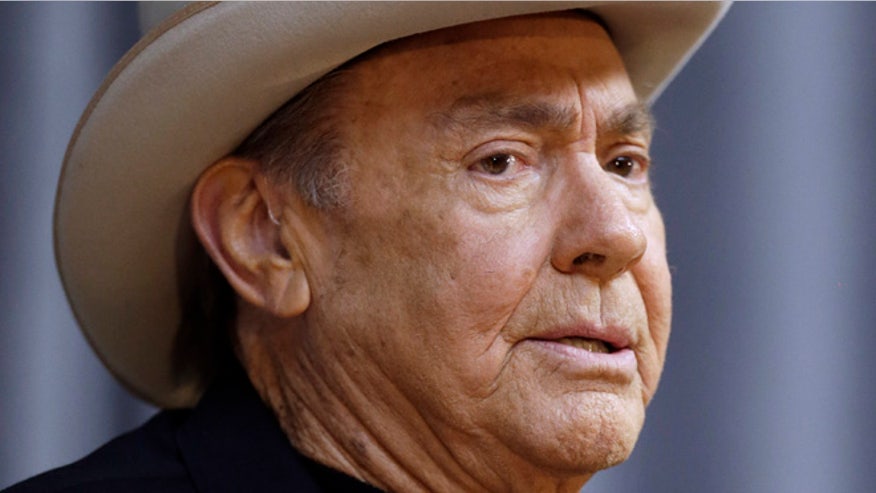 March 25, 2015: Jim Ed Brown speaks during the presentation of the Country Music Hall of Fame inductees in Nashville, Tenn. (AP Photo/Mark Humphrey, File)
.
Longtime Grand Ole Opry member Jim Ed Brown died Thursday. He was 81.
Brown died of cancer at Williamson Medical Center in Franklin, Tennessee, according to a news release from Webster Public Relations. He will be inducted into the Country Music Hall of Fame this year.
In the mid-1950s, Brown and his two sisters, Bonnie and Maxie, formed the trio known as The Browns, and had the No. 1 hit "The Three Bells" on both the pop and country charts in 1959. The three recorded for RCA Records from 1954 to 1967.
Bonnie and Maxine left the group in the mid-1960s to raise their families. Jim Ed Brown then had a solo career, beginning with the hit "Pop-A-Top Again" in 1967. Others were "Morning" in 1970 and "Southern Living" in 1973. His last chart record as a solo was in 1979.
Also in the 1970s, he teamed up with Helen Cornelius on hits including "I Don't Want to Have to Marry You," "Saying Hello, Saying I Love You, Saying Goodbye" (both in 1976); "Lying in Love With You" (1979); "Fools" (1979); and "Don't Bother to Knock" (1981).
They were voted the Country Music Association's duo of the year in 1977.
Brown also was a prominent figure on country music television shows in the 1970s and 1980s. Beginning in 1975, he began a six-season run as co-host, with Jerry Clower, of the syndicated weekly TV show "Nashville on the Road."
And Brown hosted "You Can Be a Star" on the old Nashville Network cable channel for six years beginning in 1983.
He sang regularly on the Grand Ole Opry, a live radio show, beginning in 1963.
READ MORE  HERE  AT FoxNews.com