ON THIS DAY in 1901,
orchestra leader Horace Heidt (below) was born in Alameda Calif. Heidt used a variety of quiz and talent show formats to keep himself on network radio from 1932 to '53. Titles included Ship of Joy, Answers by the Dancers, Anniversary Night with Horace Heidt, Pot of Gold, Tums Treasure Chest, & Horace Heidt's Original Youth Opportunity Program.  The latter was also seen on TV as of 1950.  Later he had "The Swift Show Wagon with Horace Heidt and the American Way" on the tube in 1955.  He died at age 85 Dec 1 1986.
In 1904, pianist and songwriter Thomas (Fats) Waller, one of jazz's most colourful personalities, was born in New York City. More than 60 years after his death, he remains one of the most popular of all jazz musicians, admired even by those who say they don't like jazz. Many of his tunes, such as "Honeysuckle Rose," "Ain't Misbehavin' " and "Blue Turning Grey Over You," are considered popular music standards.  He died of natural causes on December 15th, 1943 at age 39, while travelling aboard the Santa Fe Express train.
Also in 1904, actor/director Robert Montgomery was born in Beacon NY.  After extensive work for the big screen he came to TV in 1950 with the anthology series Robert Montgomery Presents, for which he was host & narrator for 7 seasons.  He died of cancer Sept 27 1981, at age 77.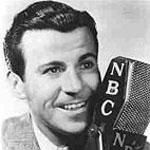 In 1917, comic actor/singer Dennis Day was born in New York City. He came to stardom as the longtime singing fixture.. and character .. on radio's Jack Benny Show. He went on to star in his own NBC radio sitcom (Dennis Day Show.) On TV he appeared in 237 episodes of the Benny Show, plus about a dozen guest acting gigs. He died of Lou Gehrig's Disease June 22 1988 at age 71.
Also in 1917, actor Raymond Burr was born at New Westminster, BC.  He had regular work in bigtime radio, notably as star of the CBS frontier western Fort Laramie.  On TV he had two longrunning series, playing Perry Mason (1957-66 – won two Emmies) and Ironside's Robert Ironside (1967-75). He died Sept. 12 1993 at age 76.

In 1924, actress/TV panelist Peggy Cass was born in Boston. Although she earned an Oscar nomination for her role in Auntie Mame (also on Broadway), she first gained widespread fame as a frequent guest on Jack Paar's Tonight Show (NBC TV) and later became a regular questioner on the panel show To Tell the Truth. She also starred in a shortlived sitcom The Hathaways. Cass died of heart failure March 8 1999 at age 74.
In 1926, actor Rick Jason was born in New York City. His first TV series was 1960′s 38-episode Case of the Dangerous Robin, where he became the first actor to use martial arts (karate) on TV. Next, in 1962, he landed a lead role on ABC's hit series, Combat! which ran 152 epsiodes.  Later he guested on "Matt Houston", "Police Woman", "Murder She Wrote", "Wonder Woman", "Fantasy Island", "Airwolf" and "Dallas". In 1973, he was a regular on "The Young and the Restless." A self-inflicted gunshot took his life Oct 16 2000 at age 74.
In 1931, WOR radio in New York City premiered The Witch's Tale. Beginning in 1934 the pioneering horror show was broadcast on the Mutual Broadcasting System (of which WOR was the flagship station) where it aired until 1938.

In 1945, superstars Lauren Bacall & Humphrey Bogart, who co-starred in radio's syndicated hit show Bold Venture, got married in a three-minute ceremony.
In 1955, Chuck Berry had his first session for Chess Records at Universal Recording Studios in Chicago, with blues great Willie Dixon on bass. Berry's first hit single "Maybellene" was the result.
In 1956, some 2,500 fans stormed the stage at the Municipal Auditorium in Topeka, Kansas during an Elvis Presley show.
Also in 1956, 11-year old singing sensation Brenda Lee signed a recording contract with Decca Records, after Red Foley pressured them to go after her.

Still in 1956, Doris Day released one of her soon-to-be-signature songs "Whatever Will Be, Will Be (Que Sera, Sera)."  A decade later it would serve as the theme song for her TV show.
In 1961, the No. 1 Billboard Pop Hit was "Mother-in-Law," by Ernie K-Doe.
Also in 1961, 16-year-old Brenda Lee wrapped up a three-day recording session at the Bradley Studio in Nashville which included her next Top Five pop single "Dum Dum," on which Floyd Cramer played organ.
In 1962, radio station CFFM 98.3 Kamloops signed on the air.

In 1963, Little Stevie Wonder's "Fingertips-Part 2", recorded at a Chicago concert the previous year, was released. The single — and the album from which it was taken, "The 12-Year-Old Genius" — topped the Billboard charts simultaneously — a first.
In 1964, The Drifters recorded their next Top 5 single, "Under The Boardwalk," with their former lead singerJohnny Moore brought back to fill in for the heroin-addicted Rudy Lewis, who had been found dead in his New York hotel room the night before.
In 1966, The Mamas And The Papas went to No.1 on the Billboard album chart with 'If You Can Believe Your Eyes And Ears' (below).

Also in 1966, the Castiles, a band made up of five school kids from Freehold Regional High in New Jersey, performed at their senior prom. The group's lead singer was Bruce Springsteen.
In 1967, CBS-TV's Ed Sullivan Show aired from Montreal's Expo 67, and featured the UK musical guests Petula Clark ("Don't Sleep in the Subway") and The Seekers ("Georgy Girl"). The lone comedian on the bill was Alan King.
In 1968, Brian Jones of the Rolling Stones was arrested and charged for a second time with possession of marijuana in his London apartment.
Also in 1968, Paul McCartney and girlfriend Jane Asher had lunch with Andy Williams and his wife Claudine Longet, and that evening attended Andy's concert.

In 1969, John Lennon and Yoko Ono began a ten-day "bed-in" in Montreal's Queen Elizabeth Hotel.
In 1971, Paul McCartney released "Ram," the only album credited jointly to him and his wife Linda.
In 1973, singer and bandleader Vaughn Monroe died shortly after stomach surgery at age 61. An immensely popular performer on radio and records, Monroe had more than 50 hits on the Billboard charts in the pre-rock 'n' roll era. Among his number-one records were 1945′s "There I've Said It Again" — revived by Bobby Vinton in 1963 — and 1949′s "Ghost Riders in the Sky."
Also in 1973, the No. 1 Billboard Pop Hit was "Frankenstein," by The Edgar Winter Group.
In 1976, the Aerosmith LP "Rocks" was certified as a Gold Record.
In 1977, "Sir Duke" by Stevie Wonder topped the charts and stayed there for 3 weeks.
It was Stevie's 6th No. 1 song.

In 1979, Elton John began a short tour of the Soviet Union with a sold-out concert at a four-thousand-seat hall in Leningrad. It was the first tour by a western rock star allowed by the Soviets. Tickets to the show were scalped for the equivalent of 150-dollars US.
Also in 1979, the UK band The Police played their first concert in Seattle, at the Paramount Theatre.  The following night they were at the Commodore Ballroom in Vancouver.
Still in 1979, the Charlie Daniels Band released their biggest hit, a future #3 entry on the pop singles chart, "The Devil Went Down to Georgia."

In 1980, Joe Strummer of Clash was arrested at a Hamburg, West Germany, show after smashing his guitar over the head of an audience member.
Also in 1980, Bob Dylan performed his last "gospel" show in Dayton, Ohio, after poor ticket sales forced cancellation of a second concert there.
Still in 1980, five gold records that belonged to the late Jimi Hendrix were stolen from the Electric Ladyland studios in New York.

In 1981, reggae star Bob Marley was buried with full state honors in St. Ann's, Jamaica, after succumbing to cancer 10 days earlier in a Miami hospital.
In 1983, David Bowie went to No.1 on the Billboard singles chart with 'Let's Dance', featuring blues guitarist Stevie Ray Vaughan. It was Bowie's first single to reach number one on both sides of the Atlantic.
In 1985, Thailand's Mass Communications Organization banned Murray Head's hit "One Night in Bangkok," saying its lyrics "cause misunderstanding about Thai society and show disrespect towards Buddhism." The song came from the musical, "Chess."

Also in 1985, Marvin Gaye's "Dream of a Lifetime", his last album, was released. It featured several songs that critics considered too offensive, such as the controversial pop version of "The Lord's Prayer." Three of the tracks on the album had been completed after Gaye's death a year earlier.
In 1987, actor Alejandro Rey, who co-starred on TV's Flying Nun as Carlos, succumbed to lung cancer at age 57.
In 1988, more than 150-thousand people attended what was billed as the largest festival in country music history in Irwindale, California. More than 80 acts performed during the two-day event. Among the highlights was the pairing of Dwight Yoakam and California country pioneer Buck Owens.
In 1989, the last episode of "Miami Vice" aired after a 5-year run on NBC.
In 1990, the last (and ultimately most memorable) episode of "Newhart," Bob's second sitcom, aired on CBS-TV. Turned out it was all a dream!!

In 1992, singer-actress Bette Midler was Johnny Carson's last guest on NBC's "Tonight Show." She sang several songs, including a short duet with Carson.
In 1994, All 4 One started an eleven week run at No.1 on the Billboard singles chart with 'I Swear.'  The song had been a No.1 country hit for John Montgomery a few months previous.
In 1995, the Recording Industry Association of America reported that Bruce Springsteen's 1984 album "Born in the U-S-A" had sold more than 15-million copies. That tied it with Boston's self-titled album as the number-three all-time best-selling album. Only Michael Jackson's "Thriller" — at 24 million — and Fleetwood Mac's "Rumours" — at 17 million — had sold more.
In 1997, a stop on the R.O.A.R. tour, which featured Iggy Pop, Sponge, the Reverend Horton Heat and other bands, attracted fewer than 100 people to the 16-thousand-seat Kingswood Music Theatre north of Toronto.
Still in 1997, Chuck D, leader of the rap group Public Enemy, made his debut as a commentator for the Fox News Channel in the U-S.

In 1998, Frank Sinatra's wife of 22 years and his three children were left most of his assets when the chairman's will was filed. Barbara Sinatra was bequeathed most of his real estate holdings, as well as rights to market his name and likeness. Sinatra's first wife and mother of his children, Nancy Barbato Sinatra, was left $250,000.
Also in 1998, the Montreal-based Seagram Company announced it was buying the world's biggest music company, Polygram N-V, in a deal worth 10.6 billion dollars U-S. Seagram's Universal Music Group officially absorbed Polygram the following December. The merged company's artists included U-2, Luciano Pavarotti, Reba McEntire, Elton John and Nine Inch Nails.

Still in 1998, Sam Moore (above) of Sam & Dave, Mary Wilson of the Supremes, and original members of the Platters, Danny & the Juniors, and other heritage acts met with members of the US House Intellectual Property Subcommittee to voice their concerns about bogus "knock-off" groups, impostors who appropriate famous stage names.
In 1999, actress Susan Lucci finally won a Daytime Emmy for best actress after losing for 18 years straight. She was honored for her portrayal of Erica Kane on "All My Children."
Also in 1999, Sir George Martin's manuscript score for Sir Elton John's "Candle In The Wind '97″ was auctioned at Sotheby's in London, with proceeds earmarked for three music-related charities, including the Nordoff-Robbins Music Therapy Centre and the British Record Industry Trust.

In 2000, the great British actor Sir John Gielgud, who left his mark on TV in the mini series Brideshead Revisited, Wagner, Marco Polo, Scarlett, War & Remembrance, &c, died at age 96.
Also in 2000, Bad Boy Records rapper Black Rob (a.k.a. Robert Ross) was arrested and charged with criminal possession of a weapon. Ross and a friend were stopped by police on Manhattan's upper west side, after undercover officers allegedly saw Ross hand a .22 caliber gun to his companion.
Still in 2000, Willie Nelson played himself on Fox-TV's animated hit "The Simpsons."
Again in 2000, the telecast of the inaugural Classical Brit Awards drew 4.4 million viewers, according to the ITV network.
In 2003, Ruben Studdard (below) barely beat out Clay Aiken to win Fox's second "American Idol" competition.

Also in 2003, soul singer James Brown was pardoned for his past crimes in the state of South Carolina. Brown had served two-and-a-half-years after an arrest on drug and assault charges in 1988, and was granted a pardon by the State Department of Probation, Parole and Pardon Services. Brown, who appeared before the board, sang 'God Bless America' after the decision.
In 2004, TV game show announcer Gene Wood (The New Price Is Right, Password, Super Password, Family Feud) succumbed to lung cancer at age 78.
In 2005, actor Howard Morris succumbed to a heart ailment at age 85.  He was a key member of Sid Caesar's TV sketch group in the 1950′s, and a recurring outlandish character on the Andy Griffith Show.  Because of his unique voice talents he was much in demand for cartoon soundtrack work later in life.
In 2006, Grand Ole Opry legend Billy Walker (below) died in a traffic accident along an Alabama interstate highway; he was 77.

Also in 2006, Madonna played the first of three sold out nights at the Los Angeles Forum, the first dates on her Confessions Tour. The 60-date tour grossed more than $260 million, thus setting a record as the highest grossing tour ever for a female artist.
Still in 2006, a UK businessman shelled out $117,000 at a charity auction to eat a meal prepared by Ozzy Osbourne.  Said Ozzy, "I hope that guy knows all I can f**kin' cook is beans on toast."
In 2007, Ozzy Osbourne made the first of two consecutive appearances on ABC-TV's Jimmy Kimmel Live to support his album, "Black Rain."

In 2008, Lou Pearlman, the music mogul who created the Backstreet Boys and 'N Sync, was sentenced to 25 years over a decades-long scam that swindled thousands of investors out of their life savings. Many victims were Pearlman's relatives, friends and retirees in their 70s or 80s who lost everything.
Also in 2008, at the BMI Film & Television Awards in L.A. the performing-rights organization bestowed trophies on The Who's Pete Townshend for composing the theme songs to CBS-TV's CSI, CSI: NY and CSI: Miami.
Still in 2008, David Cook became the first "Rocker" to win FOX-TV's American Idol. He beat out teen-heartthrob David Archuletta.

In 2009, Natalie Cole was recovering after undergoing a kidney transplant. The 59-year-old daughter of Nat King Cole had decided to postpone her summer tour, set to begin in June, while she recovered from the life-saving surgery.
Also in 2009, Sting, Sheryl Crowe and the Canadian Tenors headlined the One Night Live concert at the Air Canada Centre in Toronto. The event raised more than $1.8 million for the Women & Babies Program at the city's Sunnybrook Health Sciences Centre.
In 2010, U2's lead singer Bono underwent emergency spinal surgery in Germany after hurting his back during rehearsals for the North American leg of the band's 360 tour.
In 2013,
conductor and trombonist Frank Comstock, an Emmy-nominated composer for TV shows including Adam-12, Laverne & Shirley, Happy Days and Rocky and His Friends, and arranger for big bands and such vocalists as Doris Day, Andy Williams, Frankie Laine and the Hi-Los, died at age 90.
In 2014, KISS performed on the Season 13 finale of FOX-TV's American Idol where they were joined by Rock leaning finalist & ultimate winner Caleb Johnson. Nevertheless it was the lowest rated finale in Idol history.
Today's Birthdays:
Actor Richard Libertini (Star Trek: Deep Space Nine, Pacific Station, The Fanelli Boys) is 82.
Singer Ron Isley of the Isley Brothers is 74.
Vancouver-based voice actor Bill Reiter (Dr. Bundolo) is 73.
Guitarist Hilton Valentine of The Animals is 72.
Actor Richard Hatch (Battlestar Galactica, Dynasty) is 71.
Keyboardist Bill Champlin of Chicago is 68.
New Brunswick-born actor Booth Savage (Home Fires, Hot Shots, Chasing Rainbows) is 67.
Actress Carol Potter (Beverly Hills 90210, Sunset Beach) is 67.
Singer Leo Sayer is 67.
Comedian/radio host/US senator Al Franken (Sat. Night Live, LateLine) is 64.
Wrestler/actor Mr. T (The A Team, T & T) is 63.
Drummer Stan Lynch (Tom Petty and the Heartbreakers) is 60.
Actor Judge Reinhold (Secret Service Guy, Redemption High) is 58.
Actor/producer Nick Cassavetes (Just Like Dad, The Incredible Mrs. Ritchie) is 56.
Newfy-born morning host at Vancouver's LG104.3 Larry Hennessey is 55. 
Actor Brent Briscoe (The Handler, Evening Shade) is 54.
Actress Lisa Edelstein (House) of 49.
Actor Brett Tucker (Mistresses) is 43.  
Actress Olga Sosnovska (All My Children) is 43.
Actor Paolo Montalban (Mortal Kombat: Conquest) is 42.
Actress Fairuza Balk (Family Guy, Shadow of a Doubt, Best Xmas Pageant Ever) is 41.
Rapper Havoc of Mobb Deep is 41.
Actor Morgan Benoit (Mighty Med, Bite Me) is 35.
Actor Jon Beavers (The Fresh Beat Band) is 31.
Actress Nicci Faires (Death Interrupted, Swallow) is 29.
Actress Ashlie Brillault (Lizzie McGuire) is 28.
Actor Scotty Leavenworth (Seventh Heaven) is 25.
Actress Sarah Ramos (Parenthood, American Dreams) is 24.
Actor Hutch Dano (Zeke and Luther) is 23.
Actress Olivia Olson (Adventure Time, Phineas & Ferb) is 23.
Actress Brighid Fleming (Dog With a Blog) is 16.
Actor Kyle Red Silverstein (Grey's Anatomy) is 13.
Chart Toppers – May 21
1949
Riders in the Sky – Vaughn Monroe
Again – Gordon Jenkins
Forever and Ever – The Russ Morgan Orchestra (vocal: The Skylarks)
Lovesick Blues – Hank Williams
1958
All I Have to Do is Dream – The Everly Brothers
Return to Me – Dean Martin
Johnny B. Goode – Chuck Berry
Just Married – Marty Robbins
1967
Groovin' – The Young Rascals
Respect – Aretha Franklin
I Got Rhythm – The Happenings
Sam's Place – Buck Owens
1976
Silly Love Songs – Wings
Love Hangover – Diana Ross
Fooled Around and Fell in Love – Elvin Bishop
After All the Good is Gone – Conway Twitty
1985
Don't You Forget About Me – Simple Minds
One Night in Bangkok – Murray Head
Everything She Wants – Wham!
Step that Step – Sawyer Brown
1994
I Swear – All-4-One
I'll Remember – Madonna
Baby, I Love Your Way – Big Mountain
Your Love Amazes Me – John Berry
2003
Rock Your Body – Justin Timberlake
Sing for the Moment – Eminem
Fighter – Christina Aguilera
Have You Forgotten? – Darryl Worley