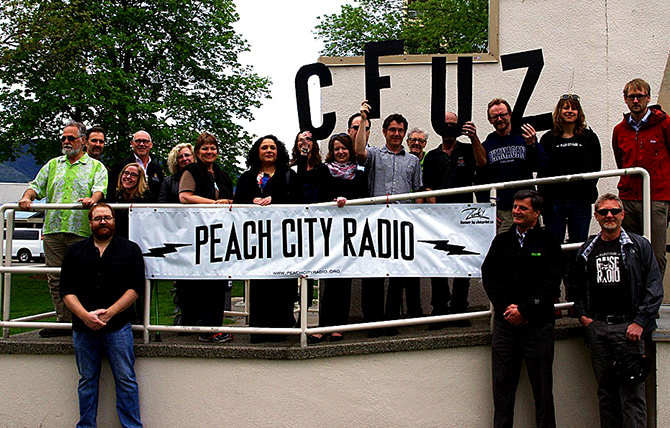 By Steve Arstad
Vernon InfoNews
May 6, 2015
PENTICTON – Penticton's Peach City Radio moved a big step closer to their goal of an FM radio station this week.
Members of the Peach City Radio Society were delighted to hear from the Canadian Radio and Television Commission their license to broadcast a low power community radio signal in Penticton had been approved.
"We're very excited about that," society president Dave Del Rizzo said in a release.
The radio station — call letters CFUZ — has been internet only since its inception five years ago, but the long term goal has always been to broadcast an FM signal in Penticton.
"We set out a plan to get there, realizing it was going to take several years to get there," Del Rizzo said, adding the society was on track building the infrastructure necessary to broadcast the FM signal. "We started out training people how to make podcasts, then two years ago we established an online stream, we've done several short term FM broadcasts and this is just the next step in our evolution."
The society next plans to find a location for a station, prior to turning on the FM transmitter. Del Rizzo couldn't say how long it might be before that event could take place, but the group hoped to begin transmitting sometime in the first half of 2016.
"We have a plan to get us there, it's not the simple flip of a switch, so what we'll be doing the next six months to a year is ramping up our operation to get us there, step wise, so it's not an abrupt change," he said.
The all-volunteer radio society's main goal is to provide a platform for local content. Del Rizzo said roughly 30 volunteers provide content now, and he expects that number to rise as people find it easier to contribute their time and effort. He said the establishment of a studio will make the radio station more accessible to the public.
The station's transmitter will broadcast at 50 watts, which Del Rizzo expects will cover the city easily, although the signal is limited by geographical issues.
"We're going to work very hard to ensure everyone in Penticton can hear our signal. Once we have that signal established, we'll be fundraising to improve, it will be clear and well defined for everyone in Penticton," Del Rizzo said.
To contact the reporter for this story, email Steve Arstad at [email protected] or call 250-488-3065. To contact the editor, email [email protected] or call 250-718-2724.
News from © InfoTel News Ltd, 2015