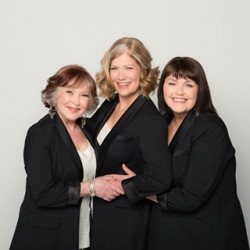 By David Chesney
May the 4th/2015
A couple of months back I received a phone call from my old radio friend Tom Jeffries who inquired what process someone would have to go through to record a song by The Blue Shadows, a band which I managed in the late 90's? We took care of the paper work and THE Hot Mammas recorded "When Will This Heartache End?" The ladies in particular (Downtown) Julie Brown on lead vocal did an amazing job on the song.
This past Sunday THE HOT MAMMAS released their debut CD at a special concert on Granville Island at The Revue Stage and my Caribbean Queen and I were thrilled to attend the concert.
Julie Brown well known to radio listeners in the Lower Mainland lives in the West End with her husband Tom Jeffries with their son Jared.
The other HOT MAMMAS are Georgina Arntzen and Mary Ella Young. If you get a chance to see them perform, by all means be prepared to be blown out of your seat.
Here is a link to their website to sample music and to find out about upcoming shows.  HERE
BRAVO HOT MAMMAS.
David Chesney