ON THIS DAY in 1903
actress/novelist Ilka Chase was born in New York City. For several years, she was host of a radio program, Luncheon at the Waldorf, and a panelist on Leave It to The Girls.  She was a panel member on early TV game shows Masquerade Party, Keep Talking, & The Eyes Have It, had a feature role in the 1965 series Trials of O'Brien, and played Stepmother in the '57 TV production of Cinderella starring Julie Andrews.  She died following an internal hemmorrhage Feb 15 1978 at age 74.

In 1922, jazz singer Carmen McRae was born in New York City's Harlem district.   One of the most influential jazz vocalists, it was her behind-the-beat phrasing and ironic interpretations of lyrics that made her most memorable.  A lifelong smoker, she died from emphysema Nov 10, 1994 at age 72.
In 1923, actor Edward Mulhare was born in Cork Ireland. A sort of "road company" Rex Harrison, he had lengthy recurring roles in TV's Knight Rider & The Ghost and Mrs. Muir, and hosted two series in the 80's: Secrets & Mysteries, and Secrets of the Unknown.  He died of lung cancer May 24 1997 at age 74.
In 1928, actor Eric Porter was born in London England.  His signature role was that of Soames Forsyte in the landmark BBC serialized production The Forsyte Saga.  He also had important roles in two other TV series seen over here, Jewel in the Crown & The Adventures of Sherlock Holmes.  He died of cancer May 15 1995 at age 67.

In 1941, for the first eight years of the radio series the voice of The Lone Ranger, Ontario-born actor Earl Graser (above) died in an auto accident at age 32.  Brace Beemer, previously the show's announcer, took over the title role and remained one of radio's icons for another 14 years.
In 1942, the No. 1 Billboard Pop Hit was "Moonlight Cocktail" by the Glenn MillerOrchestra.
In 1944, the No. 1 Billboard Pop Hit was "Besame Mucho" by Jimmy Dorsey's Orchestra.
In 1954, Stuart Hamblen recorded his composition "This Ole House" for RCA Victor which peaked at #26 on Billboard's chart of pop singles, well behind Rosemary Clooney's version of the toe tapper on Columbia, which topped the chart for three weeks in a row.
In 1957, Jimmy Dean (on left) began a morning show on CBS-TV to compete with the first 45 minutes of the Today show on NBC-TV. No, he didn't stand around in an apron cookin' sausage and singing Big Bad John for the audience, though it may not have been a bad idea. No sponsors were found for the show and that December CBS sent Jimmy back to the smokehouse.
Also in 1957, in a marathon session at Norman Petty's studio in Clovis New Mexico, Buddy Holly recorded "Words Of Love" and "Mailman Bring Me No More Blues." The single, the followup to Holly's first #1 "That'll Be the Day," failed to chart.
In 1961, the BBC banned Gene McDaniels' first hit "100 Pounds of Clay." The concern arose from the lyric's reference to women being created from building materials, which UK executives of the day considered blasphemous.
In 1963, seven Oscars including the #1 award for Best Picture went to Lawrence of Arabia at the 35th Annual Academy Awards.

Also in 1963, the final episode of "The Rifleman" (starring Chuck Connors) aired on ABC.
In 1964, the Supremes were in Detroit to record "Where Did Our Love Go" which was destined to become their first No. 1 single.
Also in 1964, Frank Sinatra was in Los Angeles to record his memorable signature song, "My Kind of Town."
In 1965, the No. 1 Billboard Pop Hit was "I'm Telling You Now," by Freddie & the Dreamers.
In 1968, the scheduled 40th Academy Awards were postponed to April 10th due to the assassination of Martin Luther King Jr. four days earlier.
Also in 1968, the Beatles went gold again, receiving a Gold Record for the single, "Lady Madonna."
Again in 1968, the Petula Clark TV special "Petula" aired on NBC.


Ms. Clark and guest star Harry Belafonte performed a duet on an antiwar song she'd written called "On The Path Of Glory." During the taping, Petula reached out to touch Harry's arm, causing the show's sponsor Chrysler to protest. The suits were worried the interracial contact would upset viewers (and affiliates) in the US south. Petula and the program's executive producer, her husband Claude Wolff, responded by destroying all other takes of the duet so the spontaneous gesture would have to be aired. It became historically significant as the first interracial contact of any kind seen on an American TV show.
In 1969, Neil Diamond made concert history as the first performer to sell out the L. A. Forum for nine consecutive shows.
In 1971, Chicago (below) became the first rock group to play Carnegie Hall in New York City.

In 1973, Canadian rock musician Neil Young's autobiographical film, "Journey Through the Past," premiered at the U-S Film Festival in Dallas.
In 1975, at the 47th Academy Awards, the top honors went to "Godfather II", Ellen Burstyn (for Alice Doesn't Live Here Anymore) & Art Carney (for Harry & Tonto).
Also in 1975, Columbia Records released Aerosmith's third and most successful studio album, "Toys in the Attic," which would sell 8 million copies.
In 1977, The Damned played at the home of the New York punk scene CBGBS, the first UK Punk group to play live dates in North America.
In 1979, Van Halen opened their first world tour with a show at the L.A. Memorial Coliseum.
Also in 1979, the last original episode of "All In The Family" aired on CBS.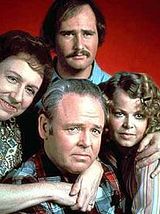 In 1981, Larry "Snortin" Norton from WGRQ-FM in Buffalo, found a place in the Guiness Book of World Records for the most consecutive hours on-the-air. He went 20 days, four hours.
In 1983, Danny Rapp, lead singer of Danny and the Juniors, committed suicide at 41. Their "At the Hop" was a number-one record in 1958 and remains one of the most popular rock 'n' roll oldies.
In 1985, prolific songwriter J. Fred Coots died at age 87. He co-wrote, 'Santa Claus Is Coming To Town,' which Eddie Cantor introduced on his 1934 radio show, and Pat Boone's No.1 hit in 1957, 'Love Letters In The Sand,' which he'd written 26 years earlier. In total J. Fred had a hand in composing more than 700 songs.
Also in 1985, "Wham" sold out the 12-thousand-seat Workers' Gymnasium in Peking, becoming the first Western rock group to appear in mainland China.
Still in 1985, the No. 1 Billboard Pop Hit was "We Are the World" by USA for Africa. Harry Belafonte helped organize the recording of this benefit record after the success of Band Aid, a British effort to raise money for famine relief. The song was written by Michael Jackson and Lionel Richie.

In 1986, after 18 years of singing the U.S. national anthem for opening day at Yankee Stadium, baritone Robert Merrill of the Metropolitan Opera became the first person to both sing the anthem AND throw out the first ball for the New York Yankees home opener.
Also in 1986, a young lady named Lynda Matarazzo had her nose broken at an Aerosmith concert in Philadelphia. She sued the group, their record company and the concert promoter, claiming that Aerosmith's song "My Fist, Your Face" encouraged the crowd to beat her up.
Still on this date in 1986, Japanese singer Yukiko Okada jumped to her death, prompting 33 teen suicides in Japan over the next 10 days.
In 1987, Oldies radio station WFIL-AM, Philadelphia, ended it's run as "Famous 56" as the new owners fired the local deejays and switched to satellite-delivered oldies programming.

In 1988, televangelist Jimmy Swaggart, 52, was defrocked by the Assemblies of God following the disclosure of his involvement with a prostitute. (Swaggart was ordered to stay off TV for a year, but had returned after only three months.)
In 1989, 26-year-old David Hirsch replaced 59-year-old Dick Clark on "American Bandstand." His debut also marked "Bandstand's" move to the U-S-A cable network from national syndication, and heralded a slow death for the series which was cancelled six months later. Clark had hosted the program for 33 years, mostly on ABC TV, introducing teens to the likes of Stevie Wonder, The Jackson Five, Madonna and dance crazes like the Twist and the Jerk.
Also in 1989, "She Drives Me Crazy" by Fine Young Cannibals topped the charts ..but only for the one week.
In 1990, the quirky primetime serial "Twin Peaks" with Peggy Lipton (below) one of its stars, began a 2-year run on ABC-TV.

In 1991, actor/producer Michael Landon announced that he had inoperable cancer of the pancreas and died three months later. He was a co-star on NBC-TV's Bonanza, and the power behind two other top-rated series, Little House on the Prairie and Highway to Heaven.
In 1992, broadcaster/actor Nelson Olmstead, who made such great use of the radio medium by creating the shadowy side of the Theatre of the Mind, died at age 78.
In 1993, contralto Marian Anderson, whose 1939 concert at the Lincoln Memorial in Washington, D-C, helped many people rethink their racist attitudes, died at her Portland, Oregon home. She was 96.


U-S First Lady Eleanor Roosevelt arranged for the outdoor concert, which attracted 75-thousand people (and millions more on network radio), after the Daughters of the American Revolution refused to rent out their hall because Anderson was black.
In 1994, 27-year old rocker Kurt Cobain was found dead in the greenhouse of his Seattle  home, the victim of what was officially ruled a self-inflicted shotgun wound to the head. A suicide note was found that said, "I haven't felt the excitement of listening to as well as creating music, along with really writing . . . for too many years now".
Also in 1994, the Recording Industry Association of America announced that Pink Floyd's 1973 album "Dark Side of the Moon" had become the fourth biggest-selling album in U-S history. Sales of more than 13 million made it the best-selling album ever in the U-S by a British act. Worldwide, "Dark Side of the Moon" has sold more than 40  million copies.

In 1997, singer-songwriter Laura Nyro succumbed to ovarian cancer at age 49. Nyro wrote "Wedding Bell Blues" and "Stoned Soul Picnic" for the Fifth Dimension; "And When I Die" for Blood, Sweat and Tears; and "Eli's Coming" for Three Dog Night.
In 1998, Tommy Lee of Motley Crue was jailed (for 6 months) after breaking a probation order.
Also in 1998, the final episode of NBC's Seinfeld was filmed in Los Angeles
Still in 1998, it was reported that a boat carrying Rolling Stones guitarist Ronnie Wood burst into flames just days before the Brazilian leg of the band's Bridges to Babylon tour. Wood was aboard a small pleasure craft exploring islands south of Rio de Janeiro when one of the boat's engines caught fire. Nearby journalists rescued Wood and the other 11 passengers.

In 2000, Sean "Puffy" Combs cancelled a sold-out appearance at London's Wembley stadium. The show was the planned finale of the rapper's European tour. Fans were not offered an explanation for the cancellation.
In 2001, 2Pac started a four-week run at No.1 on the Billboard album chart with 'Until The End Of Time.'
In 2002, Marilyn Manson denied claims that he was responsible for the death of a woman after a party at his mansion the year previous. Jennifer Syme, a former girlfriend of actor Keanu Reeves, died when her Jeep Cherokee hit three parked cars.

Also in 2002, former TV host/announcer Ed McMahon filed a $20 million lawsuit against his insurance company, two insurance adjusters, and several environmental cleanup contractors, after a toxic mold had spread through McMahon's Beverly Hills home, making Ed & his wife ill, and killing their dog.
In 2003, some 17 million Americans tuned in as NBC-TV aired the concert special "Cher: The Farewell Tour."
In 2004, Vancouver's CKVX FM 104.9 changed its call letters to CKCL to match its "Clear" name. Today it is branded as KISS Radio, with the call letters CKKS.
Also in 2004, radio giant Clear Channel Communications fired Howard Stern from their stations after FCC regulators proposed fining the company $495,000 for airing the shock jock's sexually explicit broadcasts.   Since he was syndicated by Infinity Broadcasting his programs (and his paycheques) .. continued uninterrupted.

Still in 2004, New York radio personality, Gene Klavan, died at age 79 from complications of multiple myeloma.  Klavan was best known as one-half of the successful morning show, "Klavan & Finch," which ran for more than 16 years on WNEW.
Again, in 2004, Vince Neil pleaded no contest to battery charges stemming from a `03 incident in which the former Mötley Crüe frontman allegedly assaulted a prostitute at a Nevada brothel. The judge handed Neil a 30-day suspended sentence, ordered him to complete anger-management sessions, and fined him $1,000.
In 2005, Velvet Revolver guitarist Slash performed both the U.S. and Canadian national anthems at the Toronto Blue Jays' home opener versus the defending World Series champion Boston Red Sox.
In 2006, the Rolling Stones made their debut in mainland China with a censored – but still raucous – concert in Shanghai. The Stones' songs deemed too racy for Chinese audiences were "Beast of Burden," "Brown Sugar," "Honky Tonk Women" and "Let's Spend the Night Together."
Also in 2006, Prince was at No.1 on the Billboard album chart with '3121', his 28th album release.

In 2007, country music singer Tim McGraw was at No.1 on the Billboard album chart with 'Let It Go,' his fourth No.1 album. The album produced seven Top 20 country hits.
In 2008, Led Zeppelin came out atop Classic Rock magazine's poll of the Best Live Acts Of All Time. The Who scored second place in the voting and AC/DC was third.
In 2011, Ozzy Osbourne provided the voice for the Earth Troll character in an installment of the Disney Channel's Fish Hooks. The cable TV segment focussed on the importance of recycling.
In 2013, former child star Annette Funicello  (below), beloved since her 1955 debut in ABC-TV's original Mickey Mouse Club, died of complications from multiple sclerosis at age 70.

Also in 2013, Andy Johns, the veteran UK producer and sound engineer who worked on classic albums by Led Zeppelin, the Rolling Stones, Jimi Hendrix, Van Halen and many others, died at the age of 61.
Today's Birthdays:
Comedian Shecky Greene is 89.
Actor John Gavin (Convoy, Destry) is 84.
Original Mouseketeer Darlene Gillespie is 74.
Singer J.J. Jackson is 74.
Singer Peggy Lennon of the Lennon Sisters is 74.
Songwriter Leon Huff of Gamble and Huff is 73.
Actor Joey D. Viera (Lassie) is 71.
Actor Stuart Pankin (Falcon Crest, Nearly Departed, Bonkers) is 69.
Guitarist Steve Howe of Yes and of Asia is 68.
Sportscaster Jim Lampley (HBO boxing, NBC Olympics) is 66.
Bassist Mel Schacher of Grand Funk Railroad is 64.
Actor Jim Piddock (Mad About You, Batman:The Brave & the Bold) is 59.
Singer-actor John Schneider (Dukes of Hazzard, Smallville, Dr. Quinn Medicine Woman) is 55.
Guitarist Izzy Stradlin (Guns N' Roses) is 53.
Actor Dean Norris (Under the Dome, Breaking Bad) is 52.
Singer-guitarist Donita Sparks of L7 is 52.
Singer Julian Lennon is 52.
Rapper Biz Markie is 51.
Actress Robin Wright (House of Cards, Empire Falls, Santa Barbara) is 49.
Actress Patricia Arquette (CSI: Cyber, Medium) is 47.
Singer Craig Honeycutt of Everything is 45.
Drummer Darren Jessee (Ben Folds Five) is 44.
Actor Sung Kang (Gang Related) is 43.
Actress Emma Caulfield (Buffy the Vampire Slayer, Life Unexpected, Bandwagon: the Series) is 42.
Vancouver-born actress Rachel Roberts (FlashForward) is 37.  
Actress Katee Sackhoff (24, Battlestar Gallactica) is 35.
Kelowna-born actor Taylor Kitsch (Friday Night Lights) is 34.
Singer-guitarist Ezra Koenig of Vampire Weekend is 31.
Actor Taran Noah Smith (Home Improvement) is 31.
Actress Kirsten Storms (Kim Possible, General Hospital, Days of Our Lives) is 31.
Actress Shelby Young (Days of Our Lives) is 23.
Actress Sadie Calvano (Mom) is 18.
Actor Ty Panitz (Bones) is 16.
Chart Toppers – April 8
1947
The Anniversary Song – Dinah Shore
How are Things in Glocca Morra – Buddy Clark
Managua, Nicaragua – The Guy Lombardo Orchestra (vocal: Don Rodney)
So Round, So Firm, So Fully Packed – Merle Travis
1956
Heartbreak Hotel – Elvis Presley
The Poor People of Paris – Les Baxter
(You've Got) The Magic Touch – The Platters
Blue Suede Shoes – Carl Perkins
1965
Stop! In the Name of Love – The Supremes
I'm Telling You Now – Freddie & The Dreamers
Shotgun – Jr. Walker & The All Stars
King of the Road – Roger Miller
1974
Hooked on a Feeling – Blue Swede
Bennie & The Jets – Elton John
The Lord's Prayer – Sister Janet Mead
A Very Special Love Song – Charlie Rich
1983
Billy Jean – Michael Jackson
Do You Really Want to Hurt Me – Culture Club
Hungry like the Wolf – Duran Duran
When I'm Away from You – Bellamy Brothers
1992
Save the Best for Last – Vanessa Williams
Tears in Heaven – Eric Clapton
Masterpiece – Atlantic Starr
Is There Life Out There – Reba McEntire
2001
Angel – Shaggy featuring Rayvon
Butterfly – Crazy Town
All for You – Janet Jackson
Who I Am – Jessica Andrews
2010
Rude Boy – Rihanna
Nothin' On You – B.o.B featuring Bruno Mars
Telephone – Lady Gaga featuring Beyonce
A Little More Country Than That – Easton Corbin