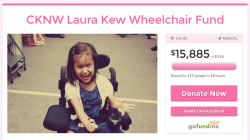 Tuesday night on CKNW Drex talked about the story of a 6yo girl from Chilliwack who had her wheelchair stolen along with the family mini van it was in, the car was recovered, but the chair was no where to be found.
So, last night Drex launched a Go Fund me campaign to get Laura a brand new wheelchair and In 16 hours, 92 CKNW listeners donated more than 14,000 to help buy Laura Kew get a new motorized wheelchair.
and this morning the goal of $14,000 was surpassed. and them some
Mother Charlene calls the public reaction overwhelming.
"We had a father and his three children that had emptied out their piggy banks and they came to our door and they handed it to our daughter."
And she says Laura hasn't been upset with all of this.
"She's our determined, smiley Laura. No matter what 95% of her day is spent smiling."
And to all of those who have donated, a thank you from Drex, CKNW, and the CKNW Orphan's Fund.