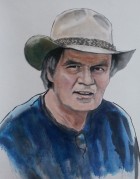 By Byron Christopher
March 3rd, 2015
3 March 2015 marked the 10th anniversary of the shooting deaths of four Alberta RCMP officers — the deadliest day in the history of Canada's national police force. 
The bloody carnage took place at a small farm near the Town of Mayerthorpe, northwest of Edmonton.
The fifth and final man to die that fateful day was the gunman. Wounded from an RCMP bullet, he pointed his assault rifle at his chest and pulled the trigger … one final time.
In March 2005, I was reporting for an Edmonton radio station — 630 CHED — numero uno in the ratings and branded as 'Alberta's Information Superstation.' I was "on the ground" for the Mayerthorpe story.
CHED was the first media outlet to report the stunning news that four Mounties had been murdered. 
On Monday, 16 March 2015 I received a phone call from Bob Layton, CHED'sNews Director. Bob asked if I'd share my impressions about what happened at Mayerthorpe — for a book he's writing about his reporting experiences. 
That same day, I fired off an email to the broadcast legend with my impressions, which I'll now share with you. 
From my perspective, here's the story behind that story …
EARLY ON – FIRST WORD
It was late in the morning on Thursday, 3 March 2005 and I was sitting at my desk in the CHED bureau at the Law Courts Building in downtown Edmonton — preparing a story for our noon newscast — when a call came in from our newsroom. Something big was coming down. I was told to return immediately to our shop in South Edmonton, grab the keys to the news cruiser and head out of town.
"What's up?" I asked. The explanation was that a Mountie — perhaps more than one — had been shot near Mayerthorpe, a farming community 90 minutes' drive away.
Click to enlarge. The red dot indicates the area where the shooting happened. The Town of Mayerthorpe is southwest of there. The City of Edmonton is lower right. [Map courtesy of Google]
Off I went to the radio station where I grabbed the keys to our flashy cruiser — a Ford F150 pick-up truck — then drove like a bat out of hell towards Mayerthorpe. I sped, I admit it, passing every car and truck on the way, arriving in two-thirds the time. If I'm not mistaken, some dolt called the radio station to complain about my driving. That's the trouble with a vehicle that's decked out like a billboard.
I spotted no media vehicles on Highway 43, a good sign that CHED was ahead of the pack. You don't want to arrive and discover you're reporter #22. Even #2.
While driving, I maintained cell phone contact with the our newsroom to get the latest on what was happening. Ed Mason, our veteran police reporter, was doing his best to get more information from the RCMP — and he was doing this from his home in Sherwood Park, east of Edmonton. His shift had ended more than an hour earlier and here he was, at home, on the phone with his police contacts, trying to get more stuff for us.
There are journalists, and there are reporters. In his 50-plus years of reporting, Ed had more scoops than an ice-cream shop in Palm Springs.
However, details about what had gone down at a farm near Mayerthorpe were still sketchy. Ed's intel was that there'd been a shooting, some officers were shot and that a marijuana grow-up was involved. As I recall, that was the gist of it.
ARRIVING IN AREA
I tried to get to the farm but was turned away by an RCMP officer who had parked his cruiser across the highway, about a kilometre or so from where the shooting happened. The officer claimed he didn't know what was going on. Join the club.
I turned my pick-up around and made a beeline to Mayerthorpe, 12 kilometres distant, pulling up outside the small, one-story RCMP station on the edge of town. I parked right in front of the Detachment. Prime real estate, if you will. I parked in that spot not just for convenience, but for the exposure: Our news cruiser — like a gigantic mike flash — might end up in the odd television and newspaper shot. Free publicity.
At that point, CHED was pretty well the only news outlet on scene. In two hours or so that would change dramatically; everyone and their dog would be there. Mayerthorpe was about to become the News Epicentre of North America.
The main entrance to the RCMP Detachment at Mayerthorpe was a windowless, heavy steel door, the kind of door you might expect at a high school in the Bronx, or downtown Toronto. I pulled opened the door and immediately stood in a secure reception area. Receptionists are usually warm and relaxed, but not this one. She looked worried. In shock. She also had little information, except the standard line: "An-investigation-is-underway …"
I wasn't able to confirm that a Mountie had been shot. But, as we know, the eyes shout what the lips fear to say. It was clear from seeing the receptionist — plus the staff milling about the office — like zombies, I might add — that something terrible had happened.
It was also obvious the Mounties were trying to keep things under wraps until the arrival of their media relations officer, the one designated to speak with reporters. That was Corporal Wayne Oakes, based at RCMP K Division, just south of the Municipal Airport in Edmonton. I was assured that Wayne was on his way. I knew the man somewhat as I'd dealt with him on a number of stories. Wayne was down-to-earth and easy going; you could joke with him. Wayne was originally from Nova Scotia. I am from New Brunswick, right next door.
REPORTERS ARRIVE – FRUSTRATION
As the minutes ticked by, media cars and large trucks [with satellite dishes] began to line the street — for more than half a block. Reporters scurried here and there, trying desperately to get information. I'm sure some people would have described us as "vultures."
We tried to talk to anyone going in and out of the Detachment. But everyone was tight-lipped. I swear, if a Jehovah Witness had been peddling the Watchtower, they could have easily been interviewed by a dozen reporters.
It was frustrating, sensing/knowing in our hearts that something Big had happened but not being able to nail anything down. Not just police were on edge, so were we.
Reporters were waiting for RCMP spokesman Oakes to arrive, or for a news release to be passed out. Anything. Officers continued to shuffle in and out of the Detachment, heads down, deliberately avoiding eye contact with us. I sprinted to the back of the building where employees parked their vehicles, in the hope I could snag someone going to their car. Perhaps they'd talk. But no one was there. I ran back to the front, afraid to miss anything.
A good number of police cruisers were also parked directly across the street, outside a Royal Canadian Legion building, and more were arriving all the time. The Mounties had turned the Legion into a command centre. I went inside but everyone was silent. "No comments" all around. People had the look of being under siege. It was clear I was wasting my time trying to talk to anyone there. I dropped off my business card and ran back across the street.
BREAKTHROUGH COMING
I returned to the Detachment, but instead of opening the door this time I stood beside it — and listened. I concentrated for a minute or so. Wow. What's going on? I could hear people crying. A LOT of sobbing. I thought, Whoa! A Mountie has died. Gotta be.
Wayne Oakes finally arrived … but at that stage he was of little help. Wayne was as stunned as the rest. He babysat us reporters but didn't feed us, put it that way. At least he talked, if only to say "No comment right now, wait until something is ready." It was at that moment when I realized that sombre officers were trying to reach the next of kin. Man, that has to be one very tough job.
All signs pointed to a major event. The Mounties don't call in their communications officer to comment on a minor traffic accident or a shoplifting.
Corporal Wayne Oakes being peppered by questions from reporters outside the RCMP detachment in Mayerthorpe. At times, Oakes became angry with certain reporters.
I was hungry for information, and just hungry period. I got back in my truck and took off down the road to a burger joint, grabbed some take-out ["fast food"] and returned to the Detachment. However, my prime parking space was gone and I had to park a ways down the street, now jam-packed with media vehicles.
It was late in the afternoon, I was writing yet another dispatch and munching on a burger at the same time. It wasn't especially cold and my driver's side window was all the way down. I was in a fairly quiet spot, although cars were coming and going, passing by my open window.
"FOUR COPS ARE DEAD"
Travelling in the direction of the police station, passing me on my left, was a sedan, likely a civilian vehicle. It could have been a ghost car, I don't know. The vehicle was being driven by a woman, dark hair, average build, in her 30's, not sure. She put on the brakes when flagged down by a Mountie — a man in his 30's who was behind the wheel of a marked cruiser going in the opposite direction. The cars came to a complete stop. The windows went down and the drivers began to talk.
I could hear everything.
The officer immediately blurted, "Four cops are dead." It was as simple as that. No small talk about the weather, nice hairdo or anything. The woman looked at the officer and without saying a word, let her head fall on the padded steering wheel. She immediately began to sob, and her cries were gut-wrenching. Clearly, the woman was in considerable anguish.
I can't remember what else was said because I was stunned at what I'd just overheard. I then realized why staff at the police station were crying. My God. This wasn't a case of a single Mountie being shot. Or even one killed. FOUR officers were dead. Crazy …
As the woman wept, the officer said nothing but kept looking at her with concern. Neither noticed me sitting in the cab of the CHED truck.
The dead officers, all constables: Anthony Gordon [28]; Lionide Johnston [34]; Brock Myrol [29] and Peter Schiemann [25]. [Photo credit: RCMP]
The police cruiser left, headed in the direction of town. The other vehicle turned left, into the parking lot of the Legion, the command centre. I never did learn who the woman was, but I've often wondered about it. Can't tell you if she was a secretary or an officer, or if her spouse worked for the RCMP. No clue.
An aerial media shot shows police covering the bodies with plastic tarps. [Edmonton Journal]
Notice the tags indicating where bullets struck the door [on the side, just above the door handle] and in the side mirror … plus the blown-out window. Notice too that the mike [for the 2-way radio] is resting in its cradle indicating that if anyone was in the vehicle when the bullets hit, they were caught by surprise. Click to enlarge.
Reporters kept arriving. They either headed straight into the police station, or looked for reporter 'buddies' who could bring them up to speed.
I sought out Wayne Oakes again and, privately, said to him, "Four Mounties are dead, right?" Wayne, who had been crying, said, "Byron, I can't tell you that, I'm sorry …" I said, "Well, Wayne, you just did — with your eyes."
I suspected the officer knew a lot more but that he wasn't authorized to say anything, not at this point anyway. I pressed further, to get something off the record — or to use his information without Wayne being identified as the source. But he just wouldn't budge. The corporal walked away slowly shaking his head and fighting back the tears.
Another reporter [Global TV, female] saw me talking with Wayne. She ran over and asked what I knew. I did not tell her what I'd just overheard out on the street. That was information I'd share with our audience, not the competition.
I went back inside the police station, looked around the office and I could see that everyone was either crying, or had been crying. Their faces were wet and puffy. You can't hide grief.
I could also feel their pain. How could I not? One would have to be a complete moron not to realize something very terrible had happened. It was awful to be standing there, seeing all those people hurting. This was no longer just another story; this was a nightmare.
Read More HERE