By Marty Forbes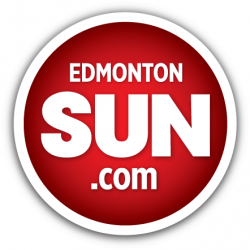 March 20, 2015
You read him in this paper every week. You see him around town virtually everywhere.
I'm fortunate enough to call him a 'very good friend.'
Cam Tait is one impressive human being — and anybody who meets him in person will tell you the exact same thing…including people like Rick Hansen and Wayne Gretzky.
Nothing stops Cam from doing 'anything' he wants to do — including writing a book, which he just did with legendary sports icon Jim Taylor.
It's called "Disabled? Hell No! I'm a Sit-Down Comic!"
"I have cerebral palsy much like I have blue eyes and have — or should I say had? —brown hair. It is simply a part of who I am. When I speak to groups about my situation I can even joke about it. 'Think of CP as Canada Post,' I tell them. 'My brain sends out signals, and God knows where they wind up.'
As Cam writes on the back cover: "Cam was born with cerebral palsy, unable to sit up, speak or move his arms and legs. But thanks to a revolutionary form of physical therapy that required a 24/7 commitment from his parents and a team of 116 volunteers, he learned to get around in a wheelchair, move his hands and talk. These turned out to be useful skills for a career of prime interviews, crazy deadlines and pranks."
Adored by the sports community; a terrible tease; Cam can make you laugh every time you see him. Any time there was an opening at a radio station I ran in town Cam would call and apply for the gig.
Morning man — mid day — newsman — it didn't matter. Knowing him as well as I do it was easy to turn him down saying "Cam — you know nobody can understand a damn thing you say?" — he would laugh out loud — and then would send me a beautiful 'script' of a feature that he wanted to air on the station.
Watching him being carried in his wheelchair up the shaky metal stairs to the Media Gondola at Northlands strikes hard on all of us in the media seeing what he simply has to endure on a daily basis — but 'without complaining and without pity' at any single moment.
Watch for Cam signing his new book around town over these next few weeks and keep an eye out for information on a wonderful tribute night in April that will proudly be featured here in the pages of his 'home' — the Edmonton Sun.
Finally, as Jim Taylor states "With a newspaperman's inveterate sense of timing, Tait moves seamlessly from one-liners and tales of debauched hijinks to candid accounts of his depression, career struggles and loss of loved ones. He speaks with eloquence about the importance of giving disabled people the chance to pursue their ambitions, and the value of all the support he's received in achieving his own dreams. In both his career and personal life, he's experienced the power of humour to break down barriers and bring people together—and have a hell of a good time doing it."
Buy the book please!
And 'thanks' for the mention in it Cam — I'm sure you did it just so I'd have to buy copies for each and every one of my friends and family members — which I gladly will do!'
God bless Cam Tait.
Cam tells us his book will be out in stores March 28
http://www.edmontonsun.com/2015/03/20/marty-forbes-cam-taits-book-worth-a-read