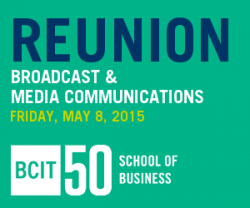 By Brian Antonson


March 19th, 2015
With the BCIT Broadcast 50th Anniversary REUNION coming up, organizers were thrilled to have Michael Easton of Puget Sound Radio offer them display space on the widely-read PSR page. And they were pleased to offer some contra in return: BCIT campus radio station Evolution 1079 now is running a series of ads promoting PSR!
When BCIT opened its doors in 1964, there were just over a dozen training programs offered, and the Broadcast Communications department was one of them. So as BCIT itself celebrates its 50th anniversary in the 2014/2015 school year, today's Broadcast and Media Communications department has joined forces with the BCIT Alumni Association to hold a huge all-years Reunion…set for May 8th at the Hilton Hotel on Kingsway in Burnaby. Thousands of grads have trained in the department's programs over five decades, so a huge turnout is anticipated.
Many high profile broadcasters got their start in this business, both on the air and in a wide variety of behind the scenes positions. Some of the originals have retired after long careers in the business, others moved on to new opportunities as they came along, and new graduates continue to join the ranks in the industry. All have had the common background of training in excellent facilities and learning from leading broadcast educators over the decades. A new video profiles some graduates who attribute their success to the solid foundation they received at BCIT.
Word is spreading rapidly as the Reunion gets closer by the day. Tickets, at $25 each, are required. Information is available here on this facebook link:  HERE
or Registration Landing page HERE
Puget Sound Radio thanks Brian Antonson for contributing this article
Brian Antonson – BCIT Broadcast Program graduate; production and on-air CKNW New Westminster 1967-77 (Production Director 1974-77); Production Director CJOB Winnipeg 1970; Radio Instructor British Columbia Institute of Technology, Burnaby 1977-82; Radio Program Head BCIT 1982-85; Associate Dean, Broadcast BCIT 1985-90; General Manager CFVR Abbotsford 1990-92; Associate Dean, Broadcast and Media Communications BCIT 1992-2010; retired 2010; president 2014 BC Winter Games 2012-current.  LinkedIn profile
Courtesy of VancouverBroadcasters.com