Puget Sound Radio recently heard from Michael Luft, youngest brother of the late Norm Edwards (Luft), wanting to share the news of a Facebook Tribute page he set up up in honour of his late brother. Since Mike got in touch with Stewart Myers GM and Warren Cargill, Senior Producer at Bell Media headquarters of CJAY 92 in Calgary for some assistance, the timing couldn't have been any better.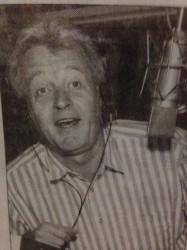 Stewart who was PD at CJAY 92 at the time Norm was on the air, was also the original producer of The Norm Edwards Show and was able to provide these airchecks from his personal collection which Warren dubbed for the facebook page.
The tribute show was produced 'live on air' by Richard Stroobant (now, an instructor with the Radio program @ SAIT).
Not only did Calgary's Bell Media supply Mike with some other collectors items, but the door opened up from other sources with photos of Norm when he worked at CKGY Country in Red Deer.   Visit and Like the CJAY92 facebook page and listen to some more airchecks of Norm.
Warren tells us Norms  on-air producer at the time was Roger Rhodes (now afternoon drive @ CKRY in Calgary).  Roger did all of the character voices you hear. Norm was an awesome guy – I grew up in Calgary, so Norm was my favourite DJ on CKXL in the 70's, then I got to work with him when I started at CJAY in the late 80's
Special Thanks to Stewart Myers and Warren Cargill
And Now, Another aircheck from  Stewart's personal collection of Norm Edwards
https://soundcloud.com/mike-luft/02-track-02
CJAY92 Norm Edwards facebook Tribute page HERE