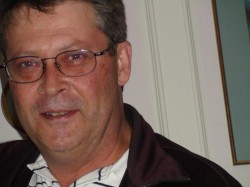 Puget Sound Radio just received some unfortunate news from Steve Camphaug who's father, Ken Cameron (Camphaug) passed away suddenly of a heart attack on Tuesday the 10th.
Ken spent over 30 years in the radio business in Alberta and British Columbia and Steve would like to reach out to invite anyone who knew him to attend the funeral.
The service will be held at North Point Pentecostal Church in Edmonton Alberta on Wednesday the 18th at 14025-167th ave. Ken worked at 630 Ched, CFCW, CJOC and a few others along the way.
Steve has provided his contact information in Edmonton,  he can be reached at 780-982-1081 or 780-756-1072 if anyone has any questions. adding, I know my Dad was loved by many and will be greatly missed.
Steve Camphaug
Ken was 57 years old