ON THIS DAY in 1896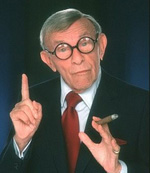 legendary entertainer George Burns was born Nathan Birnbaum in New York City. After a lengthy apprenticeship in vaudeville, in 1932 George & wife Gracie became a longrunning hit in radio, films & then TV with The George Burns and Gracie Allen Show ["Say goodnight, Gracie."]  On Gracie's retirement he returned to a solo act, winning an Oscar with The Sunshine Boys, followed by another hit film Oh, God!  He died Mar 9, 1996 at age 100.
On this day in 1903, actor Leon Ames was born in Portland Indiana. In more than 30 years of TV he starred in two popular series, Life with Father & Father of the Bride, and was seen in scores of guest spots.  He died following a stroke Oct. 12 1993 at age 90.

On this day in 1920, actor DeForest Kelley was born in Augusta Georgia.  He is best remembered as Dr. "Bones" McCoy in the Star Trek TV & movie series. He died of stomach cancer June 11, 1999 at age 79.
On this day in 1933, singer & keyboardist Earl Grant was born in Oklahoma City. His hits include [At] The End [Of a Rainbow], Ebb Tide, and Swinging Gently. He was killed in car crash June 11, 1970 at age 37.
On this day in 1941, singer Ron Townson of The 5th Dimension was born in St. Louis. His hits with the group include Up Up and Away, Aquarius/Let the Sunshine In, One Less Bell to Answer, & [Last Night] I Didn't Get to Sleep at All.  He lost a 4-year battle with kidney disease Aug 2, 2000 at age 59.

On this day in 1942, Harry Babbitt (above) joined Trudy Erwin on the vocal as Kay Kyser and his orchestra recorded, "Who Wouldn't Love You", for Columbia Records. The song went on to be a #1 hit for the Kyser band.
On this day in 1953, a US television show was transmitted live through an outlet in Canada for the first time. The CBS TV live anthology drama "Studio One" produced by Canadian Fletcher Markle, was transmitted from Buffalo NY to CBLT in Toronto.
Also this day in 1953 saw the first live coast-to-coast Presidential Inauguration address by former General Dwight Eisenhower.
On this day in 1954, the National Negro Network was formed. Some 40 radio stations were charter members of the network.
On this day in 1957, CBS-TV's Ed Sullivan Show featured Sonny James singing "Young Love," and Ivory Joe Hunter at the piano singing "Since I Met You Baby."


On this day in 1958, deejays at St. Louis radio station KWK smashed every one of its Rock 'n' Roll records in a useless effort to weed out "undesirable music." Station manager Robert T. Convey made the now-ludicrous assertion that rock had "dominated the airwaves long enough."
Also in 1958, Rick Nelson started a two-week run at No.1 on the Billboard pop album chart with 'Ricky'.
Still in 1958, the rock 'n' roll classic, "Get a Job", by The Silhouettes first appeared in the Billboard Hot 100.
Again this day in 1958, Elvis Presley got a little U.S. mail with greetings from Uncle Sam. The draft board in Memphis ordered the King to report for duty, but allowed a 60-day deferment for him to make the film, "King Creole," which began principal photography this date.

This day in 1964 was a big day in U.S. record stores as the first album by The Beatles was released by the Capitol label.  The LP, "Meet the Beatles", became a huge success and was #1 on the charts within a month. The British Invasion had begun.
On this day in 1965, Alan Freed, the "Father of Rock 'n' Roll", died in Palm Springs, Calif., of cirrhosis of the liver at age 43.  Freed was one of the first radio disc jockeys to program black music, or race music, as it was termed, for white audiences. In the 1950s, Freed, called "Moon Doggy" at WJW Radio in Cleveland, coined the phrase, "rock 'n' roll," before moving to WABC in New York. He was fired by WABC for allegedly accepting payola… making him the scapegoat for what was a widespread practice. Freed, not so incidentally, died nearly penniless after the scandal was exposed.
Also this day in 1965, the Rolling Stones and the Kinks made their first appearance on ABC-TV's weekly music showcase "Shindig!"
Again in 1965, The Byrds recorded Bob Dylan's "Mr. Tambourine Man." However, only group leader/guitarist RogerMcGuinn was allowed to play on the track. CBS Records opted to use Hollywood session musicians rather than the majority of the Byrds.

Still this day in 1965, The Miracles recorded "The Tracks of My Tears." Released in June it became the group's fourth million-seller.
On this day in 1966, promoter Bill Graham held a three-day "Trips Festival" at Longshoremen's Hall in San Francisco, featuring Ken Kesey and the Merry Pranksters, the Grateful Dead, andBig Brother and the Holding Company featuring Janis Joplin.
On this day in 1968, "Judy in Disguise (with Glasses)" by one-hit wonders  John Fred & His Playboy Band  topped the charts and stayed there for 2 weeks.

Also in 1968, Bob Dylan made his first public appearance since his motorcycle accident two years earlier, playing with The Band at the Woody Guthrie Memorial Concert at Carnegie Hall in New York City.
On this day in 1969, Elvis Presley recorded what would become his first Top Ten hit in 4 years, "In the Ghetto." While it began a few days earlier this series of sessions marked Elvis's first recordings in Memphis in 13 years.
Also in 1969, bluegrass performers Flatt & Scruggs played in Washington at the inauguration of President-elect Richard Nixon.
On this day in 1971, in the Northwest Territories, Radio Tuktoyaktuk started broadcasting in English and Inuktutuk.

On this day in 1973, Jerry Lee Lewis made his debut at the Grand Ole Opry. Opry officials allowed him to perform as long as he didn't use profanities and played only country music. By the end of the set Lewis had broken both agreements.
On this day in 1974, following a car crash that almost took his life five months earlier, Stevie Wonder was back at work, playing his first post-MVA gig at the Rainbow Theatre in London.
On this day in 1975, The Carpenters were atop the Billboard singles chart with 'Please Mr. Postman.'
On this day in 1977, the No. 1 Billboard Pop Hit was "I Wish" by Stevie Wonder.

On this day in 1978, Fred Silverman quit as head honcho of programming for ABC-TV.  He accepted an offer to be president of NBC. Silverman had developed shows like "Happy Days", "Laverne and Shirley", "Charlie's Angels" and "Three's Company" to earn ABC its highest ratings ever. His magic, however, didn't work as well at NBC. Silverman's Waterloo, so to speak, was a most expensive TV bomb: "Super Train", starring Steve Lawrence. Grant Tinker replaced Silverman and took the Peacock Network to number one in a few years. Silverman went on to become one of Hollywood's top, independent producers
On this day in 1982, Ozzy Osborne bit the head off of an unconcious bat thrown onstage by an audience member in Des Moines, Iowa, and was hospitalized for a series of rabies shots.  Ozzie apparently thought the bat was one of his usual rubber fakes.

On this day in 1984, actor Johnny Weissmuller died after a series of strokes in Acapulco at age 79.  He starred as Tarzan in a series of films on the big screen, and was Jungle Jim in the TV series of that name.
On this day in 1985, singer Andy Gibb played a hip piano teacher in an episode of the new NBC hit sitcom "Punky Brewster."
On this day in 1986, Stevie Wonder and Bob Dylan appeared at a concert to celebrate the first Martin Luther King day in the US.
On this day in 1987, Rhino Records got their first #1 Billboard hit in "At This Moment" by Billy Vera & the Beaters. The song took off after being featured in several episodes of the NBC TV sitcom "Family Ties."
On this day in 1988, during his acceptance speech as The Beach Boys were inducted into the Rock and Roll Hall of Fame, Mike Love slammed Paul McCartney, Diana Ross, Bruce Springsteen and Mick Jagger for not being present. Other inductees this night were The Beatles, the Drifters, Bob Dylan and The Supremes.
On this day in 1989, 
  Toronto-born actress Beatrice Lillie succumbed to Alzheimer's disease at age 94.  Lillie was a comic movie/stage actor who Noel Coward billed as "the funniest woman in the world."  She made a series of radio guest appearances including a memorable one on the Fred Allen Show.  In TV she twice was host of the Colgate Comedy Hour and guested 5 times on the Toast of the Town (The Ed Sullivan Show.)
Also this day in 1989, the 100th episode of "Miami Vice" aired on NBC.
On this day in 1990, movie star Barbara Stanwyck died at age 82 from congestive heart failure, emphysema & lung disease. She headlined the TV show Big Valley in the late 60's, had running roles in Dynasty & The Colbys, and a featured part in the mini-series The Thorn Birds.
Also in 1990, comedians Roseanne Barr and Tom Arnold got married. Within a few years they had split up, and divorced in '94.
Again on this day in 1990, at the 47th Golden Globes, top TV honors went to "China Beach," "Murphy Brown," Angela Lansbury, Ken Wahl, Jamie Lee Curtis and Ted Danson.

Still this day in 1990, the song "How Am I Supposed to Live Without You" by Michael Boltontopped the charts and stayed there for 3 weeks.
On this day in 1996, jazz saxophonist/composer/arranger Gerry Mulligan died in Darien Connecticut at age 68, of complications from knee surgery while battling liver cancer.
Also in 1996, Bobby Brown was fined $1,000, sentenced to two years probation and ordered to attend anger management classes after assaulting a security guard.
On this day in 1998, the Rock & Roll Hall of Fame inducted The Mamas & the Papas, and The Eagles.
Again in 1998, singer Alice Nutter of Chumbawamba said on Bill Maher's "Politically Incorrect" that the band advocated fans stealing copies of their album. Virgin Megastores reacted by pulling their albums from the shelves and putting them behind the counters.

Also this day in 1998, the Warner Brothers TV Network ("The WB") began Tuesday night programming, including the first episode of "Dawson's Creek."
On this day in 1999, Stone Temple Pilots frontman Scott Weiland, on probation for a 1997 heroin case, was arrested and faced a hearing for failing to provide a urine sample to his live-in drug treatment center.
On this day in 2000, the FCC created LPFM's (Low Powered FM's).

On this day in 2002, Sting won his first Golden Globe for his song "Until" from the "Kate & Leopold" soundtrack. The telecast also revealed "Six Feet Under" and "Sex And the City" as the top TV series, with Jennifer Garner (Alias) and Kiefer Sutherland (24) as the leading TV dramatic actors.
Also in 2002, the actress daughter of Carol Burnett, Carrie Hamilton died of lung and brain cancer at age 38.
Still this day in 2002, Usher started a four-week run at No.1 on the Billboard singles chart with 'U Got It Bad'.
On this day in 2004, the man behind the Canadian music weekly RPM & a founding father of the Juno awards, Walt Grealis died at age 74 after a lengthy battle with lung cancer.

On this day in 2005, the band Journey which produced American Idol judge Randy Jackson, received a star on the Hollywood Walk of Fame.
On this day in 2006, U2 were named the top-earning music act of '05, according to Billboard's inaugural Money Makers chart, which ranked the most profitable artists of the past year based on album sales, digital downloads and box-office receipts. U1 earned more than $255 million to rule the tally. The Rolling Stones were #2.
On this day in 2009, Jon Bon Jovi sang the civil rights anthem "A Change Is Gonna Come" at President Barack Obama's inauguration in Washington D.C.
On this day in 2010, Vampire Weekend was #1 on the Billboard Top 200 with their sophomore effort, "Contra." The album sold 124,000 copies in its first week.
On this day in 2011, the actor best remembered as Frank Nitti in  ABC's 1959 television series 'The Untouchables,' Bruce Gordon died after a lengthy illness, two weeks shy of his 95th birthday.

On this day in 2012, that matriarch of soul and R&B, Etta James, the Rock and Roll Hall of Famer best remembered for her iconic rendition of "At Last," died in Riverside, Calif. after a six-decade career, following a lengthy battle with leukemia. She was 73.
On this day in 2013, singer Bob Engemannn, an original member of The Lettermen (1959-67), died of pneumonia a month after heart bypass surgery at age 77.
On this day in 2014, Ringo Starr received the David Lynch Foundation's Lifetime of Peace and Love Award at L.A.'s El Rey Theater.
Today's Birthdays:
Trumpeter/big band leader Ray Anthony is 93.
Nova Scotia-born actor Peter Donat (Time Trax, Captains & the Kings, Flamingo Road) is 87.
Comedian Arte Johnson (Rowan & Martin's Laugh In, Gong Show) is 86.
Singer Eric Stewart (10cc, Wayne Fontana and the Mindbenders) is 70.
Director David Lynch (Twin Peaks) is 68.
Guitarist Paul Stanley of Kiss is 63.
Bassist Ian Hill of Judas Priest is 63.
Actress Colleen Zenk Pinter (As the World Turns) is 62.
TV host Bill Maher (Real Time, Politically Incorrect) is 59.
Actress Karen Morris Gowdy (Ryan's Hope) is 59.
Actor Lorenzo Lamas (Celebrity Apprentice, The Bold & The Beautiful, Falcon Crest) is 57.
Actor James Denton (Desperate Housewives, Threat Matrix, The Pretender) is 52.
Actress Francesca Buller (Farscape) is 51.
Country singer John Michael Montgomery is 50.
Seattle-born actor Rainn Wilson (The Office, Backstrom, Six Feet Under) is 49.
Actress Jill Novick (Beverly Hills 90210, Sisters)  is 49
Actress Stacey Dash (Clueless, TV 101) is 48.
TV host Melissa Rivers (E! News Daily) is 47.
Singer Xavier is 47.
Actor Reno Wilson (Mike & Molly, Blind Justice, The Chronicle) is 46.
Singer Edwin McCain is 45.
Actor Skeet Ulrich (Law & Order:LA, Jericho, Miracles) is 45.
Actress Kerri Kenney (Reno 911, The Ellen Show) is 45.
Actress Branka Katic (Big Love) is 45.
Drummer ?uestlove (questlove) of The Roots is 44.
Drummer Rob Bourdon of Linkin Park is 36.
Vancouver-born actress Crystal Lowe (Signed Sealed Delivered, Primeval: New World) is 34.
Vancouver-born actor Daniel Cudmore (To the Mat, Revolution 2009) is 34.
Country singer Brantley Gilbert is 30.
Singer Kevin Parker of Tame Impala is 29.
Actor Evan Peters (American Horror Story, One Tree Hill, Invasion) is 28.
Chart Toppers – Jan. 20
1950
Dear Hearts and Gentle People – Dinah Shore
A Dreamer's Holiday – Perry Como
The Old Master Painter – Snooky Lanson
Blues Stay Away from Me – Delmore Brothers
1959
Smoke Gets in Your Eyes – The Platters
My Happiness – Connie Francis
Donna – Ritchie Valens
Billy Bayou – Jim Reeves
1968
Judy in Disguise (With Glasses) – John Fred & His Playboy Band
Chain of Fools – Aretha Franklin
Green Tambourine – The Lemon Pipers
Sing Me Back Home – Merle Haggard
1977
You Make Me Feel Like Dancing – Leo Sayer
Car Wash – Rose Royce
Dazz – Brick
You Never Miss a Real Good Thing (Till He Says Goodbye) – Crystal Gayle
1986
That's What Friends are For – Dionne & Friends
Talk to Me – Stevie Nicks
Burning Heart – Survivor
Bop – Dan Seals
1995
On Bended Knee – Boyz II Men
Another Night – Real McCoy
Always – Bon Jovi
Not a Moment Too Soon – Tim McGraw
2004
The Way You Move – Outkast
Milkshake – Kelis
You Don't Know My Name – Alicia Keys
There Goes My Life – Kenny Chesney