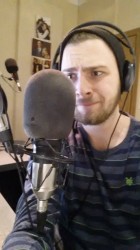 Edmonton born Tyler Dettling is headed homebound to BOUNCE.
.
This NAIT graduate's first job in the business was with ZED 98.9 FM (Weekends/Swing) in Red Deer for five months, then moved to Brooks, where he took over PM Drive on Q105.7, then only two weeks ago when then morning man Stephen Keppler accepted mornings at KG Country in Red Deer,  causing Tyler who was jettisoned into mornings on The One at 101.FM, also in Brooks.
and now, he's been hired by Rogers Edmonton cluster The Bounce to do PM Drive replacing Tripp West who's heading back to the Nations capital and Kiss FM
Congratulations Tyler and Tripp from Puget Sound Radio.