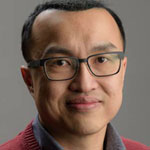 Thanks to Gord Lansdell at Northwest Broadcasters for word that Rick Lee (pictured, right) has landed at Vancouver's  JACK 96.9, in the 3-8 pm slot.
He had been on air at Edmonton's SONiC CHDI-FM 102.9 for a number of years, and previously worked in Vancouver and Victoria in the early to mid 2000s.
He joins his former SONiC Edmonton PD Al Ford, whose official start date as PD of JACK Vancouver has now been announced as February 2.