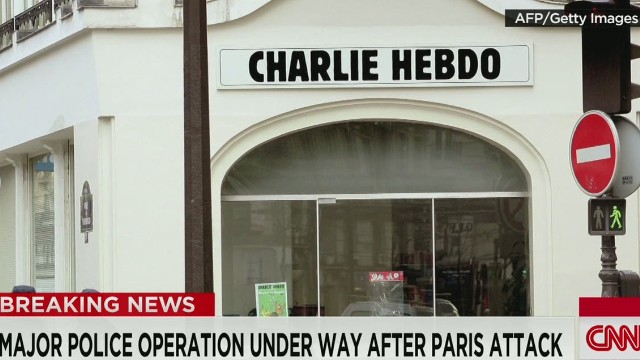 by Harvey Oberfeld
Keeping It Real…
January the 9th, 2015
.
As usual in every war, innocent uninvolved civilians will pay dearly.
And make no mistake about it, France, Europe and indeed the world ARE at WAR with Islamic extremists … not just in conflict with "a few" isolated militants or unbalanced murderers … but an army of well-organized, well-financed, dedicated Muslim extremists, who will openly KILL anyone who disagrees with them or refuses to submit.
It is NOT about understanding or dialogue or compromise with these barbarians: they want NOTHING to do with civilized society, where people can disagree, where other than their own very narrow Islamic interpretations can be tolerated, where women have almost ANY rights, or where infidels can be allowed to live, if they will not submit.
And this week's attacks …that's plural … in France are not the first Europe has endured.
Muslim extremists have attacked and killed civilians in Spain, in Belgium, in Denmark, in Sweden, in Germany etc. etc. …many incidents over many years.
This is full-fledged WAR … not just a conflict …. with the army of Extreme Islamists … although too many people, including many our "leaders" … have refused to acknowledge that fully and responded in kind.
As I write this, there have now been THREE Islamic terror attacks in France this week: against the staff at Charlie Hebdo; against police and a street cleaner; and against a Kosher grocery store in a Paris suburb. And EVERY ONE OF THEM was a DELIBERATE ATTACK against people who had no idea they were even involved in active combat!
And unfortunately, it will be Europe's INNOCENT Muslims and political LEFT in France and across Europe who will pay a heavy price for these violent attacks on Western values, Western beliefs, Western civilization and Western freedoms.
Even before these incidents, Marie Le Pen of France's extreme right had been leading the recent polls in France as voters tired of the huge numbers of Muslims and in particular Arab who have not only flocked to that country …. FIVE MILLION now and growing rapidly, with more and more arriving all the time as refugees and economic migrants and with a birth rates four times or more above the rest of the population …and also more and more vocal in their demands for Islamic accommodations, more and more violent in their actions against Jewish citizens and institutions, and more and more a social burden due to high unemployment (sometimes as victims of discrimination themselves).
And too many Muslim leaders and citizens themselves are seen as paying only lip service in their condemnations of Islamic extremism: they condemn violent acts, but how often do you see them condemn the demands of the extremists?
The majority French population have noticed all this; the majority French population have noticed you now often hear/see more Arabic on the Champs Elysee than French; the majority French population have noticed the downright racism and anti-Christian LAWS that pervade MANY Islamic countries; the majority French population are plainly fed up; and, the majority French population believe their current leaders are too soft on "trouble-making" Muslims … despite laws passed last year banning face-coverings etc.
So they are moving right … far right. And so have voters in several other European countries…. including Greece, Denmark, Austria, Germany, Holland and even the U.K. … not in HUGE numbers yet…but these latest attacks/killings WILL no doubt push more Europeans to the right.
Which does NOT bode well for France's or Europe's Muslim populations … even the majority, who just want to be left alone to pursue/enjoy their very normal lives.
(Next: the United Nations' role in Europe's increasing turmoil.)