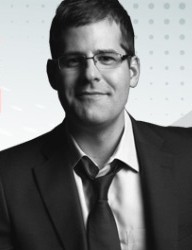 Story Courtesy of Mike Ross and Gigcity.ca


January the 5th, 2015
.
We're going to be seeing a lot less of Ryan Jespersen in the future – but we'll be hearing a lot more of him.
The 37-year-old broadcaster's jump from City's Breakfast Television to host of The Ryan Jespersen Show on 630 CHED is the biggest seismic media shift of 2015 so far. After a week of learning the ropes to the nine-to-noon slot occupied for 20 years by the retired Dave Rutherford, Jespersen will be going solo on Jan. 12.
Bosses gave their new recruit simple instructions: "Explore any issue from any perspective with any guest."
That narrows it down. And lest observers imagine Jespersen as a turncoat to the dark side – read: "right wing" – his reputation precedes him. The lasting legacy from six years of Breakfast Television is one of Edmonton's loudest supporters of gay rights, especially after he unloaded on what he called the "ridiculous" Bill 10 in December. Huffington Post took notice and hooted: "This is the Bill 10 Video You Need To See."
On his role in the future of Alberta's talk radio station, Jespersen says, "For a long time people I think have associated 630 CHED – or let's say more fairly, certain shows on 630 CHED – with a certain political stance or social ideal, and that to me is not what will define The Ryan Jespersen Show. I believe a lot of life is lived in grey areas, and this show is going to exist in those grey areas. The show won't lean left, it won't lean right. It's about this opportunity to explore real issues with real conversations. That's the first time in my career I can really say that."
No longer must he broach heavy topics during cooking segments – as he did in 2013 with Danielle Smith over a former Wildrose member's allegedly homophobic comments. Something to do with a Lake of Fire. Read whatever irony you want into that.
"One of the things I've really been looking forward to is to dive a little bit deeper into everything," Jespersen says. "CHED markets itself as the breaking news and conversation station, and I'm really looking forward to the conversation element of that. I've always been a curious person, and always had a lot of questions. Much as I'm grateful for the last six years of Breakfast Television, doing those three or four-minute interviews sometimes leaves you wanting so much more."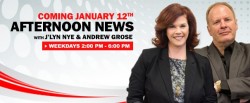 Jespersen, whose only radio experience was as a news reporter in Red Deer before he came to Edmonton, bumps the current morning show host Andrew Grose, who had shared the spot with Dan Tencer before Tencer was let go a couple of months ago. Grose now moves to afternoons to co-host with J'Lyn Nye (formerly of 92.5 Fresh FM), whose current afternoon co-host Mark Scholz – former host of The Big Breakfast show on City TV – has decided not to return from paternity leave. Clear?
One thing Jespersen says he won't miss is the very early morning.
"I can't tell you how six years of waking up at 3:45 in the morning just starts to suck your soul," he says. "I'm just hoping I can keep my edge when I'm well rested."
Read More HERE