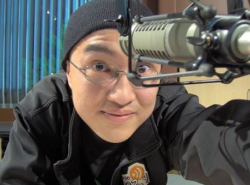 From the Sonic Edmonton facebook page.
SAD NEWS ALERT:
"It was announced during his 2014 Year in Review, but if you missed it….Rick Lee is moving on.
I'll post it, because i'm not sure he would….but Rick is leaving Sonic to further his career in Vancouver. His final day will be this Friday. So you have 5 days to say goodbye to a guy who's been here since the beginning.
Rick will be greatly missed by not only his Sonic family, but everyone in Edmonton. Make sure you send him off in style, shoot a text or give him a call.
Before you ask, No…we dont know who will replace him…yet. We're working on it. Whoever it is will have big shoes to fill."
So where will Rick end up? Speculation says Jack FM drive to take over from Meredith Geddes who's moving to CFOX next week his old boss from Sonic Al Ford is now at Jack as PD.