ON THIS DAY in 1887
actress Lynn Fontanne was born in England. Althought most of her success was on stage (with husband Alfred Lunt) she won an Emmy for her work in Hallmark Hall of Fame's The Magnificent Yankee on NBC-TV.  She also appeared in a second Hallmark drama, the US Steel Hour, Producer's Showcase, and narrated the 1960 TV production of Peter Pan. She died July 30, 1983 at age 95.

On this day in 1900, actress Agnes Moorehead was born in Clinton Mass. She had a rich radio & TV career, especially on Orson Welles' Mercury Players, Suspense & The Mayor of the Town on radio.  Besides her signature TV role as Endora on Bewitched, she played scores of guest roles, including an Emmy-winning portrayal on an episode of The Wild Wild West.  She succumbed to lung cancer Apr 30, 1974 at age 73.
On this day in 1921, pioneer Toronto radio station CHCB broadcast the federal election results in co-operation with The Toronto Daily Star. The experimental Marconi station apparently went off the air forever five months later.

On this day in 1924, actor Wally Cox was born in Detroit.  The boyhood buddy of the remarkable Marlon Brando starred in one of early TV's big hits, Mr. Peepers, followed by The Adventures of Hiram Holiday, and dozens of guest roles.  He was also a longtime panelist on the original Hollywood Squares.  He died of a heart attack Feb 15, 1973 at the young age of 48.  Some reports said the death was from an accidental overdose of sedatives.
On this day in 1928, John Aird was appointed by PrimeMinister Mackenzie King to chair the Royal Commission on Radio Broadcasting, and to discuss the merits of public broadcasting; need to stop privately owned Canadian stations falling into American hands; also need to provide an alternative to US programming flooding across the border.  Aird submitted his report Sept. 11, 1929; recommended creation of a national broadcasting company like Britain's BBC, to develop a service capable of 'fostering a national spirit and interpreting national citizenship'.
Also this day in 1928, singer/dancer/actor Bobby Van was born Robert Stein in New York City.


He appeared frequently on TV variety shows as well as guest dramatic roles.  He hosted 3 TV game shows, Showoffs, The Fun Factory, and Make Me Laugh, as well as guesting regularly on Tattletales & Match Game.  He succumbed to brain cancer July 31, 1980 at age 51.
On this day in 1923, the first presidential address to be carried on radio was broadcast from Washington, DC. President Calvin Coolidge addressed a joint session of the U.S. Congress.
On this day in 1944, "Red Bank Boogie", Count Basie's salute to his hometown, was recorded on Columbia Records. The tune is a tribute to Red Bank, New Jersey.
On this day in 1946, Moose Jaw radio station CHAB moved from 1220 to 800 KHz, its present home.
On this day in 1948, after 2-and-a-half years on radio "Arthur Godfrey's Talent Scouts"debuted on CBS-TV.


The simulcast ran for another eight years and saw the redhead introduce such talent as Tony Bennett, Roy Clark, Pat Boone, Rosemary Clooney, Wally Cox, Vic Damone, Eddie Fisher, Connie Francis, Don Knotts, Steve Lawrence, Al Martino, Leslie Uggams and Jonathan Winters. (Auditioners who failed to make the show include Buddy Holly and Elvis Presley!)
On this day in 1949, blues and folk singer Leadbelly, who billed himself as "King of the 12-String Guitar," died of Lou Gehrig's disease in New York City. He was 65. Leadbelly, whose real name was Huddie Ledbetter, helped inspire the blues and folk revivals of the 1950's and '60s with such songs as "Midnight Special," "Rock Island Line" and "Goodnight Irene." Leadbelly spent several lengthy stretches in prison for murder, attempted murder and assault. Legend has it that he was once pardoned by the governor of Texas after charming him with a song.
On this day in 1952, "The Glow-Worm" by Mills Brothers topped the charts and stayed there for 3 weeks.
On this day in 1955, 
 New York psychologist Joyce Brothers won the top prize on the big money quiz show of the time, CBS-TV's "$64,000 Question."   Her unlikely area of expertise? Boxing!
On this day in 1957, the Toronto-based vocal group The Diamonds released their second most popular single (peaked at #4) "The Stroll," written by Brook Benton.
Also in 1957, The Platters were in New York to record their signature song, a future #1 single, "Twilight Time."
Still in 1957, Elvis Presley visited Memphis radio station WDIA where he met two of his music idols, R&B singers Little Junior Parker and Bobby "Blue" Bland.
On this day in 1959, actor Len Doyle, who played Harrington on radio's popular 'Mr District Attorney,' as well as the brief TV series of the same name, died at age 66.
On this day in 1960, Gene Autry was attending the baseball winter meetings hoping to secure a broadcasting contract for KMPC, his Los Angeles radio station. The "Singing Cowboy" wound up as the owner of the expansion Los Angeles Angels (when no one came forward to bid for the team, Autry made a bid of his own). The team became the showpiece for KMPC.
On this day in 1961, soul singer Solomon Burke recorded his future R&B hit "Cry To Me."
On this day in 1962, Bob Dylan recorded one of the great protest songs, his 'A Hard Rain's A-Gonna Fall' during a session at the Columbia Records studios in New York City.

On this day in 1964, the original Rankin-Bass holiday favorite "Rudolph the Red-Nosed Reindeer" was first shown on NBC.  It is currently the longest running Christmas special on television.
On this day in 1965, in North America, The Beatles released the "Rubber Soul" album and the single "We Can Work It Out" b/w "Day Tripper. " The latter was introduced as the first 'double-A side 45'.
Also in 1965, the Rolling Stones recorded '19th Nervous Breakdown' and 'Mother's Little Helper' at the RCA Studios in Hollywood.
On this day in 1966, The Beatles recorded Christmas and New Year's greetings for pirate radio stations Radio Caroline and Radio London, broadcasting from ships anchored off the British coastline.

On this day in 1968, James Taylor's self-titled first album was released in the UK, ten weeks before it hit stores in North America.  He was the first non-British act to appear on the Beatles' Apple label.
Also in 1968, The Beatles so-called 'White Album' was certified as a Gold Record.
On this day in 1969, a notorious free concert by the Rolling Stones took place at the Altamont Speedway in Livermore, California. The event grew from a Stones' concert into an all-day festival. On the advice of the Grateful Dead, the Rolling Stones hired members of the Hells Angels to provide security at the event, attended by 300-thousand people. During the Stones' performance, members of the motorcycle gang stabbed to death 18-year-old Meredith Hunter, just in front of the stage. A suspect was identified from film shot for the Rolling Stones' documentary "Gimme Shelter," but he was acquitted in a case of so-called justifiable homicide.
Also this day in 1969, musician Cab Calloway turned actor 
 as he was seen in the "Hallmark Hall of Fame" presentation of "The Littlest Angel" on NBC. The big band leader & singer, known for such classics as "Minnie the Moocher", became a movie star in "The Blues Brothers" (1980) with John Belushi and Dan Ackroyd.
Again in 1969, "Na Na Hey Hey Kiss Him Goodbye", by Steam, reached the #1 spot on the top 40. It stayed at the top for two weeks and was the only major hit for the group that later ran out of … steam.
On this day in 1970, CBS-TV's Ed Sullivan Show featured The Grass Roots singing their hits, plus the comedy of Scoey Mitchell and Pat Cooper.  A female vocal trio The Three Degreesdid imitations of the Supremes and the Andrews Sisters.
On this day in 1971, John Lennon, Yoko Ono and the Plastic Ono Band released the single "Happy Xmas (War Is Over)" in North America. Due to a publishing dispute it wasn't available in the UK until November 24 of the following year.
On this day in 1973, Steve Miller's album "The Joker" received Gold Record certification.

On this day in 1974, George Harrison released  "Ding Dong, Ding Dong," his holiday song uniquely celebrating New Year's Day.
On this day in 1975, Paul Simon's album, "Still Crazy After All These Years", was number one in the U.S. It was Simon's first #1 solo album and it contained his first recording with Art Garfunkel since their 1969 breakup ("My Little Town.")
Also in 1975, Rev Charles Boykin of Tallahassee, Florida organised the burning of Elton John and Rolling Stones records, claiming they were sinful. Boykin was reacting to a survey that said 984 of the 1,000 local unmarried mothers had sex while listening to rock music.
On this day in 1978, punk rocker Sid Vicious smashed a glass in the face of Patti Smith's brother Todd during an altercation at a New York rock club.


Vicious was out on bail after being charged with the murder of his girlfriend Nancy Spungen.
On this day in 1980, BBC Radio aired a telephone interview with John Lennon in which he said he most enjoyed living in New York City because people there left him alone.
Also this day in 1980, U2 played their first concert in North America, at the Ritz in New York City.
On this day in 1983, the No. 1 Billboard Pop Hit was "Say, Say, Say" by Paul McCartney & Michael Jackson.
On this day in 1985, puppeteer Burr Tillstrom, the genius behind TV's delightful Kukla Fran & Ollie, died of heart failure at age 68.
Also this day in 1985, singer John Cougar Mellencamp promised 24,000 people at a New York City concert that he would refund their $17.50 tickets. A power outage had caused a 20-minute interruption during this, his debut concert.
On this day in 1988, "The Next Time I Fall." 
 Singer Roy Orbison suffered a fatal heart attack while on a visit to his mother near Nashville. He was aged just 52. His biggest hit was the million-selling No. 1 song "Oh, Pretty Woman." During his heyday in the early 1960's he had 27 straight records make the charts. He had been inducted into the Rock and Roll Hall of Fame in 1987. Earlier in 1988 Orbison had joined the superstar collaboration the Traveling Wilburys.
Also this day in 1988, guitarist Bill Harris who played with the Clovers on most of their hits such as Love Potion No 9, died at age 63.
On this day in 1989, actress Frances Bavier, forever memorable as Aunt Bee on TV's Andy Griffith Show, died at age 86 after a heart attack.
On this day in 1991, John Lennon's aunt, Mimi Smith, who raised him for most of his childhood, died in England at age 85.
On this day in 1992, supporting actor Hank Worden died of natural causes at age 91. He had recurring TV roles on Twin Peaks, The Lone Ranger, & Petticoat Junction.

On this day in 1993, actor Don Ameche died of prostate cancer at age 85.  The movie star was first a star of bigtime radio, with such program credits as Betty & Bob, Grand Hotel, First Nighter, The (Battling) Bickersons, & the Charlie McCarthy Show.  On TV the Frances Langford-Don Ameche Show ran just one season.
Also in 1993, The Eagles taped a video for Travis Tritt's "Take It Easy," setting the stage for the band's reunion the following year.  They had broken up in 1980.
On this day in 1994, Warner Brothers announced their formation of a fifth U.S. TV network (The WB), slated to begin operations a month later on January 11th.
On this day in 1995, Michael Jackson was hospitalized after collapsing in a New York theater during rehearsals for a TV special. He was unable to attend that evening's Billboard Music Awards at which he was to receive an award for being the first artist to enter Billboard's Hot 100 singles chart at No. 1. He had set the record in September with "You Are Not Alone."
At that same ceremony in 1995 in Los Angeles, Canada's Joni Mitchell was honoured with Billboard's Century Award.

On this day in 1996, Radio-Canada International announced it would have to stop broadcasting March 31, 1997, unless a new source of funds could be found; the campaign to save RCI  was successful, at least temporarily. It was backed by Heritage Minister Sheila Copps, who said that 'Canada's voice to the world 'must not die.'
On this day in 1997, Metallica performed "Fuel" and "The Memory Remains" with Nathan Lane as host on NBC's Saturday Night Live.
Also this day in 1997, composer Eliot Daniel, who gave us the I Love Lucy theme, died at 89.
On this day in 1998, actor Michael Zaslow died of Lou Gehrig's Disease at age 56.  He had been a regular on the daytime dramas One Life to Live, Search for Tomorrow & Love is a Many Splendored Thing.
On this day in 2000,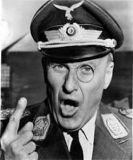 actor Werner Klemperer, forever in our hearts as Colonel Klink on CBS-TV's prison camp sitcom Hogan's Heroes, succumbed to cancer at age 80.
On this day in 2003, Elvis Costello married jazz artist Diana Krall of Nanaimo BC in a ceremony at Elton John's UK mansion. About 150 guests, including Sir Paul McCartney, attended the wedding. It was Costello's third marriage, her first.
On this day in 2005, Green Day garnered a total of six trophies, including Rock Artist of the Year and Pop Group of the Year, at the Billboard Music Awards in Las Vegas. The group also opened the show with "Holiday" from "American Idiot."
On this day in 2007, Billy Joel released his recording of "Christmas in Fallujah," a track featuring the voice of 21-year-old Cass Dillon. At age 58 Joel said he felt too old to sing the song, which had been inspired by letters he had received from soldiers in Iraq.

On this day in 2008, Beyoncé went to No.1 on the US album chart with 'I Am… Sasha Fierce', the singers third studio album. It debuted at No.1, making Knowles the third female artist this decade after Britney Spears and Alicia Keys to have her first three albums debut in the top spot.
On this day in 2009, Bruce Springsteen was among the honorees at Kennedy Center Honors Gala fundraiser in Washington D.C. Actor Robert DeNiro, comedy director Mel Brooks and Jazz pianist Dave Brubeck were also honored.
On this day in 2010, iconic news anchor at Toronto's CITY-TV Mark Dailey lost his battle with lung cancer at age 57.
On this day in 2011, singer/songwriter Dobie Gray, who hit it big with his million-selling 'Drift Away' in 1973, died at age 71.

Also this day in 2011, Barbara Orbison, the record producer/widow of singer Roy Orbison, lost her battle with pancreatic cancer at age 60.  She left us 23 years to the day after Roy's death (see 1988 above).
On this day in 2012, Ed "Cass" Cassidy, the drummer and co-founder of the legendary Psychedelic Rock band, Spirit, died at the age of 89.
On this day in 2013, actress Kate Williamson, perhaps best remembered as the opinionated teacher Mrs. Rodgers, a member of the quirky book club on the 90's ABC sitcom 'Ellen,' died after a long illness at age 82.
Today's Birthdays:
Actor Patrick Bauchau (The Pretender, Carnivale) is 76.
Singer/TV host Steve Alaimo (Where the Action Is) is 75.
Country singer Helen Cornelius is 73.
Singer Len Barry of The Dovells is 72.
British singer/TV host Jonathan King is 70.
Actor James Naughton (Ally McBeal, Planet of the Apes, Faraday & Company) is 69.
Rhythm-and-blues singer Frankie Beverly (Maze) is 68.
Actress JoBeth Williams (Dexter, Miss Match, Guiding Light) is 66.
Actor Kin Shriner (Justice League, Port Charles, As the World Turns, Young & the Restless) is 61.
Comedian/talk show host Wil Shriner (TV Bloopers & Practical Jokes) is 61.
Actress Gina Hecht (Life Goes On, Mork & Mindy) is 61.
Actor Tom Hulce (The Heidi Chronicles, Murder in Mississippi) is 61.
Rock musician Rick Buckler (The Jam) is 59.
Comedian Steven Wright (Mad About You) is 59.
Country singer Bill Lloyd is 59.
Singer Tish Hinojosa is 59.
Rock musician Peter Buck (R.E.M.) is 58.
Rock musician David Lovering (Pixies) is 53.
Actress Janine Turner (Friday Night Lights, Strong Medicine, Northern Exposure) is 52.
Actor Colin Salmon (Arrow) is 52.
Rock musician Ben Watt (Everything But The Girl) is 52.
Actor Ulrich Thomsen (Banshee) is 51.
Actor Sparky Marcus (The Bad News Bears, Nancy Walker Show) is 47.
Ontario-born actress Torri Higginson (Stargate: Atlantis, The City) is 45.
Actress Rowena King (Revolution, A Perfect Day) is 44.
Rock musician Ulf "Buddha" Ekberg (Ace of Base) is 44.
Actress Sarah Rafferty (Suits) is 42.
Vancouver-born actor/voicist Mike Coleman (Once Upon a Time, MegaMan: NT Warrior) is 41.
Actor Noel Clarke (Doctor Who) is 39.
Actress Colleen Haskell (Survivor 1) is 38.
Actress Lindsay Price (Pepper Dennis, Beverly Hills 90210, The Bold and the Beautiful) is 38.
Actress Angela Gots (Svetlana) is 36.
Actress Ashley Madekwe (Revenge, Salem, Secret Life of a Call Girl) is 33.
Winnipeg-born actor Ryan Kennedy (Hellcats, Whistler) is 32.
Actor Ryan Carnes (General Hospital, Desperate Housewives) is 32.
Actor C. J. Thomason (Harper's Island, General Hospital) is 32.
Actress Ashley Madekwe (Revenge, Secret Diary of a Call Girl) is 31.
Actress Nora Kirkpatrick (Greek, The Office) is 30.
Actor Jack De Sena (Battleground, Avatar: The Last Airbender, Dorm Life) is 27.
Actress Stefanie Scott (A.N.T. Farm) is 18.
Chart Toppers – Dec. 6
1950
All My Love – Patti Page
A Bushel and a Peck – Perry Como & Betty Hutton
Rudolph, the Red-Nosed Reindeer – Gene Autry
I'm Moving On – Hank Snow
1959
Mack the Knife – Bobby Darin
Don't You Know – Della Reese
In the Mood – Ernie Fields Orch.
Country Girl – Faron Young
1968
Love Child – Diana Ross & The Supremes
Magic Carpet Ride – Steppenwolf
Who's Making Love – Johnnie Taylor
Stand by Your Man – Tammy Wynette
1977
You Light Up My Life – Debby Boone
Don't It Make My Brown Eyes Blue – Crystal Gayle
How Deep is Your Love – Bee Gees
Here You Come Again – Dolly Parton
1986
The Next Tim I Fall – Peter Cetera with Amy Grant
Hip to Be Square – Huey Lewis & The News
The Way It Is – Bruce Hornsby & The Range
It Ain't Cool to Be Crazy About You – George Strait
1995
One Sweet Day – Mariah Carey & Boyz II Men
Hey Lover – LL Cool J
Diggin' on You – TLC
Check Yes or No – George Strait
2004
Over And Over – Nelly featuring Tim McGraw
My Boo – Usher & Alicia Keys
Lose My Breath – Destiny's Child
Nothing On but the Radio – Gary Allan