ON THIS DAY in 1915
pianist & composer Eddie Heywood Jr. was born in Atlanta Georgia.


His main claim to fame was composing the song Canadian Sunset; he played piano on Hugo Winterhalter's 1956 hit recording of it, a feat the more remarkable because he had previously suffered a partial paralysis in his hands.  Heywood died Jan 2, 1989 at age 73.
Also this day in 1915, longtime newscaster Alan Jackson was born in Hot Springs Arkansas.
He was the head anchor at CBS Radio News for over twenty-five years beginning during the Second World War, reading the 6:00 PM national evening news (then the network's main news program) and anchoring coverage of many of the major news headlines of the day. He anchored the CBS News coverage of the D-Day invasion on June 6, 1944, and of V-E Day in May 1945. He is believed to have been the first to announce the assassination of JFK in 1963. Alan Jackson retired from CBS in or before 1981.
On this day in 1921, 
actress/singer Deanna Durbin was born Edna Rae Durbin in Winnipeg.  She had a short but successful film career, retiring at age 29 just at the start of the TV era.  However she has genuine radio credentials as a singing star of the popular Eddie Cantor Show.  Having retired to France she died there in April 2013 at age 91. 
On this day in 1923, New York radio station WEAF (which later became the NBC network flagshp station) began broadcasting the "Eveready Hour," the first bigtime variety show of the air.
On this day in 1927, Duke Ellington's big band opened the famed Cotton Club in Harlem. It was the first appearance of the Duke's new and larger group. He played the now-fabled club until 1932.
On this day in 1932, the famous opening was heard for the first time. "Good evening, Mr. and Mrs. North and South America and all the ships at sea. Let's go to press!" The Walter Winchell Show, later The Jergens Journal and still later, Kaiser-Frazer News, was first heard on the NBC Blue network. Winchell (below) kept that gossip show going on the radio for 23 years.

On this day in 1933, one of America's great radio soap operas made the leap to the big time. Ma Perkins moved from WLW Cincinnati to the NBC Red network. The show proved to be so popular that, for a while it was carried on both CBS and NBC simultaneously!  Virginia Payne played the title role throughout the show's 27-year run.
Also in 1933, actor Horst Buchholz was born in Berlin.  In a 50 year acting career he appeared in more than 60 films, mostly German, and a handful of American TV shows: Charlie's Angels, How the West Was Won, Raid on Entebbe, Crossings, Logan's Run, and the Danny Thomas Hour. He died of pneumonia Mar 3, 2003 at 69.
On this day in 1934, actor Victor French was born in Santa Barbara.  He co-starred in three successful TV series, Little House on the Prairie, Highway to Heaven, & Carter Country.  A heavy smoker he died June 15, 1989 at 54, at which point Michael Landon abruptly ceased production of Highway to Heaven.
Also this day in 1934, singer Ethel Merman recorded I Get a Kick Out of You, from Cole Porter's musical, Anything Goes. She was backed by the Johnny Green Orchestra for Brunswick Records.
On this day in 1944, 
 rocker Dennis Wilson was born in Inglewood Calif.  The middle Wilson brother he was only included in the Beach Boys after his mother twisted Brian's arm.   His lifestyle (drinker) became an issue of tensions with Brian & cousin Mike Love, although at one point he became the most popular Beach Boy.  Dennis died in a drowning accident Dec 28, 1983 at the age of 39.
Also this day in 1944, country singer Eddy Arnold made his first recordings in Nashville, shortly after signing with R-C-A Victor. The session (at the studios of WSM radio) was one of the earliest in what would later be known as "Music City."
On this day in 1954, Billboard reported that a judge of the New York Supreme Court had ordered deejay Alan Freed to cease any further use of the moniker "Moon Dog" on his WINS radio show. A blind street musician had claimed prior ownership of the name.

Also this day in 1954, the song "Mr. Sandman" by the Chordettes topped the charts and stayed there for 7 weeks.
On this day in 1955, French pantomime artist Marcel Marceau made his television debut as a guest on NBC's Maurice Chevalier variety special.
On this day in 1956, future rock icons Jerry Lee Lewis, Elvis Presley, Johnny Cash and Carl Perkins held an impromptu recording session at Sun Studios in Memphis.  The tracks were not released until 25 years later under the title "The Million Dollar Quartet."
On this day in 1959, Henry Mancini and his Orchestra recorded his first chart hit single, the theme from the motion picture "Mr. Lucky."
On this day in 1960, on CBS-TV's Ed Sullivan Show, Jackie Wilson sang three numbers including "Lonely Teardrops," Jane Morgan sang "Kisses Sweeter than Wine," while the laughs were supplied by Mort Sahl and ventriloquist Ricky Layne.
On this day in 1961, Gene Chandler's future million seller "Duke of Earl" was released on the VeeJay label.

On this day in 1962, The Beatles made their London-area debut on television when they appeared in a live broadcast from Wembley on 'Tuesday Rendezvous', on ITV station Rediffusion. The Beatles performed live, doing lip-sync performances of 'Love Me Do' and 45 seconds of 'P.S. I Love You.'
Also in 1962, James Caan made his TV acting debut in 'A Fist of Five,' an episode of The Untouchables on ABC-TV, starring Robert Stack.
On this day in 1964, the Beatles' 4th album "Beatles For Sale" hit store shelves, but only in the UK.
On this day in 1965, "Turn! Turn! Turn!" by the Byrds topped the charts and stayed there for 3 weeks.  It was the group's second No.1. Unlike their first chart topper, 'Mr. Tambourine Man', the entire band was allowed to play on the recording, instead of studio musicians.
Also this day in 1965, Keith Richards of the Rolling Stones was knocked unconscious when his guitar touched an ungrounded microphone during a concert in Sacramento, California. He still managed to finish the show.
On this day in 1966, CBS-TV's Ed Sullivan show featured songs by Diana Ross and the Supremes and Gary Lewis & the Playboys, plus the comedy of Wayne & Schuster and Red Buttons.
On this day in 1967, comedian/actor Bert Lahr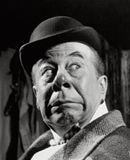 (who was born Irving Lahrheim), died of cancer complicated by pneumonia at age 72.  Beloved as the Cowardly Lion in TV's most repeated Hollywood film The Wizard of Oz, he also appeared in original television such as the Hallmark Hall of Fame, Toast of the Town, Steve Allen Show, Hollywood Palace and the Kraft TV Theatre.
Also this day in 1967, nationally-known sportscaster Harry Wismer died at age 54. His career began at WJR Detroit; he went on to do radio play-by-play of Notre Dame and Washington Redskins football.  He was a charter owner of the AFL, with the New York franchise (Titans) that became the Jets.  But he died broke, from a combination of depression, cancer & alcoholism ..following a fall.
On this day in 1969, the self-titled album "Santana" received Gold Record certification.

On this day in 1970, newsman Frank Reynolds was seen co-hosting the ABC Evening News with Howard K. Smith for the final time.  Reynolds said of the switch to Smith's new co-host (Harry Reasoner), "Due to circumstances beyond my control, the unemployment statistics rose yesterday."
On this day in 1971, the song "Family Affair" by Sly & the Family Stone topped the charts and stayed there for 3 weeks.
Also in 1971, Don McLean's classic 'American Pie' made its first appearance in the Billboard Hot 100. The eight and a half minute song would eventually sell over 3 million copies.
On this day in 1972, 
 Billy Paul from Philadelphia was awarded a Gold Record for his smash hit, "Me and Mrs. Jones."
Also this day in 1972, the No. 1 Billboard Pop Hit was "I Am Woman" by Helen Reddy.
On this day in 1975, the LP "Alive!" by KISS was certified as a Gold Record.
On this day in 1976, rocker Tommy Bolin of Deep Purple died of a heroin overdose at the age of 25.
Also this day in 1976, a year after leaving the Guess Who, Burton Cummings (pictured below) received Gold Record certification for his first solo hit, "Stand Tall.' 

On this day in 1979, actor Robert Karnes died of heart failure at age 62.  In a 35 year film & TV career in supporting parts, he had recurring roles in TV's Gunsmoke, The Lawless Years, Perry Mason, Bonanza, Have Gun Will Travel, The Virginian, etc.
On this day in 1980, Jimmy Page, Robert Plant and John Paul Jones announced they would not be re-forming Led Zeppelin following the death of drummer John "Bonzo" Bonham 10 weeks earlier.
On this day in 1981, the nighttime soap "Falcon Crest", created by Earl Hamner, the man behind "The Waltons," began its 9-year run on CBS-TV.
On this day in 1987, Madonna filed for divorce from actor Sean Penn. She changed her mind, but would file again a month later.
On this day in 1988, singer Roy Orbison gave what turned out to be his final concert in Akron, OH. 

He suffered a fatal heart attack two days later.
Also in 1988, actor Gary Busey fractured his skull in a motorcycle accident in southern California in which he was not wearing a helmet. Doctors expressed their concern that Busey had suffered permanent brain damage.
On this day in 1989, the U.S. Supreme Court upheld a ruling that said that Princedid not steal the song, "U Got The Look" from his half-sister. Lorna Nelson claimed the lyrics were similar to ones she had written.
On this day in 1990, the CTV show ENG, a newsroom drama, won the Gemini Award for Best Dramatic Series; 'Love and Hate' won for best dramatic mini series (Thatcher murder saga); Jackie Burroughs won for best lead actress in a continuing dramatic role (Road to Avonlea); Art Hindle won for best lead actor in a continuing role(ENG).     
Also in 1990, actor Edward Binns suffered a fatal  heart attack at age 74. 

He had a fine film career over 35 years, including repeated appearances in TV's It Takes a Thief, Brenner, The Defenders, Dr. Kildare, Police Story & The Virginian.  His biggest movie impact was as juror #6 in Twelve Angry Men.
Still in 1990, Madonna appeared on "Nightline" to defend her "Justify My Love" video. She denied the video's explicit contents were intended to stir up controversy and get her publicity. The video had been banned by MTV.
On this day in 1991, Van Halen performed a free concert in Dallas. Sammy Hagar had promised the show because he had lost his voice during a show in Dallas 3 1/2 years earlier.
Also this day in 1991, 
 Naomi & Wynonna (The Judds) gave their final concert in the Nashville suburb of Murfreesboro.
Again in 1991, Paula Abdul, her mother & her sister were on hand to help unveil her star on the Hollywood Walk of Fame.
On this day in 1992, Diana Ross performed a rare club date at the Ritz in New York. Her performance was also shown live on pay-per-view T-V, and was released on album and video as "Diana Ross Live, The Lady Sings…Jazz and Blues Stolen Moments."
On this day in 1993, musician Frank Zappa lost his battle with prostate cancer at his home in Los Angeles. He was 52.
On this day in 1994, singer Aretha Franklin, composer/conductor Morton Gouldand folk singer Pete Seeger were among those honored at ceremonies held by the John F. Kennedy Center for the Performing Arts. The center in Washington, D.C., has held the annual ceremonies since 1978.
Also in 1994, the Recording Industry Association of America announced thatBoston's 1976 self-titled debut album


had become the second biggest-selling album of all-time in the U-S. The association said it had sold more than 15 million copies, surpassed only by Michael Jackson's "Thriller," which had sold more than 24 million in the U-S since 1982.
On this day in 1995, Michael Jackson appeared in New York City with legendary French mime Marcel Marceau at a news conference promoting a Jackson HBO special the following Sunday. The show was called off two days later when the 37-year Jackson collapsed during rehearsals with dehydration and low blood pressure.
On this day in 1996, 
 Wilf Carter, acknowledged as the father of country music in Canada, died at his home in Scottsdale, Arizona. He was two weeks shy of his 92nd birthday. Carter, who had a parallel career in the U-S under the name Montana Slim, performed for more than six decades and was still on the road well into his 80s. Carter made his first recordings for R-C-A Victor in 1932 — "Swiss Moonlight Lullaby," which showcased his yodelling, and "The Capture of Albert Johnson." The 78 was the first hit record by a Canadian country performer. Carter was inducted into the Canadian Music Hall of Fame in 1985, acknowledging his status as the nation's first country star and his influence on — and assistance to — other performers.
On this day in 2001, Stampede wrestling host & longtime CFAC Calgary sportscaster Ed Whalen (below) died at age 74 due to a heart attack.  He was a native of Saskatoon, but was known as "Mr. Calgary" through his work with the Alberta Children's Hospital Foundation and other charities.  Also the voice of the NHL's Calgary Flames.

Also in 2001, Gary MacLean of the Winnipeg-based musical comedy duo MacLean and MacLean died of throat cancer at age 57.
On this day in 2002, drummer Bernie Dwyer, of Freddie And The Dreamers (I'm Telling You Now), lost his battle with lung cancer at age 62.
Also in 2002, Whitney Houston admitted in an ABC TV interview that drink and drugs nearly killed her. Bobby Brown's missus also admitted to being addicted to sex. She told Diane Sawyer her business was 'sex, drugs and rock 'n' roll,' and she got into the lifestyle after missing out on partying when her career kicked off when she was just 18.
On this day in 2005, show business legends Robert Redford, Tina Turner, Tony Bennett, Julie Harris and ballerina Suzanne Farrell headlined the annual Kennedy Center Honors in Washington, D.C.

On this day in 2006, Yahoo revealed that Britney Spears was the most searched-for subject of the year, with more online searches done about her than any other topic or person. Female celebrities dominated the top 10 overall search list, with Shakiraat number three, Jessica Simpson at number four and Paris Hilton at number five.
Also in 2006, Vancouver-based Nickelback garnered three trophies at the Billboard Music Awards in Las Vegas. They were awarded Artist Duo/Group of the Year, Hot 100 Artist Duo/Group of the Year and Rock Album of the Year ("All the Right Reasons"). 
Still in 2006, Texas bookstore owner Bill Butler bought a page of working lyrics forPaul McCartney's song "Maxwell's Silver Hammer" for $192,000 at an auction of Rock and Pop memorabilia held at Christie's auction house.

Again on this day in 2006, Evanescence performed as the musical guest on CBS-TV's Late Show With David Letterman.
On this day in 2009, R.E.M. launched an iPhone application that automatically updates users with news and tour dates. There were also 30-second R.E.M. song clips, photos and videos. The "R.E.M. & You" feature allowed fans to interact with one another and the band directly.
On this day in 2012, Randy Blythe, frontman for the US metal band Lamb of God, was charged in connection with the death of a fan at a concert in Prague in 2010. The singer was accused of pushing the fan off stage; the fan hit his head on the concrete floor and died 14 days later. Blythe was eventually declared not criminally liable, with most of the blame laid on promoters and security staff.
Today's Birthdays:
Actress Dena Dietrich (Philly, The Ropers, The Practice) is 86.
British comedian Ronnie Corbett (The Two Ronnies) is 84.
Game show/radio host Wink Martindale (Tic Tac Doh, Music of Your Life) is 80.
Actor-producer Max Baer Jr. (Beverly Hillbillies) is 77.
Winnipeg-born actor Donnelly Rhodes (Battlestar Gallatica, DaVinci's Inquest, Young & the Restless) is 77. 
Rocker Freddy Cannon is 75.
British actress Gemma Jones (Duchess of Duke Street) is 72.
Rock musician Bob Mosley (Moby Grape) is 72.
Montreal-born singer/songwriter Anna McGarrigle is 70.
Rock & roll Hall of Fame singer-musician Chris Hillman (The Byrds) is 70.
Rock singer Southside Johnny Lyon is 66.
Actor Jeff Bridges (Sea Hunt, HBO's A Dog Year, The Girls in Their Summer Dresses) is 65.
Rock musician Gary Rossington (Lynyrd Skynyrd; the Rossington Collins Band) is 63.
Actress Patricia Wettig (Brothers & Sisters, Prison Break, thirty something) is 63.
Actor Tony Todd (Chuck) is 60.
Jazz singer Cassandra Wilson is 59.
Country musician Brian Prout (Diamond Rio) is 59.
Rock musician Bob Griffin (The BoDeans) is 55.
Actor Thomas Craig (Murdoch Mysteries, Where The Heart Is, Coronation Street) is 52
Rock singer Vinnie Dombroski (Sponge) is 52.
Actress Marisa Tomei (A Different World, As the World Turns) is 50.
Actress Chelsea Noble (Kirk, Growing Pains) is 50.
Actor Jonathan Goldstein (Drake & Josh) is 50.
Actor-comedian Fred Armisen (Portlandia, Sat. Night Live, Crank Yankers) is 48.
Rapper Jay-Z is 45.
Actor Kevin Sussman (Big Bang Theory, Ugly Betty) is 44.
Actress/producer/model Tyra Banks (Tyra Talk Show, America's Next Model, Fresh Prince of Bel Air) is 41.
Country singer Lila McCann is 33.
Actress Charity Shea (Single Ladies, The Best Years) is 31.
Seattle-born actress Lindsay Felton (Caitlin's Way, Thunder Alley) is 30. 
TV personality Ronne Ortiz-Magro (Jersey Shore) is 29.
Actor Orlando Brown (That's So Raven, Proud Family, Filmore) is 27.
Actress Lauren Boles (Days of Our Lives) is 11.
Chart Toppers – Dec. 4
1948
Buttons and Bows – Dinah Shore
On a Slow Boat to China – The Kay Kyser Orchestra (vocal: Harry Babbitt & Gloria Wood
Hair of Gold, Eyes of Blue – Gordon MacRae
One Has My Name (The Other Has My Heart) – Jimmy Wakely
1957
Jailhouse Rock – Elvis Presley
You Send Me – Sam Cooke
My Special Angel – Bobby Helms
Jailhouse Rock – Elvis Presley
1966
Winchester Cathedral – The New Vaudeville Band
Good Vibrations – The Beach Boys
Devil with a Blue Dress On & Good Golly Miss Molly – Mitch Ryder & The Detroit Wheels
Somebody Likes Me – Eddy Arnold
1975
Fly, Robin, Fly – Silver Convention
The Way I Want to Touch You – Captain & Tennille
Let's Do It Again – The Staple Singers
It's All in the Movies – Merle Haggard
1984
Wake Me Up Before You Go-Go – Wham!
Out of Touch – Daryl Hall & John Oates
I Feel for You – Chaka Khan
Your Heart's Not in It – Janie Fricke
1993
I'd Do Anything for Love (But I Won't Do That) – Meat Loaf
Again – Janet Jackson
Shoop – Salt-N-Pepa
American Honky-Tonk Bar Association – Garth Brooks
2002
Die Another Day – Madonna
Lose Yourself – Emine
The Game of Love – Santana featuring Michelle Branch
These Days – Rascal Flatts
2011
We Found Love – Rihanna featuring Calvin Harris
Sexy and I Know It – LMFAO
Someone Like You – Adele
Country Must Be Country Wide – Brantley Gilbert