ON THIS DAY in 1915
jazz trumpeter Dick Vance was born.  He worked with Willie Bryant and Fletcher Henderson's Orchestra where he was the lead trumpeter and an occasional vocalist. Vance later had stints with Chick Webb's Big Band, Charlie Barnet, Don Redman, Eddie Heywood's Sextet and others. He died at age 70 in 1985.

On this day in 1923, actress Gloria Grahame was born Gloria Hallward in Los Angeles. She won an Oscar for her work in the 1952 film The Bad and the Beautiful. In the '60's she began guest starring on TV, and appeared in the mini-series Rich Man, Poor Man & Seventh Avenue. She succumbed to cancer October 5 1981 at age 57.
On this day in 1925, "The Grand Ole Opry" debuted on radio station WSM, Nashville under the name "WSM Barn Dance".


The program was the brainchild of program director George D. Hay, who had run a similar program on a Chicago radio station. Hay also was also responsible for renaming the program the Grand Ole Opry in 1927. The Grand Ole Opry has remained a Saturday night tradition on WSM to this day, and is country music's most famous institution.
On this day in 1931, Emmy Award-winning actress Hope Lange (The Ghost and Mrs. Muir) was born in suburban Connecticut. She was also featured in The New Dick Van Dyke Show & the mini-series Beulah Land.  Ms. Lange died from a colitis infection Dec 19, 2003 at age 72.
On this day in 1932, Groucho Marx performed on radio for the first time.


He would try his style of comedy on the air (and bomb) four times before finally finding a successful format on You Bet Your Life in the late 40's.
Also this day in 1932, singer Ray Perkins was born in Toronto.  He & his brother John were members of the Crew Cuts quartet, which hit the big time with the smash hit Sh-Boom in 1954.   The group disbanded in 1964, but regrouped in the late 70's in Nashville, and have since been inducted into the Juno Hall of Fame.  Happy 82nd Birthday, Ray!
On this day in 1936, "Pennies from Heaven" by Bing Crosby hit #1 on the hit charts for 10 weeks.
On this day in 1938, director Michael Ritchie was born in Waukesha Wisconsin.  In between his bigscreen assignments, he directed TV series Dr. Kildare, Felony Squad, The Outsider, & Beggars and Choosers.  He succumbed to prostate cancer Apr 16, 2001 at age 62.
On this day in 1948, William Boyd as "Hopalong Cassidy" debuted on TV, 
 using his old movies. (Hoppy started his radio series 13 months later.)
On this day in 1950, Perry Como recorded a future #1 pop hit, the operatic-styled ballad "If."  It would remain atop the Billboard singles chart for six weeks.
On this day in 1956, #1 on the music charts was Guy Mitchell singing "Singing the Blues". The song remained on top for 10 weeks. (Trivia: Did you know it was Ray Conniff whistling the intro to "Singing the Blues"?)
On this day in 1960, "Are You Lonesome Tonight?" by Elvis Presley topped the charts and stayed there for 6 weeks.
Also this day in 1960, CBS radio expanded its hourly news coverage from 5 to 10 minutes.
On this day in 1963, the Beatles "She Loves You" returned to #1 on the UK record chart.
On this day in 1964, 
 The Shangri-Las went to No.1 on the Billboard singles chart with the 'teen death song', 'Leader Of The Pack.'
Also this day in 1964, singer/songwriter Willie Nelson made his performing debut on radio's Grand Ole Opry in Nashville.
On this day in 1965, CBS-TV's Ed Sullivan Show featured Petula Clark singing "My Love," Glenn Yarborough sang "Baby the Rain Must Fall," and comedians Victor Borge and Jackie Vernon also entertained.
On this day in 1966, the 200th episode of "The Andy Griffith Show" aired.
Also this day in 1966, the Beatles began recording sessions for "Sergeant Pepper's Lonely Hearts Club Band." The album took four months and cost 75-thousand dollars to record. It was released the following June.
Still in 1966, "Oh-vo-de-o-do…" The New Vaudeville Band (below) were certified for a Gold Record for their only hit "Winchester Cathedral."


That same day I'm a Believer by The Monkees, and the album Soul & Inspiration by The Righteous Brothers were also certified Gold.
On this day in 1968, during their first tour of North America, Deep Purple played the first of four nights at San Francisco's Fillmore West.
Also in 1968, John Lennon and Yoko Ono were in court in London on charges of possessing marijuana. John pleaded guilty and paid a fine of about $250 US.
On this day in 1970, two huge soon-to-be-hits were released: George Harrison's "My Sweet Lord," and Elton John's "Your Song."
On this day in 1972, Charlie Rich recorded his first country chart topper, "Behind Closed Doors."  (It also made the Top 20 on the pop charts.)
On this day in 1973, singer Pat Boone guested on the ABC-TV drama series, "Owen Marshall: Counselor at Law," which starred Saskatchewan-born Arthur Hill.

On this day in 1974, John Lennon appeared in concert for the last time — at New York's Madison Square Garden. Lennon joined Elton John to sing "Whatever Gets You Through the Night" as well as "I Saw Her Standing There". It was payback for a bet in which John had made Lennon promise they'd perform together if "Whatever Gets You Thru the Night" hit number one.
Backstage, John and his wife Yoko Ono reunited after an 18 month separation.
On this day in 1975, the final two TV daytime dramas to resist going to pre-taped production, As the World Turns and The Edge of Night aired their last live episodes on CBS.
On this day in 1976, movie star Rosalind Russell succumbed to breast cancer at age 68.


In her 38 year film career she found time for a handful of TV credits, including Wonderful Town, Letter to Loretta, GE Theatre, Schlitz Playhouse of Stars, and (her last work) The Crooked Hearts.
On this day in 1977, supporting actor Trevor Bardette died at age 75.  He started in films in 1937, and started in small TV roles in 1953, repeatedly working Western series such as Gunsmoke, Wagon Train, Have Gun Will Travel & Cheyenne.
On this day in 1979, Ringo Starr's (of the Beatles) home in Los Angeles burned to the ground, destroying all his Beatles memorabilia.
On this day in 1983, boyishly handsome leading man Christopher George suffered a fatal heart attack at age 54.  In between movies he gad become a TV star in Rat Patrol, and also starred in the futuristic series The Immortal.
On ths day in 1984, 
 Phil Donahue left Chicago behind and took his TV talk show to New York City.  By that time he was reaching an estimated 7 million people each day. To that time, Phil and his New York-based actress-wife Marlo Thomas had commuted for four years to be together in matrimony.
Also in 1984, "I Would Die 4 U" by Prince was released, his fourth single from the album "Purple Rain."
On this day in 1986, NBC's Ahmad Rashad heard the acceptance of his marriage proposal from Phylicia Ayers-Allen during halftime of the Detroit Lions-New York Jets football game.
On this day in 1987, taken from the film 'Dirty Dancing', the Jennifer Warnes' duet with Bill Medley '(I've Had) The Time Of My Life', went to No.1 on the US singles chart.
On this day in 1988, Toronto blues-rock guitarist Jeff Healey 
created a sensation when he made his British debut at the Borderline Club in London. Healey was known for his distinctive method of playing the guitar on his lap. The critic for the Daily Telegraph raved that reports of Healey's explosive talent were not exaggerated. Healey was in Britain to promote his first album, "See the Light."
On this day in 1989, IRS agents raided the Las Vegas home of TV star Redd Foxx, who owed the feds an estimated 755-thousand dollars in taxes.
On this day in 1991, Nirvana recorded a performance for BBC TV's music show Top Of The Pops in London. When asked to lip-sync 'Smells Like Teen Spirit' to a pre-recorded tape Kurt Cobain protested by singing in a low-pitched funny voice with the rest of the band not even trying to mime in-time to the track.

On this day in 1992, the HBO cable channel debuted "Neil Diamond's Christmas Special."
Also this day in 1992, the CBC won the International Documentary of the Year Emmy Award for the Fifth Estate show, To Sell A War; plus an International Emmy in the Performing Arts category for the dance special Pictures on the Edge.
Still in 1992, Whitney Houston started a record-breaking 14-week run at No.1 on the Billboard singles chart with 'I Will Always Love You', taken from the 'Bodyguard' soundtrack. The song was written by Dolly Parton.
On this day in 1993, radio & TV host Garry Moore died of emphysema at age 78. 

He successfully combined genial humor with a pleasant personality and relaxed style that made him a favorite with audiences, both radio & TV, whether in a variety format or on panel shows. (I've Got a Secret, To Tell the Truth.)
Also in 1993, Steppenwolf drummer Jerry Edmonton was killed in a car crash not far from his Santa Barbara, California home. He was just 47.

On this day in 1997, the final episode of "Beavis & Butt-head" aired on MTV.
On this day in 1998, the song "Lately" by Divine topped the charts .. but only for a week.
On this day in 1999, actress Bethel Leslie died of cancer at age 70. A veteran of the Broadway stage, she scored recurring roles in TV's Richard Boone Show, as well as daytime dramas As the World Turns, One Life to Live, All My Children, Another World & The Doctors.
Also this day in 1999, bit player/extra Hazel Frederick died at age 91.  She became famous to trivia buffs as the scowl in the crowd who turned to the camera when Mary Tyler Moore tossed her hat in the opening credits of her show.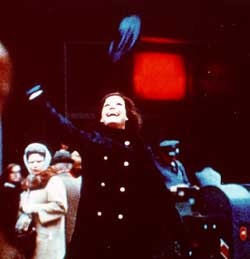 On this day in 2000, Madonna took her "Music" to London's 3,500-capacity Brixton Academy for her first U.K. performance in seven years. Playing to an audience comprised of contest winners, guests, and celebrities including Sting and members of the Spice Girls, Madonna streamed the concert over the internet to a record nine million people.
On this day in 2001, Vernon BC radio station CICF flipped from 1050 AM to 105.7 MHz as Sun FM. 
Also in 2001, Aretha Franklin filed a $50 million defamation lawsuit against the publisher of the tabloid Star magazine, which a year earlier had published the allegation that some cancelled concert dates were due to her "drinking herself into a grave."  The gossip rag later settled out-of-court for an undisclosed amount.

On this day in 2002, Britney Spears ended her partnership in the restaurant at New York's Dylan Hotel after it was plagued by lousy reviews and slow business.
On this day in 2004, Metallica played the last show on their 137-date 'Madly in Anger with the World' tour at the HP Pavilion in San Jose, California. It was the fourth-highest grossing tour of the year, reaping ticket sales of more than $60 million.
On this day in 2005, XM Radio and Sirius Radio launched their respective satellite radio services in Canada.
On this day in 2006, Ladysmith BC-born actress Pamela Anderson filed for divorce from rapper Kid Rock after four months of marriage.


                                                                                        Pam & Kid Rock in happier times
On this day in 2008, it was AC/DC Day in Vancouver. The mayor's proclamation coincided with the group's show at GM Place, another stop on the band's tour of North America. 
On this day in 2010, Canadian-born actor Leslie Nielsen, who went from serious turns in live TV dramas to the inspired bumbling of film comedies Airplane! and Naked Gun, died of complications from Pneumonia at age 84.
Also this day in 2010, Randy Bachman and Fred Turner, formerly of Bachman-Turner Overdrive (BTO), performed for 63,000 Canadian football fans at Edmonton's Commonwealth Stadium during the halftime show of the 98th Grey Cup game. Their medley included "Roll On Down The Highway," "Let It Ride" and "Takin' Care Of Business."
Stil in 2010, Rolling Stones magazine declared  Mick Jagger and Keith Richards to be the top feud in the history of Rock. At #2 were Simon & Garfunkel, followed by Aerosmith's Steven Tyler and Joe Perry.

On this day in 2012, Led Zeppelin's '07 reunion concert, "Celebration Day," debuted at #9 on the Billboard 200 chart with opening week sales of 101,000 copies. It was Led Zeppelin's 13th Top 10 album.
Today's Birthdays:
Motown Records founder Berry Gordy Jr. is 85.
Toronto-born singer Ray Perkins of the Crew Cuts is 82.
Jazz singer Ethel Ennis is 82.
Mt. Vernon Wash.-resident, singer Gary Troxel of The Fleetwoods is 75.
Singer-songwriter Bruce Channel is 74.
Singer/composer Randy Newman is 71.
Singer R. B. Greaves (Take a Letter Maria) is 70.
CBS News correspondent Susan Spencer (48 Hours) is 68.
Canadian-born "Late Show w/David Letterman" orchestra leader Paul Shaffer is 64.
Actor Ed Harris (Empire Falls, Riders of the Purple Sage) is 64.
Actress S. Epatha Merkerson (Law & Order) is 62.
Country singer Kristine Arnold (Sweethearts of the Rodeo) is 58.
Actor Judd Nelson (Suddenly Susan) is 55.
Rock drummer Matt Cameron (Pearl Jam, Soundgarden) is 52.
Comedian Jon Stewart (Daily Show) is 52.
Actress Jane Sibbett (Santa Barbara, Herman's Head) is 52.
Actress Garcelle Beauvais-Nilon (NYPD Blue, Jamie Foxx Show, Models Inc.) is 48.
Rhythm-and-blues singer Dawn Robinson (En Vogue, Lucy Pearl) is 46.
St. Catherines Ont.-born comic actor Mike Beaver (Billable Hours, The Itch) is 41.
Actress Gina Tognoni (Guiding Light, One Life to Live) is 41.
Hip-hop musician apl.de.ap (Black Eyed Peas) is 40.
Actor Ryan Kwanten (True Blood, Summerland) is 38.
Actress Aimee Garcia (Dexter, Vegas, Trauma, All About the Andersons) is 36.
Actor Daniel Henney (Three Rivers) is 35.
Rapper Chamillionaire is 35.
Model/actress Mircea Monroe (Hart of Dixie, Episodes) is 32.
Keyboardist Rostam Batmanglij of Vampire Weekend is 31.
Actress Mary Elizabeth Winstead (Wolf Island, Passions) is 30.
Actor Alan Ritchson (Blue Mountain State) is 30.
UK actress Laura Haddock (Upstairs, Downstairs) is 29.
Actress Karen Gillan (Selfie) ia 27.
Actress Scarlett Pomers (Reba, Star Trek: Voyager) is 26.
Chart Toppers – Nov. 28
1951
Sin (It's No) – Eddy Howard
Because of You – Tony Bennett
Down Yonder – Del Wood
Slow Poke – Pee Wee King
1960
Are You Lonesome To-night? – Elvis Presley
Last Date – Floyd Cramer
A Thousand Stars – Kathy Young with The Innocents
Wings of a Dove – Ferlin Husky
1969
Wedding Bell Blues – The 5th Dimension
Take a Letter Maria – R.B. Greaves
And When I Die – Blood, Sweat & Tears
Okie from Muskogee – Merle Haggard
1978
MacArthur Park – Donna Summer
Double Vision – Foreigner
You Don't Bring Me Flowers – Barbra Streisand & Neil Diamond
Sweet Desire – The Kendalls
1987
(I've Had) The Time of My Life – Bill Medley & Jennifer Warnes
Heaven is a Place on Earth – Belinda Carlisle
Should've Known Better – Richard Marx
Lynda – Steve Wariner
1996
No Diggity – BLACKstreet (Featuring Dr. Dre)
Un-Break My Heart – Toni Braxton
Mouth – Merrill Bainbridge
Strawberry Wine – Deana Carter
2005
Because of You – Kelly Clarkson
Run It – Chris Brown
Photograph  – Nickelback
Better Life – Keith Urban