Facebook has informed us that today, Nov. 16th, is GEORGE GARRETT's birthday.   For almost three decades (until his retirement in 1999) he was the newsman who set the pace for breaking stories in Vancouver radio.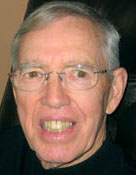 And to this day, he has the utmost respect from all his former competitors and coworkers.  Congratulations George, although we don't know how many candles should go on the cake today, we know you're well into your 8th decade.  (That's 70-something.)
Happy Birthday, George!  And may there be many more.