By Colin Perkel, The Canadian Press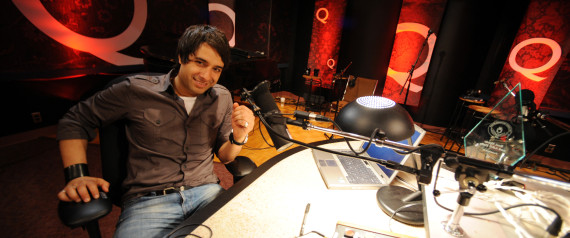 Jian Ghomeshi, the now-former host of CBC-Radio's morning show, Q, in the Q studio at CBC. The CBC is looking at possibly changing the name of the program that has come to be closely identified with Ghomeshi. | Rick Eglinton via Getty Images
.
TORONTO – The search for a permanent replacement for "Q" host Jian Ghomeshi fired amid unproven allegations he was violent toward women will begin in earnest next week, the CBC said Wednesday.
In addition, the broadcaster is looking at possibly changing the name of the program that has come to be closely identified with Ghomeshi, a senior manager told The Canadian Press.
"We've heard from a lot of people who think we should scrap it and a lot who want to keep it," said Cindy Witten, senior director of the radio network's talk department.
"We'll continue to listen to the audience and our partners and we also plan to do some targeted research."
The CBC fired Ghomeshi on Oct. 26 after seeing what it later called "graphic evidence" that he had caused physical injury to a woman.
Ghomeshi, who is under criminal investigation, has said he engaged in consensual "rough sex."
The scandal, which sparked an emotional conversation across the country about the violence and harassment women face, also sparked questions about what CBC management knew of Ghomeshi's proclivities.
Despite the harrowing weeks, Witten said the hiring of former CBC veteran Jamie Purdon to take over as interim executive producer — he starts next Monday — was an important step toward getting back to normal.
"It feels like we're turning the page," Witten said in an email. "The full team is back and the program is rocking."
Some program changes are also in the works but the intent is to retain its focus on arts, culture and entertainment.
Witten said the show has a "long list" of strong candidates to replace Ghomeshi as host — auditions will start as soon as possible — and listeners have been offering suggestions.
For now, Tom Power, Piya Chattopadhyay and Brent Bambury will continue as guest hosts. Musician/broadcaster Wab Kinew will take the big chair for a few weeks starting Dec. 8.
There's no timeline for the program's relaunch.
Ghomeshi, who is suing the CBC for $55 million for defamation and breach of confidence, has dropped from sight since his firing, but has said he would meet the allegations against him "directly."
http://www.huffingtonpost.ca/2014/11/13/cbc-new-name-q_n_6148094.html?utm_hp_ref=canada-business