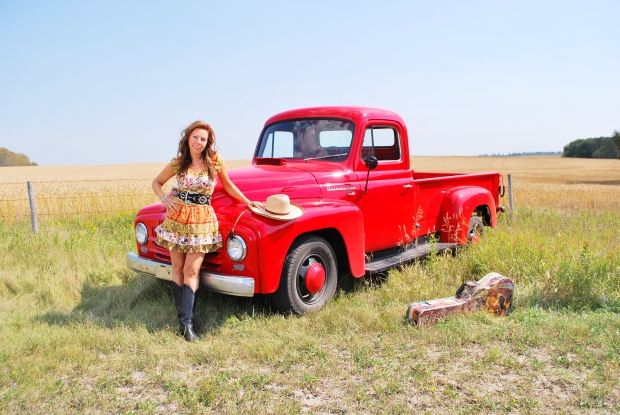 By Ashley Martin


November the 5th, 2014
Eli Barsi has always been a do-it-yourself kind of woman. It probably stems from her upbringing.
"I have been (resourceful) all my life," said Barsi, a singer-songwriter based in Moosomin. "When you're raised on the farm, I think that (has) everything to do with learning how to make things work."
She taught herself guitar when she was 12, after a singing gig on a Yorkton TV show was cancelled because her guitar player backed out.
When she was 18, she eschewed the idea of a backup plan: She wanted a music career. So she dropped out of veterinary school in Vermilion, Alta., got an agent and spent the next two years driving around the Prairies in her old Pontiac, playing solo shows six nights a week.
Eventually Barsi earned enough money to take that Pontiac down to Nashville, where, after years of playing, she remained without a record deal. Rather than call it quits, she moved back to Alberta and decided to cut her own album in a rented studio in Stony Plain. Now she and her husband John Cunningham have their own studio.
When daughter Katy was little, rather than put her career on hiatus, Barsi diversified and started performing children's shows.
And when people told her to pick a genre and stick to it, she didn't listen.
"You can't be a one-trick pony in this business," said Barsi, whose music runs the gamut from pop-country, traditional, western, bluegrass and gospel. "I'm glad that I don't have all my eggs in that (mainstream country) basket."
That said, it's not for necessity she's a musical nomad: She loves each style equally.
"I've had people in the industry tell me 'you need to just pick one genre and stick with that' and I'm glad I didn't listen, because I would be missing out on all these other opportunities and the joy that it brings."
Today, Barsi has 13 albums under her belt. The most recent one, released last year, is the first for which she wrote every song, rather than fill half an album with tracks by writers she admires.
With Portrait of a Cowgirl, she wanted to reflect every genre she plays.
"It was quite a challenge to write it that way and I feel like everything I set out to do, it's working with this project," said Barsi.
She was nominated in seven Saskatchewan Country Music Award categories in 2014 and won two, including roots artist of the year.
The album's title track, in honour of Barsi's mother Georgina, earned her a Wrangler award from the National Cowboy and Western Heritage Museum, which Barsi likens to the "Academy Awards for everything western."
Barsi tells stories in her songs, and this one is no different.
She got married to a farm boy, three little ones they had
For 60 years they made a life and home there on that land
The song may be about her mother, but it's her father who instilled a love of music in Barsi.
When she was four years old, dad Adam would play his favourites — Opry stars like the Carter Family and Roy Acuff — at home near Kennedy.
"He didn't really watch TV way back then so I think all that music really was drilled in at an early age," said Barsi. That includes Mother Maybelle's Carter scratch guitar style, which Barsi uses today.
Read More HERE