After already filming a fifth season, TLC cancelled the show over revelations by TMZ that Mama June is dating a convicted child molester.
By: Thestar.com (Toronto Star)  Fri Oct 24 2014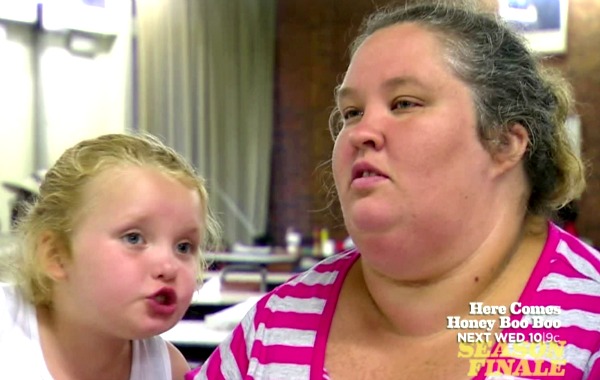 There goes Honey Boo Boo.
Specialty channel TLC announced on Friday it is cancelling Here Comes Honey Boo Boo, reports the Associated Press. The news comes in the aftermath of revelations by celebrity gossip website TMZ that the star's mother, "Mama" June Shannon, is dating a convicted child molester recently released from prison.
The show follows the lives of 9-year-old beauty pageant contestant Alana "Honey Boo Boo" Thompson and her family in rural McIntyre, Ga.
TLC wouldn't publicly cite a reason for the cancellation, but said in a statement quoted by the Associated Press that "supporting the health and welfare of these remarkable children is our only priority," a reference to Alana and her three sisters.
TMZ also reports that a fifth season of the show had already been filmed, which was set to premiere at the end of this year.
Shannon is said to have been secretly dating Mark McDaniel, who was released from prison earlier this year after serving a 10-year sentence for aggravated child molestation, allegedly against one of Shannon's relatives.
Although Shannon, 35, has denied the story, TMZ also posted a photograph of her and McDaniel together. "Mama June" recently ended her relationship with long-time partner Michael "Sugar Bear" Thompson.
TLC is discussing ways to support the children following the cancellation, such as providing tutoring or counselling, said an executive at the network who spoke on condition of anonymity because the network didn't want to publicly discuss those plans.