ON THIS DAY in 1903,
the "King of Country Music" Roy Acuff


was born in rural Tennessee.  Among his many hits were the Wabash Cannonball, Night Train to Memphis & The Great Speckled Bird.  Acuff, the first living artist to be elected to the Country Music Hall of Fame(1952), died Nov. 23 1992 at age 89.
On this day in 1904, actor Tom Conway


was born in Russia.  He played Sherlock Holmes on radio, on TV he starred in Mark Saber, & the Betty Hutton Show.  He died of cirrhosis of the liver April 22 1967 at age 62.
On this day in 1907, radio & TV host Jack Bailey


was born in Hampton Iowa.  He will always be indelibly identified with the sob story show
"Queen for a Day". The program was simulcast on both radio & TV for much of its 1945-62 run. Bailey died in 1980 from cancer at age 72.
Also in 1907, announcer Jimmy Wallington was born in Rochester New York.  He became one of the most in-demand commercial spokesmen during the bigtime radio era and the early days of TV.  Among the programs he worked on were The Big Show, The Fred Allen Show a.k.a. Texaco Star Theater, The Life of Riley, Screen Director's Playhouse, The Eddie Cantor Show, The Jimmy Durante Show and Duffy's Tavern.  His last radio assignments were as a staff announcer at the Voice of America. Wallington died at Arlington Virginia Dec. 22 1972 at age 65.
On this day in 1908, actress Penny Singleton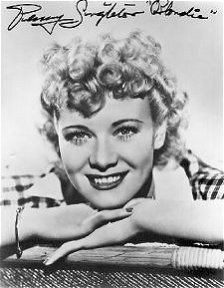 was born Mariana McNulty.  She made a career out of playing the comic strip character Blondie in B movies & on radio. She died Nov 12, 2003 at age 95.
On this day in 1915, actor & announcer John Conte


was born in Palmer Mass. He was the radio voice of Chase & Sanborn Coffee on the Burns & Allen & Baby Snooks radio programs, on TV he appeared in such shows as The Untouchables, Perry Mason, Bonanza, Your Show of Shows and Studio One.   Conte, who ended up a Calif. TV station owner, died Sept. 4 2006, a few days short of his 91st birthday.
On this day in 1921, Westinghouse's WBZ,


Springfield, Mass, received the first U.S. broadcast license.
On this day in 1924, singer & Pianist Bobby Short


was born.  He was a regular on the first Playboy TV series; died Mar 21, 2005 at age 80.
On this day in 1928, jazz alto saxaphone icon Julian "Cannonball" Adderly


was born. He died Aug 8, 1975 at age 46, after suffering a stroke.
On this day in 1930, singer/songwriter Hoagy Carmichael


recorded his own composition Georgia on My Mind on the RCA Victor label, featuring the muted cornet of Bix Beiderbecke.
On this day in 1934, NBC radio introduced The "Gibson Family" to American audiences.Ernest Whitman and Eddie Green were featured members of the large cast and were billed as 'network radio's only colored comedians'.  Proctor & Gamble's hopes for the show were not realized, as it turned into an expensive bust.
On this day in 1949, "The Lone Ranger" debuted on ABC-TV, after 16 years on radio.


Clayton Moore was the Lone Ranger and Jay Silverheels was Tonto.
On this day in 1956, Elvis Presley started a five-week run at No.1 on the US charts with 'Don't Be Cruel'.
On this day in 1957, the family sitcom "Bachelor Father" with John Forsythe


premiered on CBS-TV, and lasted 5 seasons.
On this day in 1961, The Pendletones from Hawthorne, California attended their first real recording session at Hite Morgan's studio in Los Angeles. The band recorded 'Surfin', a song that would soon help shape their career as The Beach Boys.
On this day in 1962, the song "Sherry" by the
Four Seasons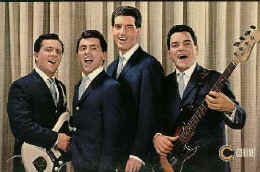 topped the charts and stayed there for 5 weeks.
Also in 1962, the #3 song on the pop chart, "Ramblin' Rose" by Nat King Cole was #1 on the Easy Listening chart.
On this day in 1964, the Beatles were ordered off the stage at Cleveland's Public auditorium so the screaming crowd could calm down. After 15 minutes the concert resumed.
On this day in 1965, the Ford Motor Company became the first automaker to offer an 8-track music player as an option for their entire line of vehicles on sale in the US.
Also this day in 1965, the rural comedy Green Acres debuted on CBS-TV, with Eddie Albert & Eva Gabor


as Oliver (Wendell) Douglas and his socialite wife Lisa.  It was the first of six successful seasons on the network.  Above is the first "moving picture" on PSR.
The same day in 1965, "Lost in Space"


premiered on CBS-TV, while "I Spy" debuted on NBC-TV.
On this day in 1968, The Doors were forced to perform as a trio at a concert in Amsterdam after singer Jim Morrison collapsed while dancing during the Jefferson Airplane's performance.
Also in 1968, NBC-TV aired a variety special simply called "Soul," touted as being staffed and starring only African-Americans. Guests included Lou Rawls and Martha & the Vandellas.

Still in 1968, the Barbra Streisand concert special "A Happening In Central Park" aired on CBS-TV.
In 1969, Ed Sullivan released "The Sulli-Gulli," his first and only rock record. He was hoping it would create a new dance.
In 1970, US Vice-President Spiro Agnew said in a speech that the youth of America were being "brainwashed into a drug culture" by rock music, movies, books and underground newspapers.
On this day in 1971, the first broadcast of "Columbo"
starring Peter Falk, aired on NBC-TV.

On this day in 1973, Helen Reddy went to No.1 on the US singles chart with 'Delta Dawn', the singers second No.1 hit.
On this day in 1975, Bob Dylan released Slow Train Coming, an album of religious songs, including the Grammy Award winning single, 'Gotta Serve Somebody'. The album alienated many of his long time fans.
On this day in 1979, the Swedish group Abba 
  began its first North American tour, in Vancouver, B.C.
Also in 1979, Led Zeppelin scored their sixth US No.1 album when 'In Through The Out Door' started a seven-week run at the top of the charts.
Still in 1979, Bob Dylan released "Slow Train Coming," his first religiously themed album.

On this day in 1980, jazz pianist Bill Evans, whose introverted, romantic approach influenced such later artists as Herbie Hancock, Keith Jarrett and Chick Corea, died of cirrhosis of the liver and a bleeding ulcer at age 51.
In 1982, Queen played their last U.S. concert with frontman Freddie Mercury, at the Great Western Forum in suburban L.A.
In 1985, Vancouver radio station CJAZ FM dropped its jazz format and its call letters.  The station switched to a light R&B station, called FM 97.  Within 18 months it would develop an adult contemporary format and become 97 KISS FM.  Since 2002 it has been branded Jack FM..
On this day in 1986, the first of 171 episodes of "LA Law" aired on NBC-TV.
Also in 1986, actress Virginia Gregg,


one of the most versatile & busiest of all the network radio actors, died at age 70 of lung cancer. She was often used by Jack Webb in his radio & TV "Dragnet"productions.
On this day in 1988, Mark Knopfler announced the official breakup of Dire Straits. (They got back together in 1991).
On this day in 1990, the 42nd Emmy Awards were handed out, with LA Law & Murphy Brown among the big winners.
Also this day in 1990, the song "Release Me" by Wilson Phillips 
 topped the charts and stayed there for 3 weeks.
On this day in 1991, one of the great announcers of network radio (and Pathe Newsreels,) Andre Baruch died at age 83.  Your Hit Parade, The Shadow, The Kate Smith Hour & American Album of Familiar Music were among the many bigtime radio shows he regularly worked on.
Also this day in 1991, Canadian journalist & broadcaster Warner Troyer


died at age 59.  He was a veteran of the CBC's This Hour Has Seven Days & The Fifth Estate; also co-host of CTV's W5.
In 1993, Michael Jackson played to a half-empty stadium in Moscow as part of his"Dangerous" world tour. Bad weather and tickets costing up to two months' average wages helped keep fans away. And those that did show up had to suffer through freezing drizzle and a fuzzy sound system.
On this day in 1994, Hamilton-born SCTV veteran Martin Short

 introduced his comedy variety program, "The Martin Short Show", on NBC.
Also in 1994, a reel to reel tape of The Quarry Men appearing at a church garden party in Liverpool in July, 1957, the first known recording by John Lennon, sold for $125,000 at a Sotheby's auction in London.
In 1995, the first episode of "Xena: Warrior Princess" aired in syndication.
In 1996, Pearl Jam went to No.1 on the US album chart with 'No Code.'
On this day in 1997, Elton John updated "Candle in the Wind" sold more than 600,000 copies in its first day on British store shelves.  The single was released in North America Sept. 23 and hit #1 two weeks later.
Also this day in 1997, Oprah Winfrey announced she would continue her show through 2000.
On this day in 1998, country music's Reba McEntire


helped to unveil her new star on the Hollywood Walk of Fame.
On this day in 2000, Ron Dixon, the majority owner of Vancouver's CKST (now all-sports Team 1040), died in a car crash in Mexico.
On this day in 2001, CHNU-TV officially signed on at 7:00 p.m. as Now-TV on UHF Channel 66. It later was rebranded Joytv10.

Also in 2001, Fred De Cordova, executive producer of The Jack Benny Show & The Tonight Show Starring Johnny Carson, died in Woodland Hills, CA at age 90.
On this day in 2002, the Dixie Chicks started a two week run at No.1 on the US album chart with 'Home.'
On this day in 2003, Johnny Cash found his final resting place in the family cemetery at Hendersonville, Tennessee, next to his recently deceased wife June Carter Cash. Emmylou Harris, Al Gore, and Sheryl Crow were among those who attended the private ceremony along with family members including daughter Rosanne Cash.

Also in 2003, radio/TV evangelist Garner Ted Armstrong died of pneumonia at the age of 73.
On this day in 2004, punk rocker Johnny Ramone died in his sleep at age 55, after a five-year battle with prostate cancer.
On this day in 2007, New Brunswick-born actress/game show panelist Brett Somers, best known as a wisecracking panel member on TV's Match Game, died of colon cancer at age 83.

Also in 2007, Rihanna kicked off her "The Good Girl Gone Bad" tour of North America, Europe and Asia at GM Place in Vancouver.
On this day in 2008, Pink Floyd keyboard player and founding member Rick Wrightsuccumbed to cancer at age 65.
On this day in 2010, Roger Waters took his "The Wall" on the road to mark the 30th anniversary of Pink Floyd's initial onstage performance of the album.  His first stop was Toronto.

On this day in 2011, Alberta-born actress Frances Bay, who played quirky, elderly women for more than 35 years on episodic TV, and finished with a recurring role on ABC-TV's The Middle, died at age 92.  She had spent World War II hosting the CBC radio show, Everybody's Program, aimed at service members overseas.
This day in 2012 it was Sammy Hagar Day in Roseville, CA. It also marked the opening of Sammy's Rockin' Island Bar & Grill, in Downtown Roseville. Hagar performed during his restaurant's debut.
On this day in 2013,  Jackie Lomax, a male guitarist-singer-songwriter who'd worked with the Beatles and had a long solo career, died in Wirral, England at age 69.
Today's birthdays:
Actor Forrest Compton (Gomer Pyle, Edge of Night) is 89.
Comedian Norm Crosby (Dean Martin's Celebrity Roasts, Joey Bishop Show, Hollywood Squares) is 87.
Actor Henry Silva (Justice, Buck Rogers in the 25th Century) is 86.
Actor Henry Darrow (Harry-O, The High Chaparral) is 81.
Toronto-born singer Pat Barrett of The Crew Cuts is 81.
Singer Jimmy Gilmer (Sugar Shack) is 74.
Actor Tommy Lee Jones (One Life to Live, Amazing Howard Hughes) is 68.
Drummer Kelly Keagy of Night Ranger is 62.
Reality TV personality Lisa Vanderpump (Real Housewives of Beverly Hills) is 54.
Winnipeg-born drummer Mitch Dorge of Crash Test Dummies is 54.
CBS TV football analyst/Pro Football Hall of Famer Dan Marino is 53.
Actor Danny Nucci (Falcon Crest, Snoops) is 47.
Rap DJ Kay Gee (Naughty By Nature) is 45.
Rock drummer Allen Shellenberger of Lit is 45.
Actor Josh Charles (The Good Wife, In Treatment, Sports Night) is 43.
Actress Marisa Ramirez (Blue Bloods, The Young and the Restless) is 37.
Guitarist Zach Filkins of OneRepublic is 36.
Actress Amy Davidson (8 Simple Rules) is 35.
Actor Dave Annable (Brothers & Sisters) is 35.
Actor/comedian Ben Schwartz (House of Lies, Parks and Recreation, Undercovers) is 33.
TV personality Heidi Montag (The Hills) is 28.
Actress Chelsea Kane (Baby Daddy, Fish Hooks, Jonas) is 26
Actor Matt Shively (True Jackson VP, Winx Club) is 24.
Actor Jake Cherry (Desperate Housewives, Head Cases) is 18.
Chart Toppers – Sept. 15
1949
Room Full of Roses – The Sammy Kaye Orchestra (vocal: Don Cornell)
You're Breaking My Heart – Vic Damone
Maybe It's Because – Dick Haymes
Why Don't You Haul Off and Love Me – Wayne Raney
1958
Nel Blu Dipinto Di Blu (Volare) – Domenico Modugno
It's All in the Game – Tommy Edwards
Rock-in Robin – Bobby Day
Bird Dog – The Everly Brothers
1967
Ode to Billie Joe – Bobbie Gentry
Reflections – Diana Ross & The Supremes
Come Back When You Grow Up – Bobby Vee
Your Tender Loving Care – Buck Owens
1976
(Shake, Shake, Shake) Shake Your Booty – KC & The Sunshine Band
Play that Funky Music – Wild Cherry
I'd Really Love to See You Tonight – England Dan & John Ford Coley
I Don't Want to Have to Marry You – Jim Ed Brown/Helen Cornelius
1985
St. Elmo's Fire (Man in Motion) – John Parr
We Don't Need Another Hero (Thunderdome) – Tina Turner
Money for Nothing – Dire Straits
Modern Day Romance – Nitty Gritty Dirt Band
1994
I'll Make Love to You – Boyz II Men
Wild Night – John Mellencamp Me'Shell NdegeOcello
When Can I See You – Babyface
XXX's and OOO's (An American Girl) – Trisha Yearwood
2003
Crazy In Love – Beyoncé Knowles featuring Jay-Z
Shake Ya Tailfeather – Nelly, P. Diddy & Murphy Lee
Can't Hold Us Down – Christina Aguilera featuring Lil' Kim
It's Five O'Clock Somewhere – Alan Jackson (with Jimmy Buffett)