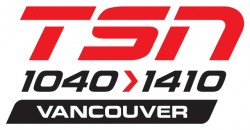 We reported the upcoming change in branding earlier thanks to Greg Douglas' column in the Vancouver Sun.
He was a little out on the changeover date, which the station now says is set for Sept. 8.
TSN 1040 and 1410 will join TSN's family of local radio stations in Toronto (TSN 1050), Montreal (TSN 690), Winnipeg (TSN 1290), Ottawa (TSN 1200), and Edmonton (TSN 1260).  This announcement comes on the heels of TSN's expansion to five national feeds – TSN1, TSN2, TSN3, TSN4, and TSN5 – that debuted across Canada on Monday.
"We are thrilled to be officially joining the TSN Radio roster," said James Stuart, Regional Vice-President, Radio and Local Television, B.C, Bell Media. "Vancouver sports fans have been turning to our stations for many years. With the strength of the TSN brand, we will continue to serve our loyal listeners with the sports coverage they know and trust."
TSN Radio in Vancouver will continue to be the exclusive home of every game from the Vancouver Canucks, BC Lions, Vancouver Whitecaps FC, Vancouver Giants, and Seattle Seahawks. The stations also deliver coverage of the Vancouver Canadians and Vancouver Stealth, as well as live coverage of TSN's slate of major sporting events, including the Grey Cup, IIHF World Junior Championship, FIFA Women's World Cup Canada 2015, golf and tennis majors, and more.
You can see Dr. Sport's earlier report HERE.