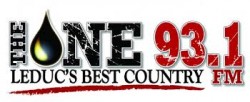 From the desk of Mark Tamagi
President and General Manager
Blackgold Broadcasting Inc. and  The One
Company Announcement: James "Gruff" Gushnowski joins 93.1 The One Leduc
August 25th, 2014
Many of our listeners heard the news earlier today that Sean Burke has decided to leave 93.1 The One to host a new morning show in Edmonton.  We're happy for Sean and wish him all the best in his new role and thank him for his contribution to The One.
At the same time, we're extremely excited to announce that One Mornings will be in great hands as James "Gruff" Gushnowski joins 93.1 The One effective September 2.
"Gruff" joins The One fresh off of hosting 790 CFCW mornings with Sharon Mallon.  His knowledge of the region, country music, intense community involvement and loyal listener following will help take 93.1 The One to new heights.
Gruff's previous experience includes stints as Program Director at the legendary K97 Edmonton as well as The Goat in Lloydminster.
In addition to hosting One Mornings, Gruff will take on the new role of Operations Manager for Blackgold Broadcasting Inc., parent company of 93.1 The One.
One Mornings with Gruff Gushnowski starts entertaining Leduc County right after Labour Day.
Mark