ON THIS DAY in 1907
jazz musician Benny Carter was born in Harlem.  The versatile alto saxophonist, clarinetist, trumpeter, composer, arranger, and bandleader was a major figure in jazz from the 1930s to the 1990s, and was recognized as such by other jazz musicians who called him King.  He died July 12, 2003 at age 95.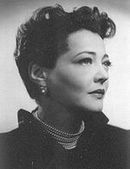 In 1910, actress Sylvia Sidney was born in the Bronx NY.  After her movie career tailed off in the late 1940's she began 46 years of TV guest appearances, playing among others, the imperious mother of Gordon Jump in the WKRP pilot episode, the troubled grandmother of Melanie Mayron in Thirtysomething and her final assignment, as the crotchety travel clerk on the short-lived late-1990s revival of Fantasy Island. She died July 1, 1999 at age 88.
In 1921, country singer Webb Pierce was born at West Monroe Louisiana. He became a star performer on radio's Louisiana Hayride and later was a regular on the Grand Ole Opry. His biggest hit, 1953's "There Stands the Glass" is regarded as one of country's classic "drinking songs". He was the number one country artist of the 1950s with his singles spending 113 weeks at #1. He died of pancreatic cancer Feb 24, 1991 at age 69.
In 1922, actor Rory Calhoun was born Francis McCown in Los Angeles. He starred in over 80 movies and 1,000 television episodes. The TV assignments included the lead in the late 50's series The Texan, a general in the mini-series The Blue & the Grey, and a judge in the soap opera Capitol.


He died Apr 28, 1999 at age 76.
In 1923, Benny Goodman was 14 years old as he began his professional career as a clarinet player. He took a job in a band on a Chicago-based excursion boat on Lake Michigan
In 1923, blues shouter Jimmy Witherspoon was born in rural Arkansas.   His first hit in 1949 was "Ain't Nobody's Business", a song which came to be regarded as his signature tune. In 1950 he had hits with two more songs closely identified with him: "No Rollin' Blues" and "Big Fine Girl". He continued performing & recording into the 1990's, and died Sep 18, 1997 at age 74.
In 1933, singer Joe Tex was born Joseph Arrington, Jr. in Baytown Texas. This soul and Disco singer-songwriter was most popular during the 1960s and 1970s leading the Joe Tex Band. His style of speaking over music, which he called "rap", made him a predecessor of the modern style of music. His hits include I Gotcha, Hold What You've Got, Skinny Legs and All, and Ain't Gonna Bump No More (With No Big Fat Woman. He died following a heart attack Aug 13, 1982 just days after his 49th birthday.
In 1934, Bing Crosby became the first singer to record for the US branch of Decca Records.


His songs, Just A-Wearyin' For You and I Love You Truly, were waxed as Decca number D-100.
In 1941, Les Brown and His Band of Renown paid tribute to baseball's "Yankee Clipper", Joe DiMaggio of the New York Yankees, with the recording of "Joltin' Joe DiMaggio" on Okeh Records. From that time on, DiMaggio adopted the nickname, Joltin' Joe.
In 1958, Capitol Records released 'Tom Dooley', the single by The Kingston Trio that would make them stars and sell three million copies.
Also in 1958, Johnny Cash was at Owen Bradley's studio in Nashville to record nine tracks during the afternoon and evening, mostly for his first Columbia album "The Fabulous Johnny Cash."
In 1959, the No. 1 Billboard Pop Hit was "A Big Hunk O'Love," by Elvis Presley. The song entered the Hot 100 at No. 6.
In 1960, Tell Laura I Love Her, by


Ray Peterson, wasn't a big hit in Great Britain. Decca Records in England said the song was 'too tasteless and vulgar for the English sensibility.' They destroyed 25,000 of the platters this day.  Youtube Video HERE
Also in 1960, 16-year old Brian Hyland went to No.1 on the Billboard pop singles chart with 'Itsy Bitsy Teeny Weeny Yellow Polka Dot Bikini.'
Still in 1960, Roy Orbison recorded 'his second Top Ten single, 'Blue Angel' for the Monument label. Floyd Cramer and Boots Randolph played for the Nashville taping session.
In 1961, a new single by Elvis Presley new single was released;  "(Marie's The Name) His Latest Flame" would peak at #4, while the flip side  "Little Sister" hit #5.
In 1963, the Pacifc Northwest Group The Kingsmenreleased their soon-to-be-smash "Louie, Louie"


With well over 1000 different versions, it remains among the most "covered" songs of all time, right behind the Beatles ' "Yesterday."
In 1964, The Animals' classic single "House of the Rising Sun" was released in North America.  Apparently the track had been recorded in just one take in what turned out to be a less than ten-minute recording date.
In 1966, in response to John Lennon's remark aboutThe Beatles being 'bigger than Jesus,' The South African Broadcasting Corporation banned all Beatles records.
Also on this day The Beatles released the single "Eleanor Rigby" b/w "Yellow Submarine."
In 1968, Tom Lucas first hit the airwaves, at CKAY Duncan BC, using the name Alan Boyle. He stayed a year before leaving for Ontario; in 1974 he returned to B.C. radio. 
In 1969, the cover photo was taken for the Beatles'"Abbey Road" LP.


Photographer Iain McMillan, balanced on a step-ladder in the middle of the road took six shots of John, Ringo, Paul, and George walking across the zebra crossing while a policeman held up the traffic. The band then returned to the studio and recorded overdubs on 'The End', 'I Want You (She's So Heavy)' and 'Oh! Darling'.
In 1970, rocker Janis Joplin bought a headstone for the grave of blues singer Bessie Smith, one of her idols. Smith died in 1937 after being refused admission to a whites-only hospital.
Also in 1970, thousands of US fans enroute to theStrawberry Fields Rock Festival east of Toronto were refused entry at the border when they were unable to provide proof they had at least forty dollars, deemed sufficient to look after themselves while visiting Canada.  The three-day festival cost just $15.

Still in 1970, Creedence Clearwater Revival released their next Top Five pop single "Looking Out My Back Door."
In 1974, singer Roberta Flack received a gold record for the single, Feel Like Makin' Love. Flack, born in Asheville, NC and raised in Arlington, VA, was awarded a music scholarship to Howard University in Washington, DC — at the age of 15. One of her classmates became a singing partner on several hit songs. Donny Hathawayjoined Flack on You've Got a Friend, Where is the Love and The Closer I Get to You. She had 10 hits on the pop charts in the 1970s and 1980s.
Also in 1974, the Eric Clapton album "461 Ocean Boulevard" was certified to be a Gold Record.

In 1975, jazz alto saxophonist Julian 'Cannonball' Adderley died of a stroke at age 46. Adderley recorded more than 60 albums as a feature artist and collaborated as a sideman on at least 60 more. He performed with many other legendary musicians such as Miles Davis, John Coltrane, Quincy Jones and Chuck Mangione.  He became one of the masters of hard bop and later originated what became known as soul jazz, taking his influence from the black church.
In 1981, the US cable channel MTV aired its first concert in stereo, starring REO Speedwagon in a performance at Denver. MTV had signed on just one week earlier.
In 1983, veteran Chicago news anchor Fahey Flynndied of internal hemorrhaging at age 67.  He'd been seen on TV screens throughout Chicagoland for the previous 30 years.

In 1984, charactor actor Richard Deacon died after a heart attack at age 63. He is best remembered as bald, bespectacled Mel on The Dick Van Dyke Show, and Fred Rutherford on Leave it to Beaver.
In 1986, David Crosby of Crosby, Stills, Nash & Young was released from prison after serving three years for drug and weapons possession. His conviction would be overturned by a Texas appeals court in November 1987.
In 1987, less than three months after they got to No. 1 on Billboard's Hot 100 for the first time with "With or Without You,"


U2 returned to the top of the chart with "I Still Haven't Found what I'm Looking For," the second single from "The Joshua Tree."
In 1992, Axl Rose of Guns N' Roses walked off stage after 55 minutes at a concert at Olympic Stadium in Montreal, complaining of a sore throat. Many of the 53,000 fans who came to see the group and Metallicariotted, starting fires, breaking windows and looting stores.
Also in 1992, Madonna went to No.1 on the Billboard pop singles chart with 'This Used To Be My Playground'. The track was taken from the film 'A League Of Their Own.'
In 1996, Kiss appeared at the Riverfront Coliseum in Cincinnati, Ohio on their 192 date Alive World Tour. (During this show a fan threw his artificial leg on stage to be signed by the band, which they proceeded to do.)

Also in 1996, singer Mel Torme was hospitalized after a stroke that left his left side weakened and affected his speech.
In 1998, the Rolling Stones performed their first concert in Russia, playing through a driving rain before an appreciative crowd estimated at 70,000.
In 2002, the FCC ordered TV manufacturers to install tuners for digital signals in new TV sets by 2007. (The order was modified in 2005 setting a July 1, 2007 deadline for manufacturers to equip half of their most popular sets with digital tuners.)
In 2004, a bus driver for the Dave Matthews Banddumped human waste from the bus into the Chicago River and onto a tour boat carrying more than 100 passengers. The band later settled with the state of Illinois, and the driver plead guilty to reckless conduct and pollution charges.

In 2005, actress Barbara Bel Geddes, best remembered as matriarch Eleanor "Miss Ellie" Ewing in the TV drama 'Dallas', lost her battle with lung cancer at age 82.
Also in 2005, two jurors from the Michael Jacksonmolestation trial were interviewed on the NBC 'Today' show. They admitted to the national audience they now wished they'd returned a guilty verdict.
In 2006, 'Promiscuous' by Nelly Furtado & Timbaland was at No.1 on the Billboard chart.
Also in 2006, 40-year-old Janet Jackson celebrated her recent 60-pound weight loss by appearing on the cover of Vibe magazine in only a skimpy bikini bottom and a necklace of large shells.

In 2007, Mel Shavelson, an early radio gag writer for Bob hope, who went on to write & direct for movies & TV (Ike: The War Years), died at age 90.
Also in 2007, the US National Musical Publishers' Association joined other businesses in seeking to sueYouTube claiming songwriters were not being properly compensated when their music appeared on the site.  Other companies in the action included Viacom and Nickelodeon, Paramount Pictures and Comedy Central.

Still in 2007, Demi Lovato was at No.1 on the Billboard album chart with 'Here We Go Again', the American singer's second album.
In 2008, Kid Rock and Lynyrd Skynyrd launched their joint 'Rock and Rebels' tour of North America in Oklahoma City.
In 2009, Pearl Jam launched a world tour in support of their "Backspacer" album in Calgary at the Virgin Festival '09. They headlined the two-day event.

In 2010, veteran film actress Patricia Neal died of lung cancer at age 84.  She will be remembered as the original mother (Olivia) in the TV movie 'The Homecoming' which introduced the much-loved 'Waltons' series.
Also in 2010, Ted Kowalski, the tenor with the Toronto-based 1950's quartet The Diamonds, died of heart disease at age 79.  The Diamonds were an all-s.white quartet that did successful cover versions of many R&B hits created by black artists.
In 2011, Lamont Tilden (below), one of the best known CBC announcers and news readers in the Golden Age of Canadian radio, and the early years of television, died at age 98. 

In 2013, actress Karen Black, whose 50 year career in film began with a series of TV guest roles, and whose resume included a dozen TV movies, lost her battle with cancer at age 74.
Also in 2013, singer/songwriter/producer "Cowboy" Jack Clement, whose work at Sun Records in Memphis with the likes of Jerry Lee Lewis, Johnny Cash, and Roy Orbison, is legendary, succumbed to liver cancer at age 82.  For Johnny Cash he wrote "Ballad of a Teenage Queen" and "Guess Things Happen that Way," and produced "Ring of Fire."
In 2014,UK-born actor Charles Keating, best known for his role as Carl Hutchins on NBC-TV's Another World from 1983–85, and again from 1991-98, succumbed to lung cancer at age 72.
Today's Birthdays
Actor Richard Anderson (The Six Million Dollar Man, The Bionic Woman) is 88.
Jazz trombonist Urbie Green (Bands of Woody Herman, Gene Krupa, Jan Savitt, Frankie Carle) is 88.
Actress Nita Talbot (Starting from Scratch, Here We Go Again, Hogan's Heroes) is 84.
Country singer Mel Tillis is 82.
Actor Dustin Hoffman (Luck, Death of a Salesman) is 78.
Singer/actress Connie Stevens (Hawaiian Eye, Wendy & Me, Starting from Scratch) is 76.
Country singer Phil Balsley of The Statler Brothers is 75.
Singer Michael Johnson (Bluer Than Blue) is 70.
Actor Larry Wilcox (CHiPS) is 67.
Actor Keith Carradine (Dexter, Complete Savages, Deadwood) is 65.
Singer Airrion Love of The Stylistics is 65.
Country singer Jamie O'Hara is 64.
Howard Stern sidekick Robin Quivers is 62.
Actor Donnie Most (Happy Days) is 61.
Keyboardist Dennis Drew of 10,000 Maniacs is 57.
News anchor Deborah Norville (Inside Edition) is 56.
Singer/actor Harry Crosby (son of Bing) is 56.
Guitarist The Edge (David Evans) of U2 is 53.
Drummer Rikki Rockett of Poison is 53.
Rapper Kool Moe Dee is 52.
Actor Jimmy Jean-Louis (Heroes) is 46.
Actress Senta Moses (General Hospital, Beakman's World, Running the Halls) is 41.
Singer Scott Stapp is 41.
Country singer Mark Wills is 41.
Guitarist Tom Linton of Jimmy Eat World is 39.
Singer J.C. Chasez of 'N Sync is 38.
Actress Tawny Cypress (Rescue Me, Heroes) is 38.
Singer/TV host Drew Lachey (The Winner Is ….,Dancing With the Stars, winner 2nd season) of 98 Degrees is 38.
Singer Marsha Ambrosius of Floetry is 37.
Actress Lindsay Sloane (Sabrina the Teenage Witch, Wonder Years, Grosse Point) is 37.
Actress Countess Vaughn (The Parkers, Moesha) is 36.
Actor Michael Urie (Ugly Betty) is 34.
Actress Meagan Good (Cousin Skeeter, Deception) is 33.
Actress Peyton List (The Tomorrow People, FlashForward, Mad Men) is 28.
Toronto-born actress Jenn Proske (Graceland) is 27.  
Actress Laura Wiggins (Shameless) is 26.
Actor Ken Baumann (The Secret Life of the American Teenager) is 25.
Actress Ali Cobrin (Look) is 25.
Chart Toppers – August 8th
1947
Peg o' My Heart – The Harmonicats
That's My Desire – The Sammy Kaye Orchestra (vocal: Don Cornell)
I Wonder, I Wonder, I Wonder – Eddy Howard
Smoke! Smoke! Smoke! (That Cigarette) – Tex Williams
1956
My Prayer – The Platters
Hound Dog/Don't Be Cruel – Elvis Presley
The Flying Saucer (Parts 1 & 2) – Buchanan and Goodman
I Walk the Line – Johnny Cash
1965
I'm Henry VIII, I Am – Herman�s Hermits
Save Your Heart for Me – Gary Lewis & The Playboys
I Got You Babe – Sonny & Cher
The First Thing Ev'ry Morning (And the Last Thing Ev'ry Night) – Jimmy Dean
1974
Annie's Song – John Denver
Feel like Makin' Love – Roberta Flack
Rikki Don't Lose that Number – Steely Dan
Rub It In – Billy "Crash" Craddock
1983
Every Breath You Take – The Police
Sweet Dreams (Are Made of This) – Eurythmics
She Works Hard for the Money – Donna Summer
Your Love's on the Line – Earl Thomas Conley
1992
Baby Got Back – Sir Mix-A-Lot
This Used to Be My Playground – Madonna
Baby-Baby-Baby – TLC
Boot Scootin' Boogie – Brooks & Dunn
2001
All Or Nothing – O-Town
Bootylicious – Destiny's Child
Someone To Call My Lover – Janet Jackson
When I Think About Angels – Jamie O'Neal
2010
Love The Way You Lie – Eminem featuring Rihanna
California Gurls – Katy Perry featuring Snoop Dogg
Dynamite – Taio Cruz
Undo It – Carrie Underwood