ON THIS DAY in 1890
the first weekly music chart was published in the United States.  It consisted mainly of sales of sheet music and the first commercial musical recordings.  The first #1 charted song was "Semper Fidelis" by the U.S. Marine Band under the leadership of John Phillip Sousa.  It was #1 for 6 weeks and replaced by "Washington Post" also by the U.S. Marine Band.
In 1892, movie mogul Jack L. Warner was born Jack Eichelbaum in London Ontario.


He was one of Hollywood's famed Warner Brothers, whose studio was instrumental in developing programs for early television. He died of severe heart problems Sep 9, 1978 at age 86.
In 1905, actress Myrna Loy was born in Radersburg Montana.  After a lengthy & productive bigscreen career she made a small handful of guest appearances on TV, three of them on the drama anthology General Electric Theatre.  Her final job was guest starring in the Tony Randall sitcom Love Sidney in 1982.  She is best remembered for her movie role as the wife of The Thin Man, Nora Charles. She died during surgery Dec 14, 1993 at age 88.
In 1915, actor Gary Merrill was born in Hartford Conn.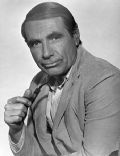 His rich voice led to success in radio soaps, then to 50 feature films, and frequent TV guest work (Playhouse 90, Alfred Hitchcock Presents, Littlest Hobo, etc) including recurring roles on Young Dr. Kildare & Then Came Bronson. He died of lung cancer Mar 5, 1990 at age 74.
In 1918, actress Beatrice Straight was born in Old Westbury NY.  An acclaimed stage actress, she won an Oscar for the movie Network, and plaudits for 40 years of guest work on television. She won an Emmy nomination for the miniseries The Dain Curse.  She was the Queen Mother of the heroine Wonder Woman in that 70's series, and had running roles in Love of Life, Beacon Hill, King's Crossing & St. Elsewhere. She died of pneumonia Apr 7, 2001 at age 82.
In 1922, telephone pioneer Alexander Graham Bell died at his Beinn Bhreagh home on Cape Breton Island, due to complications of his diabetes.


To mark his death, all telephone service in Canada was halted for 80 seconds on Aug 4, starting at 6:25 pm.
In 1924, actor Carroll O'Connor was born in Manhattan New York City.  In 1971 he found the role that would make him a star as Archie Bunker in CBSTV's All in the Family.  He went on to headline a second TV series, In the Heat of the Night.  He died of a heart attack triggered by diabetes June 21, 2001 at age 76.
In 1953, the TV station now known as KCPQ (FOX 13) in Tacoma-Seattle, began broadcasting as KMO-TV Tacoma.
Also in 1953. singer Skeeter Davis, still a member of the Davis Sisters, broke both her arms and legs in a car crash near Cincinnati, a crash which also killed fellow Davis "sister" Betty Jack Davis.
In 1958, Johnny Cash's contract with Sun Records expired. He switched labels to Columbia and stayed with them for 28 years.

In 1960, the No. 1 Billboard Pop Hit was "Itsy Bitsy Teenie Weenie Yellow Polka Dot Bikini," by Brian Hyland. The song was a true story inspired by songwriter Paul Vance's two-year-old daughter.
In 1961, the Beatles began their engagement as regular headliners at Liverpool's Cavern Club. They performed about 300 shows there over the next two years.
In 1962, singer/songwriter Robert Zimmerman legally changed his name to Bob Dylan.
Also in 1962, Aretha Franklin made her television debut, performing "Don't Cry Baby" and "Try a Little Tenderness" on ABC-TV 's American Bandstand.
In 1963, British guitarist Eric Clapton quit The Roosters to form Casey Jones and the Engineers.
In 1964, comedy actor Jack Kirkwood, who portrayed a very funny character on radio's Bob Hope Show and The Edgar Bergen Hour, and who for many years had his own daily radio show, died of a heart attack, 6 days short of his 70th birthday.

In 1965, Canadian-born CBS correspondent Morley Safer sent the first TV report from Vietnam indicating the US was losing the war.
Also in 1965, Capitol Records released Al Martino's next hit single "Spanish Eyes."
In 1969, Bob Dylan showed up unexpectedly to his tenth year high school reunion in Hibbing, Minnesota. He and his wife left early after a drunk tried to pick a fight with him.
In 1971, the No. 1 Billboard Pop Hit was "How Can You Mend a Broken Heart," by The Bee Gees. The song was the first of nine No. 1 singles for the Gibb brothers.
Also in 1971, Creedence Clearwater Revival kicked off a 10 date US tour at the Assembly Centre in Tulsa. Reduced to a trio following Tom Fogerty's departure, this would be CCR's last tour.

In 1972, bass player/singer Brian Cole of the Association died of a heroin overdose at age 29.  The group's biggest hit was the 1967 million-selling No. 1 single "Windy."
In 1973, The Mamas and the Papas filed a lawsuit against the Dunhill record label, alleging they were due 60-million dollars in unpaid royalties.
In 1974, a funeral was held in Hollywood for Mama Cass Elliot. Her body was cremated and her ashes were buried in Maryland.
In 1975, "One of These Nights" by The Eagles topped the charts, the group's second #1 single.

In 1978, comedienne Totie Fields, a big favorite on the Ed Sullivan Show (40 appearances), and a regular on the Mike Douglas & Merv Griffin talk shows, suffered a fatal heart attack at age 48.  She had been about to open a two week engagement at the Sahara Hotel in Las Vegas.
In 1980, "Magic" by Olivia Newton-John topped the charts and stayed there for 4 weeks.
In 1981, the No. 1 Billboard Pop Hit was "Jessie's Girl," by Rick Springfield. The song won Springfield a Grammy for Best Male Rock Vocal Performance.
http://www.youtube.com/watch?v=uwqaXBK0-dw
In 1982, English actress Cathleen Nesbitt (below) died at age 93.  She is probably best-remembered in North America for her role as Agatha Morley on the TV series The Farmer's Daughter from 1963 to 1966, playing the mother of a Congressman (played by William Windom). She guest starred on The United States Steel Hour; Wagon Train; Naked City, Dr. Kildare and Upstairs, Downstairs.  She won an Emmy for her work in the TV movie The Mask of Love (1974).

Also in 1982, the radio show Roger Ebert's Movie News premiered on the ABC FM network.
In 1983, radio station WHTZ-FM, Newark, New Jersey (serving New York City and environs) – signed on as "Z100" with Scott Shannon and the "Morning Zoo".  It went from "worst to first" in just a few months.
In 1986, "Glory of Love" by Peter Cetera, co-written with Victoria's David Foster, topped the charts and stayed there for 2 weeks.
In 1987, David Martin, bass player with Sam The Sham & the Pharaohs, died of a heart attack at age 50. Martin co-wrote the group's 1965 smash single 'Wooly Bully'.

Also in 1987, following Billy Joel's concert in Leningrad, Russia, the crowd carried Joel out of the theatre on their shoulders.
In 1988, the CRTC denied the CBC permission to make CFPR-AM Prince Rupert a rebroadcaster of CBYG-FM Prince George. And CBTK-FM Kelowna was approved to begin local programming part-time, after signing on the previous year as a repeater of CBU-AM Vancouver.
In 1990, the album "Garth Brooks" that had introduced the country superstar some 16 months earlier, was certified as a Gold Record.  It would eventually achieve Diamond status, after selling 10 million CD's in North America.

In 1991, Rick James was arrested in Los Angeles and charged with the sex torture of a 24-year-old woman.
In 1997, Fela Anikulapo-Kuti, critic of Nigeria's military regime and a pop superstar who fused rock with African rhythms into a blend known as "Afrobeat," died of AIDS. He was aged 58.
Also in 1997, Sarah McLachlan entered the Billboard pop album chart at No.2 with 'Surfacing.'  The Canadian singer songwriter also won two Grammys for the album.
In 1998, puppeteer Shari Lewis (below), a giant star of US kids TV with her creations "Lamb Chop" & "Charley Horse," died of uterine cancer at age 65.

Also in 1998, the UK music magazine Mojo's "Favourite Recording Artist Of All Time" nationwide poll declared The Beatles to be #1, followed by Elvis Presley, Frank Sinatra, Queen, and Elton John.
Still in 1998, Beastie Boys started a three week run at No.1 on the Billboard pop album chart with 'Hello Nasty', the band's third chart-topping album.
In 2000, composer Gilles Thibault, who co-penned the hit "Comme D'Habitude," which Paul Anka adapted to English as "My Way," died in Paris of unknown causes. He was 72.
Also in 2000, Jerome Smith from KC and the Sunshine Band died after being crushed by a bulldozer he was operating. They had the 1975 US No.1 single 'Get Down Tonight.'
Still in 2000, Madonna's video "Music" had its premiere.

In 2001, Ron Townson (upper left) of The 5th Dimension died of kidney failure at age 68. They had the 1969 No.1 single 'Aquarius'.
Also in 2001, New Orleans International Airport was re-named Louis Armstrong Airport in honour of the New Orleans-born trumpet player, singer and bandleader.
in 2004, Hall of Fame baseball broadcaster Bob Murphy, the original voice of the New York Mets, died at age 79.
In 2005, CHUM-owned TV stations in Victoria, London, Barrie, Wingham, Windsor and Ottawa became A-Channels.


Simultaneously, all of the prairie A-Channels became City-TV.
Also in 2005, Status Quo filmed a cameo appearance in the British TV show 'Coronation Street' playing themselves. Francis Rossi and Rick Parfitt were set to appear in three episodes of the long-running soap.
In 2007, Elvis Presley Enterprises announced plans to revamp Graceland, the singer's home, with a visitor's center, convention hotel, and high-tech multimedia displays.
Also in 2007, Keith Richards signed a $7 million deal for the rights to his upcoming autobiography, which was finally released in late 2010.
In 2008, folksinger/songwriter Erik Darling, who co-founded the Rooftop Singers  (Walk Right In, The Banana Boat Song, Cindy Oh Cindy), died of lymphoma at age 74.

In 2012, singer Jimmy Jones, who in the 1960's had the million selling singles "Handy Man" and "Good Timin'," died at age 75.
Also in 2012, The Who's Pete Townshend and several other British musicians published a letter in The Times of London supporting the Russian female Punk group Pussy Riot, who were on trial in Moscow for protesting against the government of President Vladimir Putin.
In 2014, a voice familiar across North America as an Atlanta Braves sportscaster on Superstation WTBS was silenced, as Pete Van Wieren lost his battle with cancer at age 69.
Today's Birthdays:
Actor/cartoon voicist Nehemiah Persoff (Playhouse 90, Gunsmoke) is 95.
London-Ont.-born keyboardist Garth Hudson of The Band is 77.
Singer Kathy Lennon of The Lennon Sisters is 71.
Actor Max Wright (Alf, Norm) is 71.
Actress Joanna Cassidy (Six Feet Under, Boston Legal) is 69.
Actress Kathryn Harrold (Chicago Hope, I'll Fly Away, Larry Sanders Show) is 64.
Singer Andrew Gold is 64.
Actor Butch Patrick (The Munsters) is 61.
Singer Mojo Nixon is 57.
Actress Victoria Jackson (Ocean Ave., Romeo, Sat. Night Live) is 55.
Actress/singer/former model Apollonia Kotero (Falcon Crest) is 55.
Vancouver-raised actress Cynthia Stevenson (Men In Trees, Dead Like Me, Hope and Gloria) is 52.
Actress Mary-Louise Parker (Weeds, West Wing, Angels in America) is 50.
Actress Alice Evans (The Vampire Diaries, Elisa Top Model) is 43.
Actor Matthew Del Negro (Mistresses, Teen Wolf, West Wing) is 42.
Actress Jacinda Barrett (Zero Hour, Citizen Baines) is 42.
Actor Edward Furlong (CSI:NY, Andy Dick Show) is 37.
Actress Nadia Bjorlin (Days of Our Lives) is 34.
Drummer Devon Glenn of Buckcherry is 34.
Actress Sara Foster (90210) is 33.
Actress Angell Conwell (The Young and the Restless, Family Time) is 31.
Actress Skyler Day (Parenthood, Gigantic) is 23.
Actress Hallie Eisenberg (Miracle Worker, The Goodbye Girl) is 22.
Chart Toppers:  August 2
1950
Bewitched – The Bill Snyder Orchestra
Mona Lisa – Nat King Cole
I Wanna Be Loved – The Andrews Sisters
I'm Moving On – Hank Snow
1959
Lonely Boy – Paul Anka
The Battle of New Orleans – Johnny Horton
Tiger – Fabian
Waterloo – Stonewall Jackson
1968
Grazing in the Grass – Hugh Masekela
Stoned Soul Picnic – The 5th Dimension
Hurdy Gurdy Man – Donovan
Folsom Prison Blues – Johnny Cash
1977
I Just Want to Be Your Everything – Andy Gibb
I'm in You – Peter Frampton
My Heart Belongs to Me – Barbra Streisand
It Was Almost like a Song – Ronnie Milsap
1986
Glory of Love – Peter Cetera
Papa Don't Preach – Madonna
Mad About You – Belinda Carlisle
Nobody in His Right Mind Would've Left Her – George Strait
1995
Waterfalls – TLC
One More Chance/Stay with Me/The What – The Notorious B.I.G. and Method Man
Don't Take It Personal (just one of dem days) – Monica
Any Man of Mine – Shania Twain
2004
Leave (Get Out) – JoJo
Dip It Low – Christina Milian
Pieces of Me – Ashlee Simpson
Live Like You Were Dying – Tim McGraw