courtesy BroadcasterMagazine.com 2014-08-01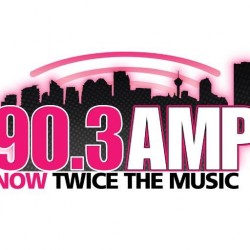 On Friday, August 1, 2014, 90.3 AMP in Calgary embarked on a bold new strategy to present Calgary with a radio station that actually plays twice as many songs.
90.3 AMP is now branded as "Twice The Music", and that isn't just a slogan… it is a reality. 90.3 AMP really does play twice as many songs as it used to, and twice as many songs as nearly every other radio station.
Previously, 90.3 AMP played approximately 12 songs each hour, similar to most other radio stations. Now, 90.3 AMP plays approximately 24 songs every hour. By doubling the number of songs played each hour, 90.3 AMP is able to play more hits, more often, than any other radio station in Calgary.
Along with playing twice the music, 90.3 AMP is committed to bringing Calgarians exciting new music via hourly "First Play" songs, giving listeners the opportunity to discover new hits that are exploding on social media or topping the charts in other countries.
90.3 AMP has exclusive access to Quickhitz  provided by Sparknet Communications, an international consultancy specializing in branded formats, research, and programming. 90.3 AMP is CKMP-FM, owned and operated by Newcap Radio. In addition to 90.3 AMP, Newcap also proudly owns XL103 (CFXL-FM) in Calgary.
http://www.broadcastermagazine.com/news/90-3-amp-calgary-doubles-down-on-music/1003185936/?&er=NA