By Harvey Oberfeld
   Keeping It Real…
June 16th, 2014
Shortly after the final whistle blows at the FIFA World Cup in July, CBC TV Vancouver will blow the final whistle on the full sports package that is now a regular part of its 6 p.m. News.
Sports anchor/reporter Shane Foxman will be shifted to the 5 p.m. news … to do "non-sports" reporting;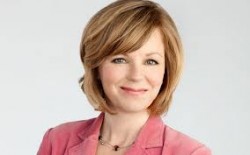 and sportscaster Karin Larsen will also be moved into news.
The changes are a work still in progress but I hear the station will no longer broadcast game highlights or even detailed sports league scores … major or college.
And that's just the beginning.
Word is the current news reporting model will also be changed this Fall … moving away from what happened to explain and explore more about WHY it happened and HOW it will impact viewers.
Local CBC News Director Wayne Williams was tight-lipped when I asked him about the coming changes. (I guess news stations HATE to be scooped on their own story! 🙂 )
"We're working through a number of scenarios as we re-imagine our local news offer. We'll have more to confirm in the near future. Thanks for your interest," Williams wrote in an e-mail response to my request for more details.
It's not surprising changes are coming: TV ratings are a closely guarded secret (unless someone in the industry who wants the truth told) but CBC local news reportedly languishes at less than half a point. Ouch!
And not even spending the big bucks to bring in Tony Parsons did much to challenge anyone else. His contract wasn't renewed last Fall.
In fact, right across the country, CBC local news regularly comes in third in almost all urban markets, behind CTV in first and Global in second place (in Vancouver Global still outdraws CTV).
We really should wish CBC local well .. and success withy its changes.
It serves journalism and the public interest in general to have better competition in news coverage and reporting.
And it would really worry me if the station's local news shows continue to slump: I hear rumblings that the brass back East have even considered dropping full newscasts from local CBC stations completely … feeding stories from each city into some sort of a revamped Newsworld instead.
That would cut staff and save money …. but even FEWER stories which should be covered, investigated and reported would actually make it to air.
THAT would make local news offerings even worse.