Vancouver Radio Ratings: Out With the Old …
….  in with the new!

By Harvey Oberfeld
June 9th, 2014 ·
All those old radio strategists and old radio apologists who told their bosses that radio is inevitably a dying entity … giving way to Internet and social networking … have just been proved TERRIBLY WRONG!
The latest radio ratings from the BBM rating service shows radio is alive and well in Vancouver … on stations that have appealed to the younger demographic by bringing in young, energetic hosts who have left their competing old farts in the dust.
The Beat 95.5 FM now leads the pack .. in both the key 25-54 age group AND the 18-49 age demographic … with a 7.3 ratings score in BOTH categories.
The Beat bills itself as a "hit music" station, but it's their on-air (or should I say "on" hair?)  young hosts who have captured the attention and listening audience.
It's Jonny, Holly and Nira (never heard of them? … You will!) all of them well-coiffed and looking on The Beat website like they're in their 20s who are leading the way from 5:30 a.m. to 9 a.m.
"They're up bright and early with you every weekday morning starting at 5:30! Don't miss horoscopes at 5:45am, all the hot topics of the day, 5 calls says it all and all their friends' drama!
Plus – Vancouver's #1 Hit Music, all the hottest concert tickets, trips, cash and the latest celeb gossip with The Biz @ 6:25, 7:25 and 8:25am", touts The Beat promos.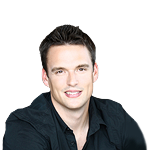 Then at 9 a.m. … get out the hair products again … it's Chris Palliser … whose high energy on-air "beat" goes right up to 2 p.m. … far too long for any of the codgers still being employed at stations where ratings have been in free fall for some time.
Here's how the station describes him:
"A Vancouver Island boy who spent many a day in the office during elementary school for talking in class, and he is one of the few people who received a detention in college for talking A LOT during a lecture…can they even do that?!?
"So needless to say radio school was an easy choice. Upon graduation, Fort McMurray Alberta came a calling and Chris said hmmm -40 winters, let's do it! After a few years there he was off to a much warmer climate…Edmonton….after another couple of -35 winters…it was time to head back home to the West Coast and The Beat 94.5!
"He is a guy who enjoys meeting people, laughing, being outdoors, concerts, movies, music, the smell of the ocean, Canucks, the grouse grind (that's a lie) and of course talking!"
Get it? A "boy" whose profile posting talks about his new Mazda 6 … not the latest high-end wine, or trip overseas or weekend away at his/her coastal retreat.
And it's working…. with the station leading all other local stations.
The Beat at 7.3 ratings points is followed by QM-FM 103.5 at 6.2; Jack FM 96.9 at 5:7; and, Z 95.3 at 5.3 ratings points.
Notice they're ALL FM music-orientated stations.
If talk is not dead, it seems to be dying in Vancouver … I believe a victim of its own failure to refresh and renew.

The old daddy, CKNW 980 A.M. …once the Top Dog … is now a tired, old pooch, judging by the BBM numbers.
NW comes in NINTH with a measly 1.9 ratings points in the 18-49 younger generation of radio listeners … and this surprised me … TWELFTH even in the wider 25 to 54 age category.
And in case you're curious, the lowest rated Vancouver area radio station among the 19 catalogued was Team 1040 … scoring only 0.1 and 0.2 in the two age groups.  Not good news for Bro Jake!
The results should also be of some concern to Corus Entertainment, with FOUR stations in the Vancouver market: NONE of them in the top five.
The best Corus could come up within the 25-54 age group is a sixth place for Rock 101;  followed by Fox 99.3 in 8th; NW in 12th; and AM 730 in 18th place ..out of 19!
Maybe if they add up ALL their listeners, they could reach the number the Top Dog alone used to attract.