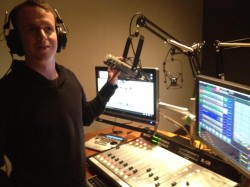 by Donovan Tildesley

June the 3rd, 2014
After the events of this past Friday night, I felt compelled to write down some of my thoughts. Let me start off by saying that while I've had a lifelong love affair with radio, I've never made money in the industry. Admittedly I was a shareholder when 101.5 whistler FM was founded, but I cannot in any way take credit for that station's success. So call me a glorified radio groupie! It was one week ago when I was browsing PSR and came across the conference schedule for the annual BCAB Convention. Several presenters caught my eye, including PSR sales guru Dave Warawa, as well as panelist Geoff Poulton ,one of my favourite radio personalities growing up. But the cost to attend the entire conference was way outside my budget, plus I knew I couldn't get the time off work. And then I discovered that separate tickets existed to attend the final awards banquet. "Why not," I thought to myself. I was feeling stressed and needed to get out of the city anyway. Whistler was the place to go! Assured by conference organizer Kelsey McKay-Smith that I would not be seen as an interloper, the ticket was bought and I hitched a ride north on the Sea-to-Sky!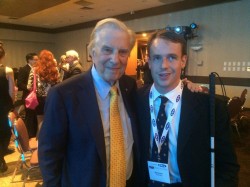 Arriving at the tale end of the cocktail reception, downtown Vancouver traffic had been a nightmare, I was greeted by Kelsey and Alex, another of the ICS staff, who ushered me over to the bar. Soon after, BCAB President James Stewart came up to shake my hand, and invited me to sit at the Bell Media table. I was grateful for the invite, as I really had no idea of who all was in the room and where I was supposed to be sitting! Immediately upon sitting down, I was greeted warmly by my table mates who included Bell Media Vancouver News director Les Staff, JP Wright and Dave Daigle who handles sales, and, the most senior of our bunch, Gord Leighton the Bell OM in Vernon. "I apologize, but I have trouble hearing," were Gord's first words to me. "Perfect," I quipped back. "I'm the blind guy … This should be a fun night!" The ice was broken.
After an introduction by James Stewart, emcees Nat and Drew from QM/FM took to the stage. What pros! Several times it felt as if they were doing their show for a live audience. "So, funny story," starts Nat. "We have never won a BCAB". "You weren't working for the right group!" hollered someone from the audience. Nat and Drew started us off with a fun little drinking game. "…Take a drink if you are working for a new company this year. … take a drink if you work in sales and somebody in programming just pissed you off. … take a drink if you work in programming and someone in sales pisses you off. … take a drink if you are Airchecker!"
The stellar Vancouver band Dear Rouge then took the stage for 25 minutes. It was an excellent performance which had most of the crowd on their feet. Personally, I was starving after my two-hour trek to Whistler in a car with two rather vocal toddlers, so was secretly hoping the band would finish up sooner than later so that we could eat. In keeping with the bright-colour theme, Red Robinson stopped by the table to say "hi" during the performance, but we decided to postpone our chat until later, as the music made it difficult to carry on a decent conversation.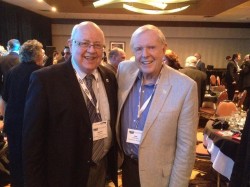 Getting back to Gord Leighton, this was obviously a moving moment for Gord who finally gets to meet his mentor Red Robinson. Gord said;  I was 10 years old in the Comox Valley when I got my own radio and first listened to Top 40 radio on CJOR 600. I well remember thinking that this was something I wished I could do…and eventually did. The man that turned on my "radio DNA" was Red Robinson, a living legend and a true icon in BC Radio. Last night at the BCAB Awards banquet, I told that to Red. He started in radio in 1954. A member of the CAB and the Rock and Roll Hall of Fame, Red collected his half-century club certificate and pin last night, as I did on Thursday While I reflect on 50 years, Red has an amazing 60-years! Wow, too cool.
After a delicious dinner, and a round of the Heads or Tales game. I was the first to be eliminated. A fellow called Hilary (Montbaurquette) from Newcap Alberta won the prize of a trip with West Jet. James Stewart once again took the stage. " "It occurs to me that…we all in this room have a great time tonight. We all laugh, we get along, we all know each other, and then we go back to work and try and beat the crap out of each other. This is an industry that is really unlike anything else." He then proceeded to give out the first award of the evening, the BCAB 2014 Humanitarian Award.  A gracious Jennifer Ingham, VP of Development for Science World came on-stage to accept, but not before the sound crew misfired the computer, and nearly preempted her with the brand-new Science World PSA! Unfortunately, bugs seemed to be the order of business that evening, as there were several instances where clips were played at the wrong time, even once when an award-winning commercial was shown prior to the announcement of said award. But Nat and Drew made the best of the situation, using their humour to offset the technical gaffs.
I won't comment any further on the station awards aside from one criticism, which Nat and Drew echoed on-stage. In certain major market categories, only one station was nominated. I realize that Vancouver is the only major market in this province, but that's no excuse for not putting your station's product forward for recognition! On a positive note, I got a real kick out of "Throw Mama from The Plane" from CIFM Kamloops, which won best Station Imaging. Totally irreverent…there need to be more contests like that one!
For me, the Individual achievement awards were the most compelling of the evening. It started with Kevin Gemmell presenting Red Robinson with a certificate for his sixty years in the business. Red accepted it with his usual class and good humour.
Bruce Allen was the recipient of the Friend of the Industry Award. "The only friends that I had in radio were those that I paid for. Nowadays of course you can't do that," was one of Bruce's first quips. After regaling us with some humorous anecdotes, he closed with: "I'd like to thank Red Robinson for inventing radio,I mean for introducing me to radio. I'd like to thank Fred Latremouille for putting me on the radio first and to Corus for having a great legal team for keeping me on the radio." What a guy!
The Broadcaster of tomorrow was presented to Matt van Boyen, PM drive at The Drive in Cranbrook. From the moment he got up on-stage, you could tell that this man radiates talent and enthusiasm. I told my table mates that this guy will be a talk show host one day. Listening to him I am sure that Matt could easily evolve into that role if he so chooses. It wasn't until much later that I realized who his vocal pacing reminded me of. None other than sports radio heavyweight Jim Rome! As said in his acceptance speech: "To everyone who I met tonight ,you guys are all so nice.This is my first time! Everyone who I haven't met yet. please come meet me, we'll have a drink, I have a lot left in me! That's the thing about being performer of tomorrow, it means I can still have fun today." Great attitude from this former NAIT alumnus!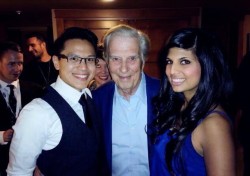 Broadcast Performer of the Year was a joint award given to Kevin Lim and Sonia Sidhu, now with Vancouver's 102.7 The Peak. "Kevin was once the Broadcast Performer of Tomorrow," Gord Leighton reminded me as the duo came up on stage. Clearly not expecting the award, Kevin and Sonia were quite humbled. "We were brought here under the guise of being introduced to our new radio family." In the words of Kevin Lim, "Its not very often that you get to work with someone that you truly care so much about. Sonia was there on my wedding day, standing up as one of my attendants. We truly are very fortunate, very blessed to work with each other as best friends. "
The final award of the night was presented to Broadcaster of the Year, Tamara Taggert. There was a standing ovation as she walked on stage. "I've always had a great support system and bosses right from day one that believed in me and thought that I could do more and better, and they always challenged me," an emotional Taggert told the room. Even current Corus GM Brad Phillips, who fired her as Promotion Director from CISL and Z95-3 at age 22 (a point she referenced three times) was given thanks for his support.
After closing remarks from James Stewart, the assembled crowd began again to mingle. I had the honour of meeting Lloyd Robertson, who had been a part of a panel discussion earlier in the day. As time wore on, those who didn't want the night to end began drifting toward the Mad Ads Canada hospitality suite on the sixth floor. Not having a hotel key, Mark Burley and his wife Janet were kind enough to escort me upstairs to begin the final leg of the night.
What can I say about the BCAB after-party. As someone who has closely followed the broadcasting industry from a very young age, I felt like a kid in a candy store. So many people, so much to say, so many interesting stories. As the wine flowed as freely as the conversation, I will pinpoint just a few highlights.
After sharing some radio story or other, someone was convinced I was Airchecker. While I have amassed somewhat of a collection myself, I can safely deny that allegation.
Chatted with Ron Polillo , PD at Pattison Prince George on whether or not a country format would work in Whistler.
Tamara Stanners and I attempted to photobomb a photo which apparently is a hobby of hers, after which she dared me to complement Sonia Sidhu on her hair.
Had an excellent chat with the effervescent Matt van Boyen about his broadcast career. I see a major market in his not-so-distant future!
Met one of the originators of what is now known as "The Rush" on Shaw TV, who started the program back in the '90s with Buzz Bishop.
Had a lengthy conversation with Kat Stewart, current BCIT instructor and actress about her time working at LG/73 in the '80s.
Finally getting walked to my hotel by April (one of the Mad Ads organizers) and Kevin Gemmell from The Drive in Chilliwack. Along the way, Kevin explained to me why Glen Slingerland had to change his name to Jake Rider in the '90s, and about the late Robert O. Smith's aversion toward driving over bridges.
It was truly a unique and magical evening, filled with talented, passionate, and inspiring people. I was honoured to be in their midst, and to have the chance to celebrate with them. To everyone, thank you for continuing to create such an amazing industry. I'll see you next year at BCAB 2015…If you'll have me back, that is!
Donovan was recently interviewed by Shaw's Fiona Forbes of Urban Rush on his retirement from swimming.
https://www.youtube.com/watch?v=HqgDWAK-wn4