CBC planning new cuts including making Radio 2 online-only: watchdog group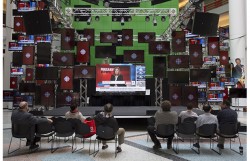 TORONTO – A watchdog group says the CBC is planning a fresh round of service cuts, including making Radio Two online-only and merging some English and French programming — but the public broadcaster denies the claims.
Friends of Canadian Broadcasting says executives are set to propose several major cuts when the board of directors meets in Ottawa on June 17 and 18. The group says they learned of these plans through "high-level sources inside the CBC."
"This is very serious stuff. Eighty per cent of Canadians like public broadcasting, and they're going to be very angry when they hear about this," said the arm's-length group's spokesman, Ian Morrison.
"This is the result of Prime Minister Stephen Harper's antipathy to public broadcasting.
Read the Rest of the Story HERE